Pas cher
Risk of Rain
Risk of Rain Wiki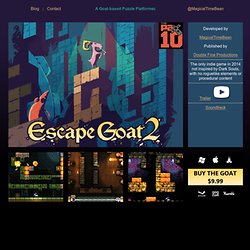 Escape Goat 2
Escape Goat 2 is a puzzle platformer game where you use machinery, the environment, and a friendly mouse to progress through a dungeon. Strange Places Await…
Custom Worlds & Level Editing
Hold up, buddy. To edit this page, you'll need a username.
Fez Wiki Guide & Walkthrough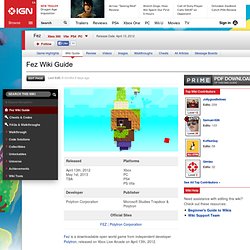 Unepic Wiki
About Gone Home | The Fullbright Company
A Story Exploration Video Game 2013 Finalist for Excellence in Narrative.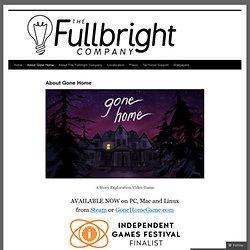 Hotline Miami - Official Site
POP: METHODOLOGY EXPERIMENT ONE by ROB LACH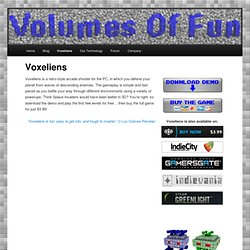 Voxeliens is a retro-style arcade shooter for the PC, in which you defend your planet from waves of descending enemies.
Voxeliens - Volumes Of Fun
Universe Sandbox is an interactive space simulator for Windows based PCs. Unlike most astronomy software that just shows you what the sky looks like or where the planets are, Universe Sandbox is a powerful gravity simulator. You can add another star to our solar system and watch it rip the planets from their orbits. The free forever version allows you to explore and discover any simulation. Optionally you can upgrade to to the premium version for unlimited control. Watch the Video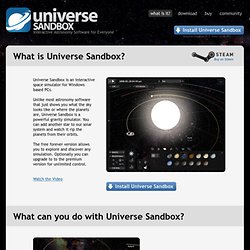 Armadillo Run
FOTONICA
Q.U.B.E: Quick Understanding of Block Extrusion
MCEdit, a Minecraft World Editor MCEdit is an open source world editor for just about any version of Minecraft. MCEdit was first created to allow players to preserve anything built with several old versions of Minecraft and take them forward into newer versions of the game. It also aims to be forward-compatible with future (or even modified) versions of Minecraft. It has since been improved with brush tools for laying down blocks in different shapes, integration with the Minecraft Server to generate terrain using Minecraft's own seed algorithms, support for multiplayer worlds, and editors for certain blocks including chests and mob spawners.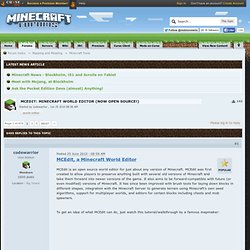 MCEdit: Minecraft World Editor (Now open source!)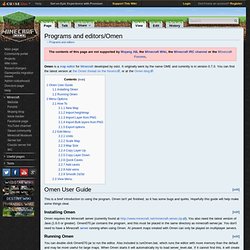 Omen is a map editor for Minecraft developed by osici. It originally went by the name OME and currently is in version 0.7.0.
Omen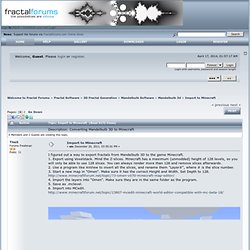 Import to Minecraft
i cant figure out how to do the voxelstack thingy!