Chequesolidaire.org
OccuCopy | American Worker Cooperative. Skip to main content "OccuCopy is a worker-owned cooperative providing messaging products and services for Occupy Wall Street and other members of the 99%.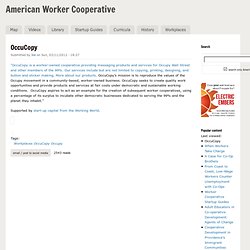 Our services include but are not limited to copying, printing, designing, and button and sticker making. More about our products. OccuCopy's mission is to reproduce the values of the Occupy movement in a community-based, worker-owned business. OccuCopy seeks to create quality work opportunities and provide products and services at fair costs under democratic and sustainable working conditions.
Biens Communs. ROI Social & DD (SROI) Plate-formes d'échanges Dons ventes ... Contenu généré par les utilisateurs : Crowdsourcing. Taxe sur les transactions financières.
---