Periodic stable
Sort & Find Chemical Entities
Elements and compounds
NMR Periodic Table
Interactive Periodic Table for Analytical Chemists
Organotin chemistry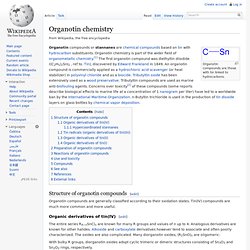 Organotin compounds are those with tin linked to hydrocarbons. Organotin compounds or stannanes are chemical compounds based on tin with hydrocarbon substituents. Organotin chemistry is part of the wider field of organometallic chemistry . [ 1 ] The first organotin compound was diethyltin diiodide, discovered by Edward Frankland in 1849. An organotin compound is commercially applied as a hydrochloric acid scavenger (or heat stabilizer) in polyvinyl chloride and as a biocide . Tributyltin oxide has been extensively used as a wood preservative .
Chemistry
Periodic Table of the Elements - Fireworks & Pyrotechnics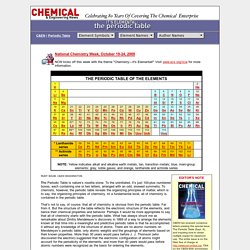 National Chemistry Week, October 19-24, 2009 NCW kicks off this week with the theme "Chemistry—It's Elemental!" Visit www.acs.org/ncw for more information. T he Periodic Table is nature's rosetta stone. To the uninitiated, it's just 100-plus numbered boxes, each containing one or two letters, arranged with an odd, skewed symmetry.
C&EN: IT'S ELEMENTAL: THE PERIODIC TABLE - INTRODUCTION