Charity
ripple
"We are extremely appreciative ClicktoGive has chosen Feed The Children to receive 100% of the proceeds from donations made through the hunger page on site. I wish you great success on your project and I look forward to serving with you" Rebecca Lucas Manager of Special Projects Feed The Children, Inc. "The National Alliance to End Homelessness would like to thank ClicktoGive and all who participate in the ClicktoGive program for supporting our work. We appreciate the trust that these donation imply.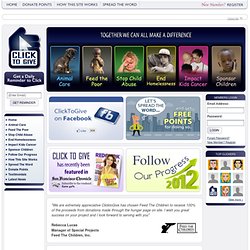 For each correct answer, GiveVaccines.org will donate funds to the GAVI Fund to purchase 0.01 milliliter (ml) of life-saving vaccine. The premise of the quiz is to solve proposed English language or medical terminology words to their answers. These words will consist of word roots, prefixes and suffixes etc. The participant may select from the following categories: Medical Terms or English Words. Within the medical term category, you may select " ALL " to include all medical terminology or you may select a specific sub-category within this test bank. Soon we will expand the banks of questions.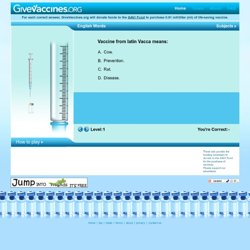 GIVE VACCINES Home
Feed U.S. Seniors in Need 3.5 million seniors in the United States alone must choose between using limited resources to pay for rent, utilities like electricity and water, or for food. Our seniors, who are parents and grandparents and whose knowledge and experience are a treasure to society, deserve better. This Gift That Gives More™ provides 200 meals to seniors, giving help and hope to those who need it most, through the work of Feeding America.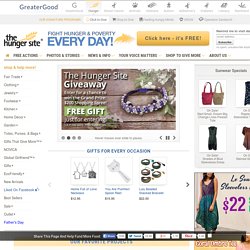 Donate Clicks,Donate Food,Poverty,Starvation,Free Food,Pulitzer Prize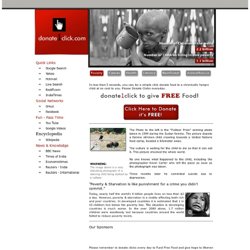 Today, nearly half the world's 6 billion people lives on less than $2 a day. However, poverty & starvation is a reality affecting both rich and poor countries. In developed countries it is estimated that 1 in 10 children live below the poverty line. The situation in developing countries is much worse.