Lewin
Organization development: a Jossey-Bass reader - Joan V. Gallos. Kurt Lewin Movie.wmv. Lewin's Change Management Model - Change Management Training from MindTools. Understanding the Three Stages of Change Unfreeze-Change-Refreeze. © iStockphoto/doram Change is a common thread that runs through all businesses regardless of size, industry and age.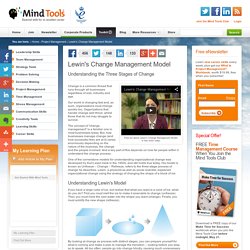 Our world is changing fast and, as such, organizations must change quickly too. Organizations that handle change well thrive, whilst those that do not may struggle to survive. Classics in group psychotherapy - K. Roy MacKenzie. LinkClick.aspx (application/pdf Object) LD17995710.pdf (application/pdf Object) Back to the future.pdf (application/pdf Object) KURT LEWIN 3 PHASES CHANGE THEORY AND KURT LEWINS CHANGE MODEL. Does the Kurt Lewin change theory have relevance for a change management in the 21st century?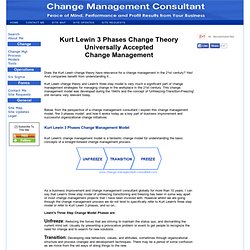 Yes! And companies benefit from understanding it... Lewin's freeze phases. Disciplines > Change Management > Lewin's freeze phases Unfreeze | Transition | Refreeze | See also In the early 20th century, psychologist Kurt Lewin identified three stages of change that are still the basis of many approaches today.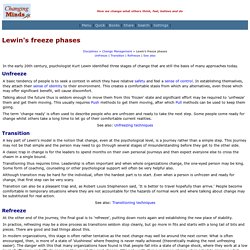 Kurt Lewin. Kurt Zadek Lewin (September 9, 1890 – February 12, 1947) was a German-American psychologist, known as one of the modern pioneers of social, organizational, and applied psychology.[2] Lewin (/ləˈviːn/ lə-VEEN) is often recognized as the "founder of social psychology" and was one of the first to study group dynamics and organizational development.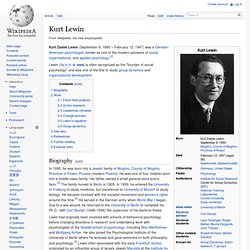 Biography[edit] In 1890, he was born into a Jewish family in Mogilno, County of Mogilno, Province of Posen, Prussia (modern Poland).