Céramique comtemporaine
More ceramic. Blog ceramique. :: Deesigns - Surface Pattern Design & Wrapping Paper Specialist :: Circa Ceramics | Sacred Art. Circa Ceramics is a collaborative studio team composed of the warm and wonderful Nancy Pizarro and Andy Witt.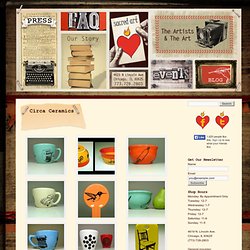 This dynamic duo creates a delicious world of candy-colored ceramic dishware, magnets, tiles, tabs, and cylinders adorned with their signature decals. Andy's focus in the team is to produce the pieces (mugs, bowls, cylinders) using a pottery wheel that he converted from an awkward kickwheel to smooth motorized wheel. The clay, either porcelain or earthenware, is pressed into one of their handmade molds and formed on the whirling wheel with the aid of a wooden template, which carves away a consistent interior. This process is repeated for every single piece of dishware that Circa Ceramics creates. Mz Toner Technologies. Ceramic Wall Art and Backsplash Tile | unalun tile.
Natalie Blake Studios was honored to be selected to create public art for the City of Tampa, Florida's "ENCORE!"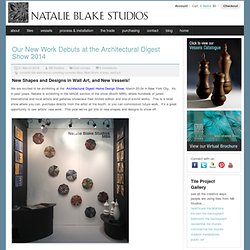 Project, a 40+ acre mixed-use redevelopment district in Downtown Tampa. Our studio will create and install our handmade wall art tile on three concrete walls, each 20′ long, that run around the perimeter of ENCORE's Trio apartment homes. Our tile murals will face the newly renovated Perry Harvey Sr. Caverne : Nur.
L'oeil dans sa poche - Portraits de créateurs en Rhône-Alpes : Arts plastiques, Design, Photographie, Céramique, Illustrations, Graphismes,... Marie Verlet-Nezri. Ulrike Weiss Ceramiques. Cours - Ulrike Weiss Ceramiques. La technique du moulage-céramique permet de réaliser des formes difficiles ou impossibles à obtenir par tournage ou modelage et de les reproduire ensuite à l'identique.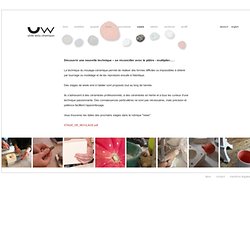 Des stages de week-end à l'atelier sont proposés tout au long de l'année. Ils s'adressent à des céramistes professionnels, à des céramistes en herbe et à tous les curieux d'une technique passionnante. Des connaissances particulières ne sont pas nécessaires, mais précision et patience facilitent l'apprentissage. Vous trouverez les dates des prochains stages dans la rubrique "news". FLORENCE BRUYAS - céramiste plasticienne - L'oeil dans sa poche. Je me reconnais dans les travaux de femmes artistes comme Louise Bourgeois ; je retrouve un besoin de raconter son histoire, son enfance...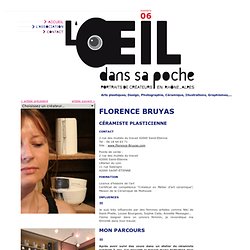 Je revendique la part féminine de la création, celle qui consiste à partir de l'intime, à partir de soi pour aller vers l'universel. Parler de soi est ce qui motive mon travail. Ma matière première, c'est moi ! Les petits cailloux qui sont intercalés entre mes plaques dans mes suspensions sont une référence au petit Poucet.
Atelier Ceramique - Benadette Andrieu, artisan à Toulouse. Bernadette Andrieu ne fait que ce qu'elle veut.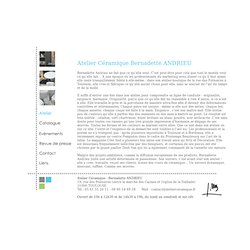 C'est peut-être pour cela que tout le monde veut ce qu'elle fait… A une époque où les professionnels du marketing nous disent ce qu'il faut aimer, elle reste tranquillement fidèle à elle-même : dans son atelier-boutique de la rue des Polinaires à Toulouse, elle crée et fabrique ce qu'elle aurait choisi pour elle, sans se soucier de l'air du temps et de la mode.
Il suffit d'entrer une fois dans son atelier pour comprendre sa ligne de conduite : originalité, exigence, harmonie. Originalité, parce que ce qu'elle fait ne ressemble à rien d'autre, si ce n'est à elle. Elle travaille le grès et la porcelaine de manière ultra-fine afin d'obtenir des déformations contrôlées et intéressantes. Weekly wrap up + paper scrap light. It's a whopping 70 degrees in Brooklyn right now, so I'm going to get out from under the pile of packing boxes in our house and get some fresh air.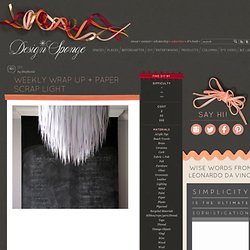 Before I head out, I wanted to share this beautiful (and totally genius) DIY light project that graphic designer Gabrielle Guy created for a friend. After moving into a new house and finding an old lantern left behind, Gabrielle decided to cut strips from scrap paper and glue them onto the shade. Two days later, the result was an incredibly stunning artichoke-like lamp that looks expensive but cost close to nothing. I'm so impressed with this project that I had to share it as inspiration for the weekend. Sylvie lorne: c- Imprints. Les films choisis par l'Atelier des Arts et Techniques Céramiques. c'est mieux. Liste des films disponibles en consultation à la vidéothèque de l'INMA (Institut national des métiers d'art) Institut national des métiers d'art, Viaduc des Arts, 23 avenue Daumesnil, 75012 Paris Centre de ressources ouvert à tous les publics du mardi au vendredi, de 14 à 18h.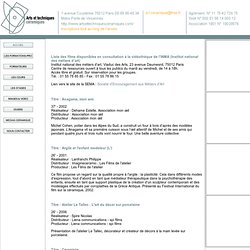 Accès libre et gratuit. Sur réservation pour les groupes. Tél. : 01 55 78 85 85 - Fax : 01 55 78 86 15 Lien vers le site de la SEMA : Société d'Encouragement aux Métiers d'Art. Intranet IPC. Black and White Retro. Valerie Zimany. Delicious.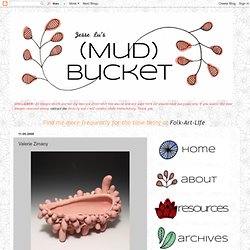 I love the organic, anamorphic quality these abstract pieces have along with the gorgeous glazing. This is also an instance where I am happy to see evidence of the mold making proccess, usually I think that is something that should be left in private, like overgrown nose hairs or toenails. Pay attention to future On Etsy posts. Zimany has two very distinct bodies of work, of which these sculptures are one and delightful vessels are the other which I hope to post about soon. (images via artist's own website) Cinderelish. Valerie Zimany. Eva Hild » Galerie NeC nilsson et chiglien. English « Influence, pressure, strain.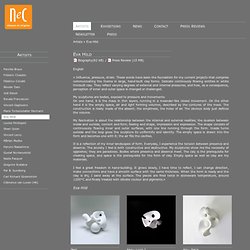 These words have been the foundation for my current projects that comprise communicating the theme in large, hand-built clay forms. Delicate continously flowing entities in white thinbuilt clay. They reflect varying degrees of external and internal pressures, and how, as a consequence, perception of inner and outer space is changed or challenged. My sculptures are bodies, exposed to pressure and movements. New Work - RUAN HOFFMANN. Kelly McKibben, Kelly McKibben cermics, Kelly McKibben ceramic artist. Kathy King - Online Portfolio. Contact - Julie Guyot. VERRE - VERRE - JULIE LOAEC. Clémentine Dupré - Ceramic Artist. [ [ karima duchamp ] ] Video. Porcelain sculpture by Shigekazu Nagae, 'Forms in Succession #5', 2011, Powerhouse Museum Collection.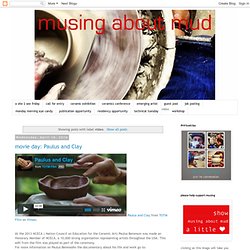 This beautiful porcelain sculpture, Forms in Succession #5 created by Japanese potter Shigekazu Nagae dances beautifully in this video. The paper look-alike form somehow evokes the aesthetics of origami, Japanese paper folding. Made by using slip-cast techniques, the porcelain speaks of its origin yet shyly introduces itself to international audiences. This piece was recently acquired by the Powerhouse Museum, supported by The Ceramic Collectors Society in Australia.
It was made in the pottery town of Seto, known for centuries as the cradle of Japanese utilitarian ceramics. Ceramic exhibition. From Wednesday 27 November 2013 until Friday 14 February 2014 the Officine Saffi Ceramic Arts Gallery will be presenting the first solo show in Italy by Robert Cooper (Sheffield, UK, 1949).The exhibition presents a wide range of themes by this ceramic artist of consolidated renown: he has been dedicated many international exhibitions, both solo and group shows, and his works are present in important collections all over the world.
The exhibition offers an ideal opportunity to learn more about Robert Cooper's artistic approach, in particular by means of the "Tea Caddies" series, with printed motifs and other forms of decoration.Robert Cooper's collage-type style that he applies to the production of his ceramics, with layers of screen-printed images and surfaces onto which other motifs are pressed, inspired the gallery's decision to present Cooper's tea caddies together with designer textiles. Ronald McDonald House Chicago Donor Wall: Blue Ceramic | Chris Duh Art Maker. I am a breakfast making, nightly children's book reading, do my own laundry (sometimes) type dad / husband. If I don't answer my cell phone right away, it's likely I have two feet clicked into my mountain bike pedaling nowhere fast. My ultimate passion, besides my thrill seeking adventures and family hugs, is CrEaTiNg.
From as long as I can remember, I have always needed something in my hands to fiddle with. Exploring with string, paint or a camera is all the same to me. I see everything as a potential creative tool ready to be expressed in a new way. Sylvia Sherr - Ceramic Beings. This series is a combination of sculpted clay and drawing. The two processes are inseparable allowing the viewer to succumb to the inexplicable imagery. At the core is Sylvia's love of the drawn line. Although the work is sculptural, the influence from artists such as Botticelli, Durer, and Holbein is evident in her drawing. The ceramic shapes carry and define a space for the imagery.
They hold a memory of Paleolithic Venus figures and delicate Meissen figures. Suzanne Stumpf - Ceramic Artist - Interactive Sculpture. Steve Belz Ceramics. Steve Belz's profile on Ceramics Now Magazine - View his works "The environment is in a delicate balance between well-being and decline. For a healthy society, we must be responsive to the fact that all of our activities affect the Earth.
A plate a day. ERIC PARDUE. Brisbane à la mode. Amanda small | Projects. (Mud)Bucket. Reflections. Contemporary Ceramics. Alphabet Cup: Iguana (front) by Hannah Niswonger presented by Ferrin Gallery. Stephanie DeArmond. Maeder. L' Usage des jours - 365 objets en céramique. Claire Marfisi bijoux contemporains en céramique. Sculptures. Contenants. Blog. Shop: Rectangular pendant with ceramic tooth - The Clay Studio.
Brian Jones: Recent Work - The Clay Studio. Bazar Tsé & Tsé Plat Creux Surpiqué Turquoise. A m y s a n t o f e r r a r o - HAWAII'S YESTERDAY (DETAIL) Céramique comtemporaine. Daniel Ricardo Teran. Galerie Besson - Artists. Blade Rubber Stamps Hero Cling Stamps : 2010 Hero Cling Stamps. Tampon clear stamps alphabet plaquette 14 cmx18. Kemper Sgraffito Tools. CERAMIC ART LONDON 2012. Valeria Nascimento. Susan O'Byrne - Current Work. Photostore. Ruth King Ceramics - portfolio. Ikuko iwamoto ceramics top. Lowri Davies | Oriel // Gallery.
Carinaciscato.com. Myung Nam An - Ceramics - Exhibitions. Nancy Selvin Studios - Still Lifes. Angela Cunningham, Ceramic Artist. You and I and Things That Fly. Upcoming Exhibitions. : f l e u r y b l u e : Escultures : Rosa Amorós. Sculpture - MARIT KATHRINER site. Festical Ceramique Paris 11 - Edition 2010. Members: Jamie Tao _ Profile. Megan Bogonovich. BIJOUX GUM - Guillaume Goisque createur de bijoux dans le Var - Villecroze.
---
chrisbarbouille Aug 14 2012

Bonjour, je vous invite à consulter mes collectes ... Nos centres d'intérêt semble similaire... Bonne journée
---