Céramique comtemporaine
:: Deesigns - Surface Pattern Design & Wrapping Paper Specialist ::
Circa Ceramics is a collaborative studio team composed of the warm and wonderful Nancy Pizarro and Andy Witt.
Circa Ceramics | Sacred Art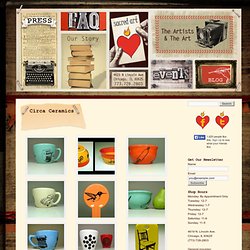 mz Toner Technologies
Ceramic Wall Art and Backsplash Tile | unalun tile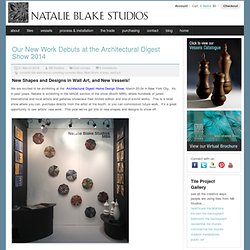 Work is well underway on the new Fulcrum Arts Center.
Caverne : Nur
L'oeil dans sa poche - Portraits de créateurs en Rhône-Alpes : Arts plastiques, Design, Photographie, Céramique, Illustrations, Graphismes,...
Marie Verlet-Nezri
Ulrike Weiss Ceramiques
cours - Ulrike Weiss Ceramiques
La technique du moulage-céramique permet de réaliser des formes difficiles ou impossibles à obtenir par tournage ou modelage et de les reproduire ensuite à l'identique.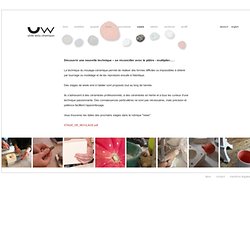 FLORENCE BRUYAS - céramiste plasticienne - L'oeil dans sa poche
Je me reconnais dans les travaux de femmes artistes comme Louise Bourgeois ; je retrouve un besoin de raconter son histoire, son enfance...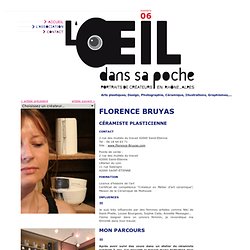 Atelier Ceramique - Benadette Andrieu, artisan à Toulouse
Bernadette Andrieu ne fait que ce qu'elle veut.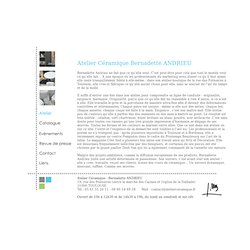 It's a whopping 70 degrees in Brooklyn right now, so I'm going to get out from under the pile of packing boxes in our house and get some fresh air. Before I head out, I wanted to share this beautiful (and totally genius) DIY light project that graphic designer Gabrielle Guy created for a friend. After moving into a new house and finding an old lantern left behind, Gabrielle decided to cut strips from scrap paper and glue them onto the shade. Two days later, the result was an incredibly stunning artichoke-like lamp that looks expensive but cost close to nothing. I'm so impressed with this project that I had to share it as inspiration for the weekend.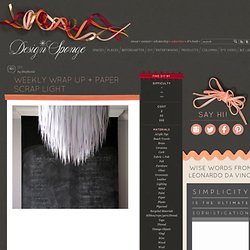 sylvie lorne: c- Imprints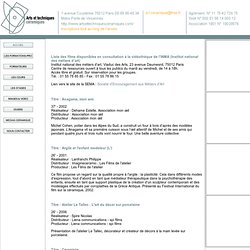 Les films choisis par l'Atelier des Arts et Techniques Céramiques. c'est mieux
Liste des films disponibles en consultation à la vidéothèque de l'INMA (Institut national des métiers d'art) Institut national des métiers d'art, Viaduc des Arts, 23 avenue Daumesnil, 75012 Paris Centre de ressources ouvert à tous les publics du mardi au vendredi, de 14 à 18h.
Intranet IPC
Black and White Retro
Delicious. I love the organic, anamorphic quality these abstract pieces have along with the gorgeous glazing.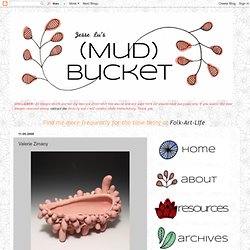 Valerie Zimany
Cinderelish
Valerie Zimany
English « Influence, pressure, strain.
Eva Hild » Galerie NeC nilsson et chiglien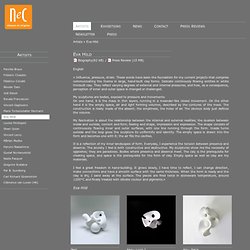 New Work - RUAN HOFFMANN
Kelly McKibben, Kelly McKibben cermics, Kelly McKibben ceramic artist
Kathy King - Online Portfolio
Contact - Julie Guyot
VERRE - VERRE - JULIE LOAEC
Clémentine Dupré - Ceramic Artist
[ [ karima duchamp ] ]
Vanitas from charlotte cornaton on Vimeo. charlottecornaton.com Juin 2009/// Terra est vanitas, casts, cracks, vanities and voids// Thèse Vanitas. Master Art graphique ESAG Penninghen, major mention excellente.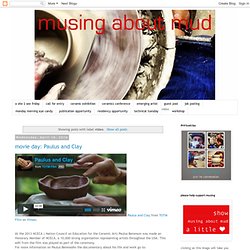 video
ceramic exhibition
Meet Peter Rabbit, Jumbo the elephant, Clara the rhinoceros, and a menagerie of colourful animals in this family-friendly exhibition.
Ronald McDonald House Chicago Donor Wall: Blue Ceramic | Chris Duh Art Maker
I am a breakfast making, nightly children's book reading, do my own laundry (sometimes) type dad / husband. If I don't answer my cell phone right away, it's likely I have two feet clicked into my mountain bike pedaling nowhere fast.
Sylvia Sherr - Ceramic Beings
This series is a combination of sculpted clay and drawing. The two processes are inseparable allowing the viewer to succumb to the inexplicable imagery.
Suzanne Stumpf - Ceramic Artist - Interactive Sculpture
Steve Belz's profile on Ceramics Now Magazine - View his works "The environment is in a delicate balance between well-being and decline. For a healthy society, we must be responsive to the fact that all of our activities affect the Earth.
Steve Belz Ceramics
A plate a day.
ERIC PARDUE
brisbane à la mode
amanda small | Projects
(Mud)Bucket
Reflections
Alphabet Cup: Iguana (front) by Hannah Niswonger presented by Ferrin Gallery
Stephanie DeArmond
Maeder
L' Usage des jours - 365 objets en céramique
Claire Marfisi bijoux contemporains en céramique
sculptures
contenants
blog
Shop: Rectangular pendant with ceramic tooth - The Clay Studio
Brian Jones: Recent Work - The Clay Studio
Bazar Tsé & Tsé Plat Creux Surpiqué Turquoise
a m y s a n t o f e r r a r o - HAWAII'S YESTERDAY (DETAIL)
Daniel Ricardo Teran
Galerie Besson - Artists
Blade Rubber Stamps Hero Cling Stamps : 2010 Hero Cling Stamps
Tampon clear stamps alphabet plaquette 14 cmx18
Set 13 outils Eco - Creatif.Pro
Kemper Sgraffito Tools
CERAMIC ART LONDON 2012
Valeria Nascimento
Susan O'Byrne - Current Work
Photostore
Ruth King Ceramics - portfolio
ikuko iwamoto ceramics top
Lowri Davies | Oriel // Gallery
carinaciscato.com
Myung Nam An - Ceramics - Exhibitions
Nancy Selvin Studios - Still Lifes
Angela Cunningham, Ceramic Artist
You and I and Things That Fly
Upcoming Exhibitions
: f l e u r y b l u e :
Escultures : Rosa Amorós
sculpture - MARIT KATHRINER site
Festical Ceramique Paris 11 - Edition 2010
Members: Jamie Tao _ Profile
Megan Bogonovich
BIJOUX GUM - Guillaume Goisque createur de bijoux dans le Var - Villecroze