Design
Les oeuvres d'arts circuits imprimés de Theo Kamecke. Theo Kamecke est à la base un réalisateur de film documentaire, et au cours de sa carrière et de ses voyages, il s'est trouvé fasciné face au circuits imprimés.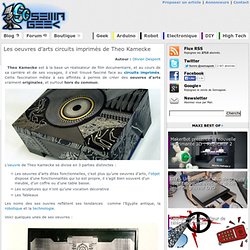 Cette fascination mêlée à ses affinités à permis de créer des oeuvres d'arts vraiment originales, et surtout hors du commun. L'oeuvre de Theo Kamecke se divise en 3 parties distinctes : Les oeuvres d'arts dites fonctionnelles, c'est plus qu'une oeuvres d'arts, l'objet dispose d'une fonctionnalités qui lui est propre, il s'agit bien souvent d'un meuble, d'un coffre ou d'une table basse.Les sculptures qui n'ont qu'une vocation décorativeLes Tableaux Les noms des ses ouvres reflètent ses tendances comme l'Egypte antique, la robotique et la technologie.
Packaging
Clothes. Watch & clock. Car. Meuble design. Haptic solution for modelling industrial designs. (PhysOrg.com) -- Industrial design modelling, used to make prototypes of home appliances or mock-ups of car parts, could soon make the leap from the world of plaster, plastic and sticky tape into the digital domain thanks to an augmented reality design system developed in Europe.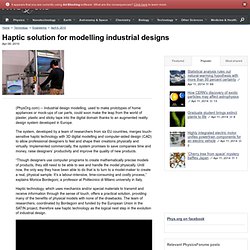 The system, developed by a team of researchers from six EU countries, merges touch-sensitive haptic technology with 3D digital modelling and computer-aided design (CAD) to allow professional designers to feel and shape their creations physically and virtually. Implemented commercially, the system promises to save companies time and money, raise designers' productivity and improve the quality of new products.
"Though designers use computer programs to create mathematically precise models of products, they still need to be able to see and handle the model physically. Until now, the only way they have been able to do that is to turn to a model-maker to create a real, physical sample. ArcelorMittal Orbit To Become UK's Largest Sculpture - The Desig.
Architecture
---