Celtique
30 Days of Paganism. Celtic Myth Podshow - Living Stories of Ancient Myths. Mythology, legend and folklore from Ireland. The Celtic Guide.
Cailleach. Astrologie Celtique -- L'Astrologie Celtique: Une création moderne? N.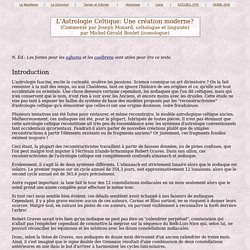 Éd.: Les fontes pour les oghams et les coelbrens sont utiles pour lire ce texte. IntroductionL'astrologie fascine, excite la curiosité, soulève les passions. Science cosmique ou art divinatoire ? On la fait remonter à la nuit des temps, ou aux Chaldéens, tant on ignore l'histoire de ses origines et ce, qu'elle soit tout occidentale ou orientale. Une chose demeure certaine cependant, les zodiaques que l'on dit celtiques, mais qui n'en conservent que le nom, n'ont rien à voir avec les Anciens, et encore moins avec les druides. Gaelic Names of Plants.
---