Celebrities
We bet every one of you reading this has one weird thing about your body you'd change if you could -- maybe you have an eye that's slightly lower than the other, or a nasty little scar on your lower back where your tail used to be. We all want to be perfect. But not so fast.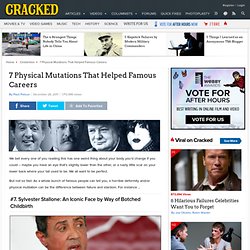 7 Physical Mutations That Helped Famous Careers
We try not to be celebrity-obsessed here at Cracked; we don't know whether Brad Pitt and Angelina Jolie are still married, we don't know which leading men are secretly gay and we have no idea why OJ doesn't make hilarious spoof movies anymore. But some prominent people have permanently changed the culture, and it's worth understanding what made them tick. Especially when you consider the fact that (according to some theories) small, arbitrary events in their lives completely changed the world.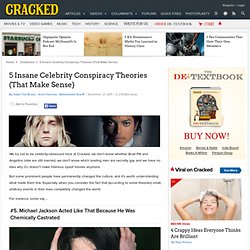 5 Insane Celebrity Conspiracy Theories (That Make Sense)
6 Inspiring Rags to Riches Stories (That Are Bullshit)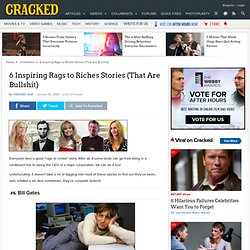 Everyone likes a good "rags to riches" story. After all, if some dude can go from living in a cardboard box to being the CEO of a major corporation, we can do it too! Unfortunately, it doesn't take a lot of digging into most of these stories to find out they've been, well, inflated a bit. And sometimes, they're complete bullshit. The Rags to Riches Story: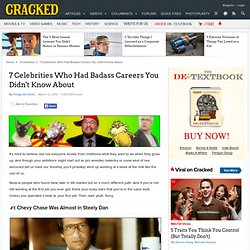 It's hard to believe, but not everyone knows from childhood what they want to be when they grow up. And though your ambitions might start out as pro wrestler, ballerina or some kind of sex astronaut ( let us have our dreams ), you'll probably wind up working at a kiosk at the mall like the rest of us.
7 Celebrities Who Had Badass Careers You Didn't Know About
The 7 Most WTF Post-Fame Celebrity Careers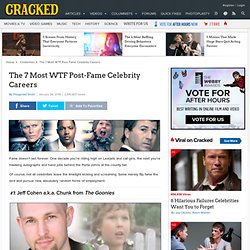 Fame doesn't last forever. One decade you're riding high on Learjets and call girls, the next you're hawking autographs and hand jobs behind the Porta Johns at the county fair. Of course, not all celebrities leave the limelight kicking and screaming. Some merely flip fame the bird and pursue new, absolutely random forms of employment. Jeff Cohen a.k.a.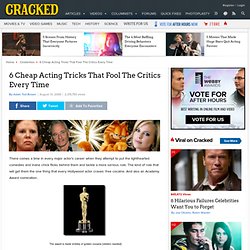 6 Cheap Acting Tricks That Fool The Critics Every Time
There comes a time in every major actor's career when they attempt to put the lighthearted comedies and inane chick flicks behind them and tackle a more serious role. The kind of role that will get them the one thing that every Hollywood actor craves: free cocaine. And also an Academy Award nomination.
Ah, celebrities-genetic lottery winners who spend their lives pretending they did something to deserve their good fortune. Nowhere are these self-important creatures more hilariously on display than in People magazine' "100 Most Beautiful," an annual celebration of vanity that describes facial symmetry with terms like "sharp intellect" (Lindsay Lohan), "leadership skills" (George Clooney) and "open mind"(Jamie Foxx). This year' list hit newsstands last week and is centered around the conceit that Angelina Jolie is beautiful because she is able to travel the world doing relief work, and not the other way around. Needless to say, the special issue offers up plenty of outrageous bullshit. Below, CRACKED weighs in on the 15 most ludicrous things that People had to say about their "100 Most Beautiful."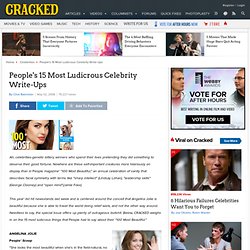 People's 15 Most Ludicrous Celebrity Write-Ups