Géographique
Nowadays, there seems to be a jQuery plugin for almost everything and you can find what you are looking for with a simple search, even for the most particular issues that you have come across, and you will still get one plugin that will fit your needs. A type of plugin that almost every client asks for these days to be implemented is a map plugin. Most of the times, the only reason why it is needed is for a contact page and that is pretty easy, any plugin can be used, but there are other functions that clients need and are a little bit trickier.
A Collection Of jQuery Maps Plugins - 20 Examples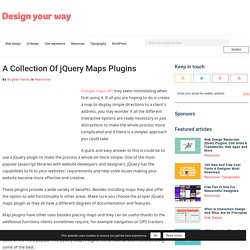 Geographic visualization tools
At GIS Cloud, we were always inspired to push online mapping beyond it's borders. When we started building GIS Cloud a few years ago our vision was, and still is, to move the entire GIS industry into a browser i.e. into the Cloud. Because custom maps can be quite complex and difficult to handle we had to build certain technologies from scratch.
GIS Cloud Starts HTML5 Mapping Revolution | GIS HTML5 Mapping Engine | GIS Cloud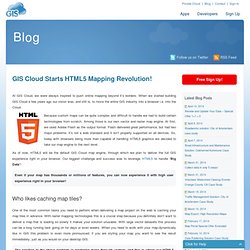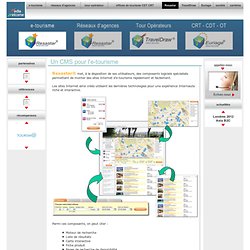 Media Welcome - Editeur de plate-formes de réservation multi-fournisseurs pour le tourisme et le voyage de loisirs.
Resastar® met, à la disposition de ses utilisateurs, des composants logiciels spécialisés permettant de monter des sites Internet d'e-tourisme rapidement et facilement. Les sites Internet ainsi créés utilisent les dernières technologies pour une expérience Internaute riche et interactive. Parmi ces composants, on peut citer :
Carte des destinations - Plaisir de Partir - Aéroport Nice côte d'Azur
PROCHAINEMENT DISPONIBLE : notre nouvelle rubrique VOYAGES au départ de Nice. Vous aviez l'habitude d'acheter un simple billet d'avion, sur l e site Internet de votre aéroport ? La nouvelle rubrique VOYAGES vous permettra bientôt d'organiser toutes vos vacances.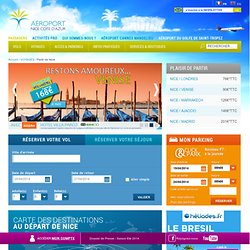 Laëtis, création de sites internet et d'applications multimédia
Carte Interactive
Let's describe the whole world!
Cartographie internet : le moteur de publication Neten'Map