Géographique
Webbu Preview System
St Barth 3D-Island - Visite en 3D de l'île de St Barthélemy aux Antilles Francaises. Annuaire Géolocalisé - Informations en Direct - St Barts FWI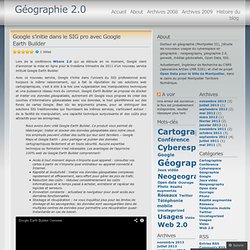 i 1 Votes Lors de la conférence Where 2.0 qui se déroule en ce moment, Google vient d'annoncer la mise en ligne pour le troisième trimestre de 2011 d'un nouveau service intitulé Google Earth Builder. Avec ce nouveau service, Google s'initie dans l'univers du SIG professionnel avec toujours le même raisonnement, qui a fait la réputation de ces solutions web cartographiques, c'est à dire à la fois une vulgarisation des manipulations techniques et une puissance réseau hors du commun.
Google s'initie dans le SIG pro avec Google Earth Builder
Python: création de cartes dynamiques Google Maps avec Google Charts (kml)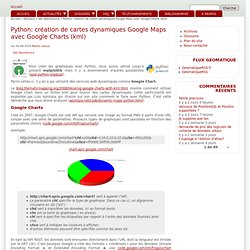 Pour créer les graphiques avec Python, nous avons utilisé jusqu'à présent matplotlib mais il y a énormément d'autres possibilités (pypi.python.org/pypi). Parmi celles-ci, il y en a qui utilisent des services web dynamiques comme Google Chart. Le blog.thematicmapping.org/2008/04/using-google-charts-with-kml.html montre comment utiliser Google Chart dans un fichier kml pour fournir des cartes dynamiques. Cette particularité est exploitée par Luis Apiolaza qui illustre sur son site comment le faire avec Python.
Voici quelques pistes pour évaluer et si possible augmenter l'utilité des données ouvertes. Savoir ce que vous en attendez Il n'y a pas de vent favorable pour le bateau qui ne sait pas où il va. L'ouverture des données peut servir plusieurs objectifs : assurer la conformité réglementaire, améliorer l'image de votre organisation, catalyser la co-création d'apps ou de services, informer vos clients ou vos administrés, focaliser vos ressources sur vos missions essentielles, servir la stratégie de plateforme de votre organisation, attirer des partenaires... Toutes les données ne sont pas bonnes à ouvrir, une ouverture subie ou mal maîtrisée peut menacer vos revenus ou augmenter les risques de désintermédiations.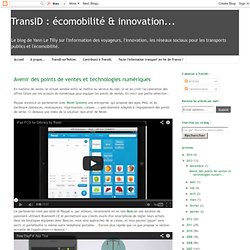 écomobilité & innovation...
Offres et services - CMS Eolas
Create and publish your maps online free of charge The Click2Map Editor is a free online map creation solution. A few clicks suffice to add points of interest to any geographic area of your choosing and benefit from the power of a professional application: import data, geocode multiple addresses perform batch updates, display directions, customize your own database... Simply download our maps to display them on your local computer, share them or publish them on you website, for free.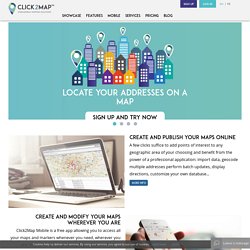 De KML à SHP
Fonctionnalités natives - CMS Eolas
Calcul d'itinéraires : Jogging, Running, Course à pied, Vélo, Cyclisme, Roller, Randonnée - Carte IGN Géoportail France - Entrainement de course à pied - Parcours de randonnée - Circuit à vélo
Outil de visualisation statistique
Nowadays, there seems to be a jQuery plugin for almost everything and you can find what you are looking for with a simple search, even for the most particular issues that you have come across, and you will still get one plugin that will fit your needs. A type of plugin that almost every client asks for these days to be implemented is a map plugin. Most of the times, the only reason why it is needed is for a contact page and that is pretty easy, any plugin can be used, but there are other functions that clients need and are a little bit trickier.
A Collection Of jQuery Maps Plugins - 20 Examples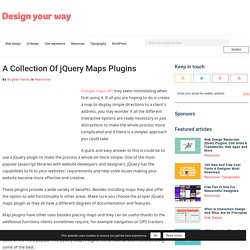 Geographic visualization tools
A platform that knows location. Our optimized vector-based map engine is based on the latest HTML5 technology, and is the fastest map display engine available. But we also provide the most comprehensive geo location, analytics and data integration capabilities that will let you leverage legacy geo and location data. GIS Cloud supports all popular geospatial vector and raster formats, and even allows you to import spreadsheets and text data to create your cloud-based geo information repository.And because we provide the ability to project your legacy data 'on the fly', you don't need to concern yourself with map projections or other geo database complexities.We then make your legacy geo information accessible through Javascript and REST APIs so that no matter what your solution requires, you can access it from all of your applications on all of your enterprise devices.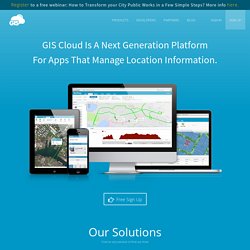 At GIS Cloud, we were always inspired to push online mapping beyond it's borders. When we started building GIS Cloud a few years ago our vision was, and still is, to move the entire GIS industry into a browser i.e. into the Cloud. Because custom maps can be quite complex and difficult to handle we had to build certain technologies from scratch.
GIS Cloud Starts HTML5 Mapping Revolution | GIS HTML5 Mapping Engine | GIS Cloud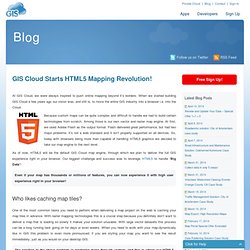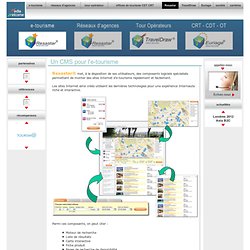 Media Welcome - Editeur de plate-formes de réservation multi-fournisseurs pour le tourisme et le voyage de loisirs.
Resastar® met, à la disposition de ses utilisateurs, des composants logiciels spécialisés permettant de monter des sites Internet d'e-tourisme rapidement et facilement. Les sites Internet ainsi créés utilisent les dernières technologies pour une expérience Internaute riche et interactive. Parmi ces composants, on peut citer :
Carte des destinations - Plaisir de Partir - Aéroport Nice côte d'Azur
Laëtis, création de sites internet et d'applications multimédia
Carte Interactive
Let's describe the whole world!
Cartographie internet : le moteur de publication Neten'Map