Career Advice
8 things I know now I wish I knew in college | Last night, I was part of a Pro-Am Day-type event at my alma mater, Winona State University.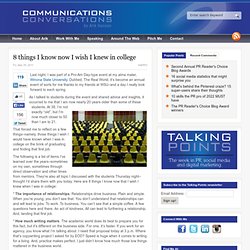 Dubbed, The Real World, it's become an annual event of sorts for me thanks to my friends at WSU–and a day I really look forward to each spring. As I talked to students during the event and shared advice and insights, it occurred to me that I am now nearly 20 years older than some of these students. 4 Web Apps For Managing Job Applications. This post originally appeared on the American Express OPEN Forum, where Mashable regularly contributes articles about leveraging social media and technology in small business.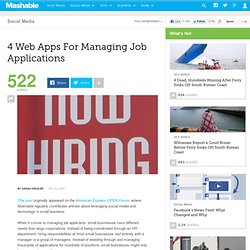 When it comes to managing job applicants, small businesses have different needs than large corporations. Instead of being coordinated through an HR department, hiring responsibilities at most small businesses rest entirely with a manager or a group of managers. Rmvoliveira. Five Ways to Make Your Resume Stand Out (PR Edition) By Kiersten Kaye (@klkaye) I know it's cliché, but if I had a dollar for every time someone told me "I hate recruiters" or "Looking for a job is SO hard," I'd be a very rich woman.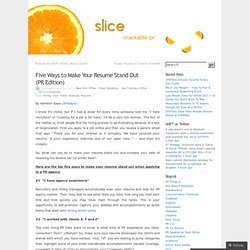 The fact of the matter is, most people find the hiring process to be frustrating because of a lack of reciprocation. First you apply to a job online and then you receive a generic email that says "Thank you for your interest in X company. We have received your resume. If your experience matches one of our open roles…" – and then it's crickets. Ky. Justice Cabinet announces $2.02 million to curb violence against women - FatLip. The Kentucky Justice and Public Safety Cabinet today announced $2.02 million in annual grant money to combat violence against women.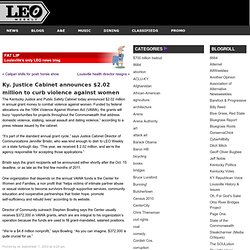 Funded by federal allocations via the 1994 Violence Against Women Act (VAWA), the grants will buoy "opportunities for projects throughout the Commonwealth that address domestic violence, stalking, sexual assault and dating violence," according to a press release issued by the cabinet. "It's part of the standard annual grant cycle," says Justice Cabinet Director of Communications Jennifer Brislin, who was kind enough to dish to LEO Weekly on a state furlough day. "This year, we received $ 2.02 million, and we're the agency responsible for accepting those applications." Brislin says the grant recipients will be announced either shortly after the Oct. 15 deadline, or as late as the first few months of 2011. 9 Ways to Make a Great First Impression : Managing. 50 Tips for Surviving Your Worst Work Days.
OK, you've heard about Steven Slater, the JetBlue flight attendant who had a major workplace meltdown last week.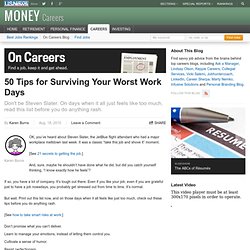 It was a classic "take this job and shove it" moment. [See 21 secrets to getting the job.] Software: And the Job Goes to ... the Candidate With the Right Keywords. If you're trying to land a job at a large company, your resume will likely be looked at by a machine long before a human being sets eyes on it.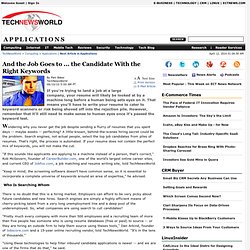 That means you'll have to write your resume to cater to keyword scanners or risk being shoved off into the rejection pile. However, remember that it'll still need to make sense to human eyes once it's passed the keyword test. Wondering why you never get the job despite sending a flurry of resumes that you spent days -- maybe weeks -- perfecting? A little-known, behind-the-scenes hiring secret could be the problem. How to Raise Your Profile, Online and Off.
It's a question that comes up a lot: how do I stand out?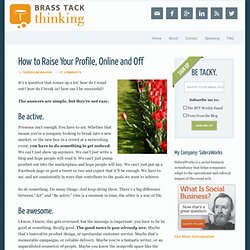 How do I break in? How can I be successful? The answers are simple, but they're not easy. Be active. What I wish I knew then about being a Community Manager - IGLOO Software - Social Software for Business. 20 Secrets I Wish Someone Had Told Me BEFORE I Started a Business | The Fight Against Destructive Spin. By: Gini Dietrich | June 11, 2009 | So you want to start a business?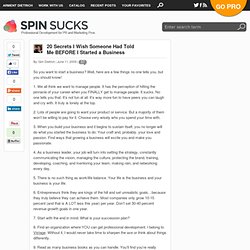 Well, here are a few things no one tells you, but you should know! Tips on how to write the best performing resume - Job Search Blog. Writing a CV is not an easy task.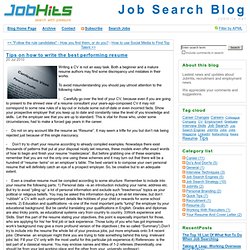 Both a beginner and a mature resume authors may find some discrepancy und mistakes in their works. To avoid misunderstanding you should pay utmost attention to the following rules: - Carefully go over the text of your CV, because even if you are going to present to the shrewd view of a resume consultant your years-ago-composed CV it may not correspond to some new rules of a lay-out or include some out-of-date or even incorrect facts. Show your prospective employer that you keep up to date and constantly raise the level of you knowledge and skills. Management Tip of the Day: 3 Tips to resolve co-worker conflicts. Five Things I Wish I Knew When I Started « CommUnity Business. How to Succeed in the Age of Going Solo. Taking Time Out to Teach :PRBreakfastClub. During my television viewing/live blogging of "Kell on Earth," a familiar situation reared its head – a staffer was complaining that she was never trained to do the job, and admitted that she had no idea what was supposed to do.
When the supervisor showed up and noticed it was all done the wrong way, the poor staffer sure got an earful. Was it the staffer's fault for not asking, or the supervisor's fault for not teaching? Let's face it, in the world of public relations, we are incredibly busy people. Between press releases, client meetings, strategic planning sessions, e-mails, phone calls, media lists – there is no question that we have a lot on our plate. Career Couch - Becoming Indispensable to Your Company - Intervie. The 7 Deadly Sins of Personal Branding.
Everyone's personal brand is different, even if by the tiniest subtlety. So, there are very few "sins" of personal branding that universally apply to all. But, I'm confident that the seven personal branding sins listed below can be applied to everyone – including you (but let's hope they don't)! Without further ado, here are 7 sinful characteristics of a personal brand that you should absolutely aim to avoid. Top 5 reasons why "The customer is Always Right" is wrong. When the customer isn't right – for your business One woman who frequently flew on Southwest, was constantly disappointed with every aspect of the company's operation. In fact, she became known as the "Pen Pal" because after every flight she wrote in with a complaint. She didn't like the fact that the company didn't assign seats; she didn't like the absence of a first-class section; she didn't like not having a meal in flight; she didn't like Southwest's boarding procedure; she didn't like the flight attendants' sporty uniforms and the casual atmosphere.Her last letter, reciting a litany of complaints, momentarily stumped Southwest's customer relations people.
Advice for students on social media careers. How to Start a Freelance Copywriting Business. Edit Article Edited by Krystle C., Mary Klaebel, Donni Jay De-Ville, Flickety and 13 others Launching a freelance copywriting career is not only possible, but profitable as well. Here are some steps to get you started. Ad Steps. Side Projects are Bigger than Resumes | Brand Camp University - Are you focused on building a better resume? Then my first question is why? This is a rhetorical question and your answer probably goes something like this.
Resume Advice for New Grads | Career Rocketeer - Career Search a. Now that it's graduation season, I've recently reviewed resumes for several new graduates. It was clear to me from looking at these documents that many people just entering the workforce feel unsure about which rules still apply for writing resumes today. Here are some tips for those who find themselves in this situation. Resumes for the Digital Age- Yahoo! HotJobsCanada. 6 Ways to Keep Your Rising Stars on Track : Managing :: American. Job Seekers' Top 5 Complaints About Employers - On Careers (usne.
---