Career Advice
8 things I know now I wish I knew in college |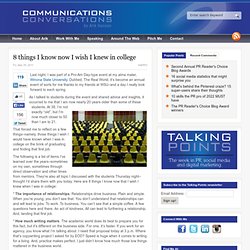 Last night, I was part of a Pro-Am Day-type event at my alma mater, Winona State University . Dubbed, The Real World, it's become an annual event of sorts for me thanks to my friends at WSU–and a day I really look forward to each spring. As I talked to students during the event and shared advice and insights, it occurred to me that I am now nearly 20 years older than some of these students.
4 Web Apps For Managing Job Applications
This post originally appeared on the American Express OPEN Forum , where Mashable regularly contributes articles about leveraging social media and technology in small business. When it comes to managing job applicants, small businesses have different needs than large corporations. Instead of being coordinated through an HR department, hiring responsibilities at most small businesses rest entirely with a manager or a group of managers.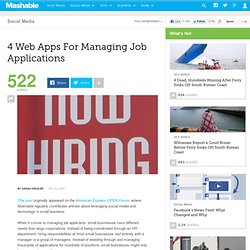 By Kiersten Kaye ( @klkaye ) I know it's cliché, but if I had a dollar for every time someone told me "I hate recruiters" or "Looking for a job is SO hard," I'd be a very rich woman.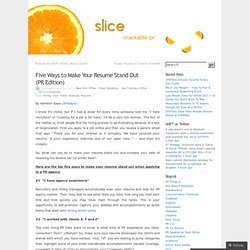 Five Ways to Make Your Resume Stand Out (PR Edition)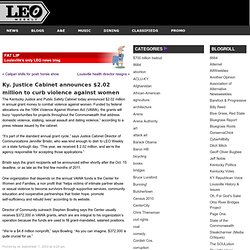 The Kentucky Justice and Public Safety Cabinet today announced $2.02 million in annual grant money to combat violence against women. Funded by federal allocations via the 1994 Violence Against Women Act (VAWA), the grants will buoy "opportunities for projects throughout the Commonwealth that address domestic violence, stalking, sexual assault and dating violence," according to a press release issued by the cabinet.
Ky. Justice Cabinet announces $2.02 million to curb violence against women - FatLip
Casey McCann - Eclectic Musician - An Eclectic Musician - Casey McCann's Blog - Slower is faster (whether swimming and getting shot at)
Casey McCann - Eclectic Musician - An Eclectic Musician - Casey McCann's Blog - Slower is faster (whether swimming and getting shot at)
9 Ways to Make a Great First Impression : Managing
OK, you've heard about Steven Slater, the JetBlue flight attendant who had a major workplace meltdown last week. It was a classic "take this job and shove it" moment. [See 21 secrets to getting the job .]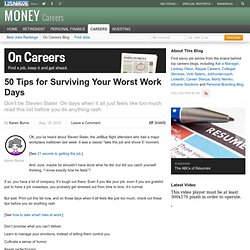 50 Tips for Surviving Your Worst Work Days
The Secret Sauce To Resumes…. « girl meets geek
If you're trying to land a job at a large company, your resume will likely be looked at by a machine long before a human being sets eyes on it.
Software: And the Job Goes to ... the Candidate With the Right Keywords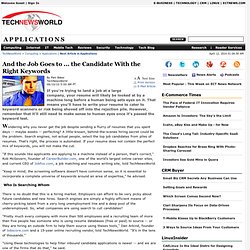 How to Raise Your Profile, Online and Off
It's a question that comes up a lot: how do I stand out?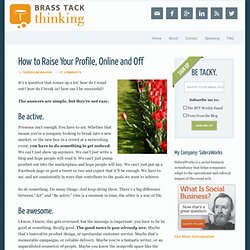 What I wish I knew then about being a Community Manager - IGLOO Software - Social Software for Business
20 Secrets I Wish Someone Had Told Me BEFORE I Started a Business | The Fight Against Destructive Spin
So you want to start a business? Well, here are a few things no one tells you, but you should know! 1.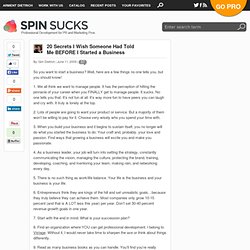 Writing a CV is not an easy task.
Tips on how to write the best performing resume - Job Search Blog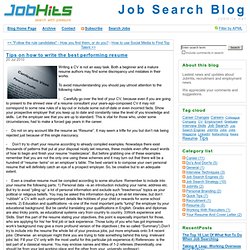 Management Tip of the Day: 3 Tips to resolve co-worker conflicts
How to Get Hired and Paid Three Times More
The Power of An, "I AM" Statement.
Getting Around the Age Myth
Five Things I Wish I Knew When I Started « CommUnity Business
By RICHARD GREENWALD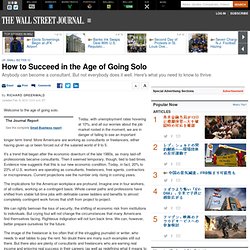 During my television viewing/live blogging of " Kell on Earth ," a familiar situation reared its head – a staffer was complaining that she was never trained to do the job, and admitted that she had no idea what was supposed to do.
Taking Time Out to Teach :PRBreakfastClub
I've had the pleasure of mentoring some awesome students this year. For some of them, it's a quick email explaining how to find a mentor, others it's a long, intensive relationship; editing resumes, helping to make connections in the industry, etc. Yesterday, though, was an new experience for me in the world of being a mentor.
How to be a good mentee: Unfiltered. | Sydney: Unfiltered.
Career Couch - Becoming Indispensable to Your Company - Intervie
Everyone's personal brand is different, even if by the tiniest subtlety.
The 7 Deadly Sins of Personal Branding
When the customer isn't right – for your business
Top 5 reasons why "The customer is Always Right" is wrong
Advice for students on social media careers
Side Projects are Bigger than Resumes | Brand Camp University -
Are you focused on building a better resume? Then my first question is why? This is a rhetorical question and your answer probably goes something like this.
3 Steps to a Better Conversation
Resume Advice for New Grads | Career Rocketeer - Career Search a
Come Recommended | Blog | Find a Job: Tying Together Social Medi
72 Hours and 3 Rules to Empower Your Job Search | Brazen Careeri
6 Ways to Keep Your Rising Stars on Track : Managing :: American
Job Seekers' Top 5 Complaints About Employers - On Careers (usne