Networking
Get flash to fully experience Pearltrees
FORTUNE -- Dear Annie: Your article about the importance of mentors and sponsors made me wonder about something that's happening in my own career, and probably lots of other women's, too. After three years at a large Wall Street firm, I got laid off in 2008 and decided to take the opportunity to get an MBA. Toward the end of my studies, I also had a child, and am now expecting a second one.
photo: Courtesy Josh Bycel Connector Josh Bycel raised $50,000 in three weeks to fund a medical clinic at a refugee camp in Darfur. We all know people like them, people who seem to know everyone.
You know the type. The people with obnoxious laughs, pushy pitches, and the ability to corner you at industry conferences and talk about themselves continuously for what seems like hours? The ones who clearly mean well, but their lack of etiquette can make you wish you hadn't even gone?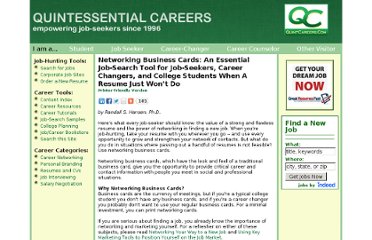 Printer-Friendly Version by Randall S. Hansen, Ph.D. Here's what every job-seeker should know: the value of a strong and flawless resume and the power of networking in finding a new job. When you're job-hunting, take your resume with you wherever you go -- and use every opportunity to grow and strengthen your network of contacts.
"10 Powerful Networking Tips Using Business Cards" by Carl E. Reid Whether you are looking for a job or running a business, giving out business cards is crucial to marketing your skills or services. Even as a job seeker, develop the mindset of running the business of YOU, Inc. Business cards speak volumes about who you are, what you offer and how serious you are marketing YOU, Inc. as a business.