Interviewing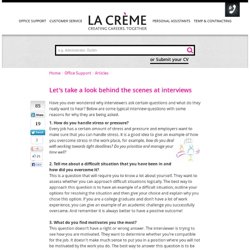 Let's take a look behind the scenes at interviews
Have you ever wondered why interviewers ask certain questions and what do they really want to hear? Below are some typical interview questions with some reasons for why they are being asked. 1. How do you handle stress or pressure? Every job has a certain amount of stress and pressure and employers want to make sure that you can handle stress.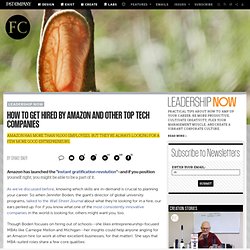 Amazon has launched the " instant gratification revolution "--and if you position yourself right, you might be able to be a part of it. As we've discussed before , knowing which skills are in-demand is crucial to planning your career. So when Jennifer Boden, the giant's director of global university programs, talked to the Wall Street Journal about what they're looking for in a hire, our ears perked up. For if you know what one of the most consistently innovative companies in the world is looking for, others might want you, too.
How To Get Hired By Amazon And Other Top Tech Companies | Fast Company | Business + Innovation
3 Reasons Employers Won't Hire 'Overqualified' Applicants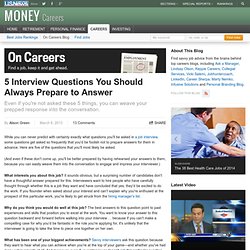 5 Interview Questions You Should Always Prepare to Answer
While you can never predict with certainty exactly what questions you'll be asked in a job interview, some questions get asked so frequently that you'd be foolish not to prepare answers for them in advance. Here are five of the questions that you'll most likely be asked. (And even if these don't come up, you'll be better prepared by having rehearsed your answers to them, because you can easily weave them into the conversation to engage and impress your interviewer.) What interests you about this job? 
McKinsey Interview
McKinsey Interview Success Story: Hi Victor! I have a few words on success through case interview study.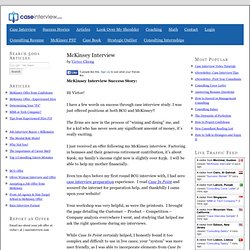 The Most Important Job Interview Question - Anthony Tjan
by Anthony K. Tjan | 7:00 AM September 28, 2012 At colleges and business schools across the country, the new academic year is just getting under way and with it a new recruiting season for talent.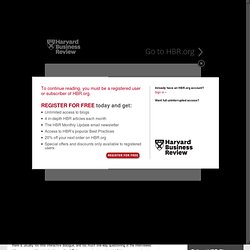 How To Save A Bad Interview
Why Should I Hire You? - 85broads
Watch Out! Ten Interview Questions Designed To Trick You
Here is what separates a good candidate from a great one. 3,831 in Share Connect with Evernote: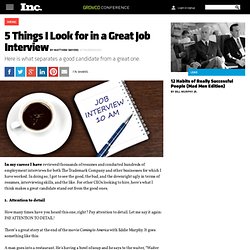 5 Things I Look for in a Great Job Interview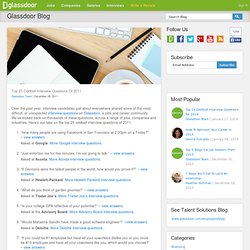 Top 25 Oddball Interview Questions Of 2011
Over the past year, interview candidates just about everywhere shared some of the most difficult, or unexpected interview questions on Glassdoor , a jobs and career community. We've looked back on thousands of these questions, across a range of jobs, companies and industries. Here's our take on the top 25 oddball interview questions of 2011:
THE INTERVIEW DOCTOR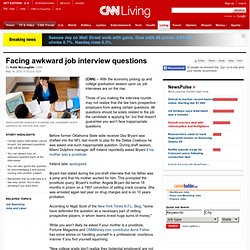 Facing awkward job interview questions
Some potential employers knowingly ask candidates bizarre questions too see how they react. Certain topics interviewer cannot broach, but awkward questions may still be asked You can always toss an awkward question back at the interviewer You can also ignore the question by acknowledging it and quickly moving onto another subject Remember that an interview is a two-way street. You're also deciding if you want them
Quantum electrodynamics ( QED ) is the relativistic quantum field theory of electrodynamics .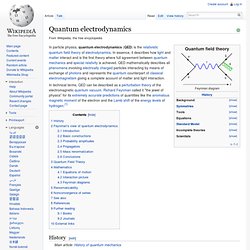 Quantum electrodynamics
The most ridiculous job interview questions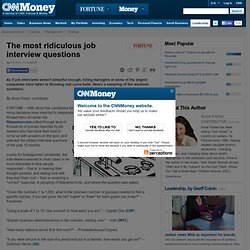 As if job interviews weren't stressful enough, hiring managers at some of the largest companies have taken to throwing real curve balls. Here's a sampling of the wackiest questions.
Ace the odd interview questions
No matter how odd the question, answer in a way that reflects best on your personality. Hiring managers veer from traditional interview questions to pick up on personality traits companies want people who can help the business prosper in a tough economic environment No matter the question, what you say should be tied to your qualifications for the position (CareerBuilder.com) -- Turns out that job seekers are not the only ones getting creative in the interview process. A new CareerBuilder survey of hiring managers revealed that they, too, are starting to veer from the traditional interview questions in order to get candidates to offer up even more unique glimpses into their personality.
www.udel.edu/CSC/pdfs/30SecComm.pdf
"Can You Work Under Pressure?"
6 Signs Your Job Interview Went Well
in Share 854
Interviewing Techniques - Monty Python | GSSOCX - Global Shared Services, Outsourcing and Consulting Xchange
First impressions are extremely important when it comes to the interview process. You've heard this time and time again—you only have one chance to make a good first impression. Unfortunately this is all too true.
Your 30 Second Commercial
Job Interview - 30 Second Personal Commercial
Interviewing - MIT Careers Office