Career Advancement
Get flash to fully experience Pearltrees
FORTUNE -- Dear Annie: At the end of your recent column about cultural "fit," the expert you quoted said that most job candidates don't ask enough questions.
Figure out if your career switch is worth the investment by calculating your ROI.
by Tony Schwartz | 9:44 AM January 23, 2012
Charges of lying are a regular feature of the headlines Pamela Meyer: People may be lied to as many as 200 times a day She says there are ways to spot liars Meyer: Studying posture, body language and verbal clues can help to detect lying Editor's note: Pamela Meyer is the author of the book " Liespotting ".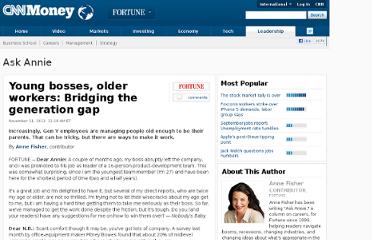 Increasingly, Gen Y employees are managing people old enough to be their parents.