Cardboard & Paper
Mandala. How Corrugated Cardboard Is Made. Background Most items at your favorite supermarket, discount store, or shopping mall were safely delivered in boxes made of corrugated cardboard, and many are displayed in the same boxes, which were manufactured so they could be opened and used for this purpose.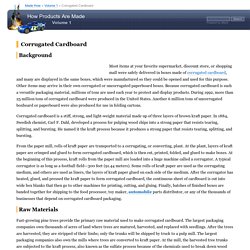 Other items may arrive in their own corrugated or uncorrugated paperboard boxes. Because corrugated cardboard is such a versatile packaging material, millions of tons are used each year to protect and display products. During 1992, more than 25 million tons of corrugated cardboard were produced in the United States. Another 6 million tons of uncorrugated boxboard or paperboard were also produced for use in folding cartons. DK Ahn's Domestic Manufacturing Machine. Posted by Lisa Smith | 14 Jul 2009 DK Ahn, a recent graduate of the Royal College of Arts in London (and previously featured here on Core), is investigating methods of domestic manufacturing in a project that he calls Microfactory.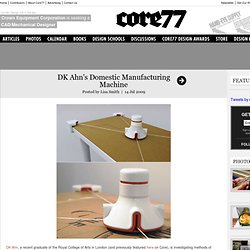 DK writes: Electronic Popables. Laser Printer Made Of Cardboard. Electronic waste is a big problem, and it's not going to go away until we, as consumers, demand that manufacturers take responsibility for what happens to the products they create once they're no longer usable.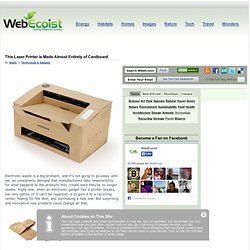 Right now, when an electronic gadget like a printer breaks, our only option (if it can't be repaired) is to give it to a recycling center, hoping for the best, and purchasing a new one. But surprising and innovative new products could change all that.
Cardboard & Paper Art. Book About Cardboard (by Narelle Yabuka) This amazing new book is packed with examples of the ingenious ways architects, designers, artists, and craftspeople have put cardboard to the test and successfully harnessed its amazing qualities of strength and sound absorption.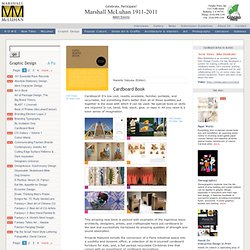 Projects featured include the conversion of a Paris industrial space into a youthful and dynamic office; a collection of do-it-yourself cardboard furniture for kids; and, a flat packed recyclable Christmas tree that comes with an assortment of cardboard decorations. Chapters include Architecture, Interiors, Furniture, Products, Art / Installations, Crafts / Toys and there is an index of designers and artists. Prototyping Party - 30 Days Of Cardboard. Raise the roof It's that time of year… Back to school, back to work — and back to making!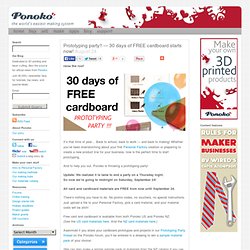 Whether you've been brainstorming about your first Personal Factory creation or preparing to create a new product line for your business, now is the perfect time to start prototyping. And to help you out, Ponoko is throwing a prototyping party! Cardboard & Paper Furniture. Portable Cardboard Toilet. There is nothing not funny about The Brown Corporation's portable toilet design – except for the fact that they are entirely serious, and why not?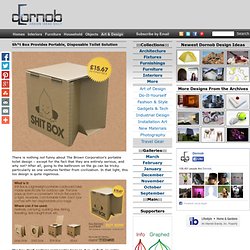 After all, going to the bathroom on the go can be tricky particularly as one ventures farther from civilization. In that light, this loo design is quite ingenious. The box itself contains replaceable bags so it is, in fact, reusable – but it is still inexpensive enough that were it to be ruined it would not be a significant financial loss. In short: it is a great device to go camping with and not worry too much about. Funny as it was at first, aren't you starting to take it just a little more seriously as a toilet design now? Freefold Furniture. Cardboard Crafts.
Related Cardboard, Paper & Furniture Pearls
---