Blogs y educación
For Educators - Blogger
Blogs y Educación
Educación y Blogs (EyB)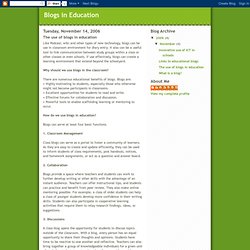 The use of blogs in education
Like Podcast, wiki and other types of new technology, blogs can be use in classroom environment for diary entry; it also can be a useful tool to link communication between study groups within a class or other classes or even schools. If use effectively, blogs can create a learning environment that extend beyond the schoolyard. Why should we use blogs in the classroom?
Blog
Diseño de un blog para elevar la calidad del proceso de enseñanza-aprendizaje  del ingles como lengua extranjera 
Blogging -- or Web logging -- most often is thought of as an activity for high school students. Did you know, however, that students as young as kindergarten age now blog on a daily basis in a variety of exciting ways? Read on to find out how elementary blogging works, what topics elementary students and teachers cover in their blogs, which software programs and tools to consider, and cautions and tips for starting your own blog.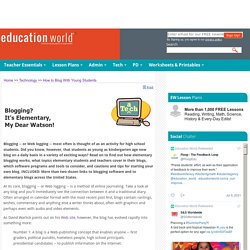 How to Blog With Young Students