Candy
things_Z.jpg (525×700)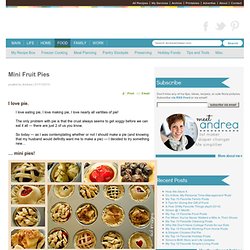 I love pie. I love eating pie, I love making pie, I love nearly all vartities of pie! The only problem with pie is that the crust always seems to get soggy before we can eat it all — there are just 2 of us you know. So today — as I was contemplating whether or not I should make a pie (and knowing that my husband would definitly want me to make a pie) — I decided to try something new…
Chocolate Dulce de Leche Bars Recipe at Epicurious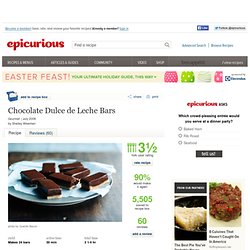 photo by Quentin Bacon yield Makes 24 bars active time 30 min
Pecan Praline Morsels Recipe : Paula Deen
photo by Mark Thomas Preparation Combine first 6 ingredients in food processor; blend 20 seconds. Transfer to medium saucepan; add 2 cups water and bring to boil. Remove pan from heat and let steep uncovered 20 minutes. Pour mixture into strainer set over heavy large saucepan; press on solids to release flavored liquid.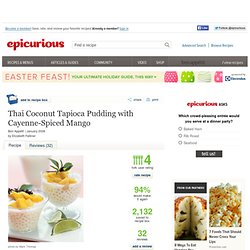 Thai Coconut Tapioca Pudding with Cayenne-Spiced Mango Recipe at Epicurious
Chocolate Toffee Recipe : Gale Gand
Paula's Easy Watermelon Dessert Recipe : Review : Paula Deen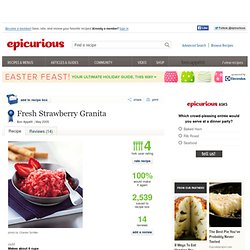 Fresh Strawberry Granita Recipe at Epicurious
photo by Charles Schiller Preparation Stir first 3 ingredients in small bowl until sugar dissolves. Blend 3 cups strawberries in processor until smooth. Add sugar syrup and blend until combined.
Pine Bark Recipe : Paula Deen