Candy
things_Z.jpg (525×700)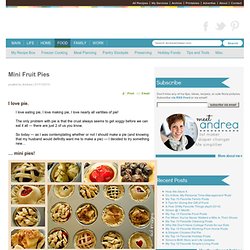 I love pie.
Chocolate Dulce de Leche Bars Recipe at Epicurious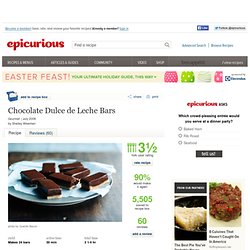 photo by Quentin Bacon yield Makes 24 bars active time 30 min
Ingredients 2 cups whole pecans 1/2 cup packed light brown sugar 4 tablespoons heavy cream Cooking spray Directions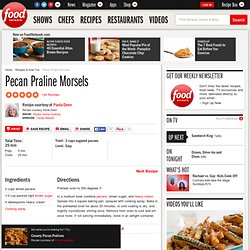 Pecan Praline Morsels Recipe : Paula Deen
photo by Mark Thomas Preparation Combine first 6 ingredients in food processor; blend 20 seconds. Transfer to medium saucepan; add 2 cups water and bring to boil. Remove pan from heat and let steep uncovered 20 minutes. Pour mixture into strainer set over heavy large saucepan; press on solids to release flavored liquid.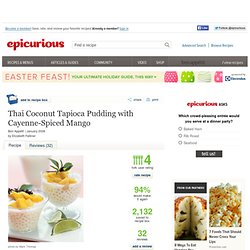 Thai Coconut Tapioca Pudding with Cayenne-Spiced Mango Recipe at Epicurious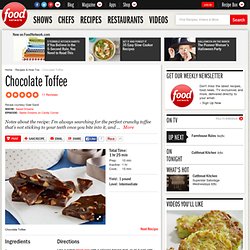 Chocolate Toffee Recipe : Gale Gand
Notes about the recipe: I'm always searching for the perfect crunchy toffee that's not sticking to your teeth once you bite into it, and I think I have it here! I serve this on my elaborate petit-four cart as one of 12 treats at the end of the very long meal at my restaurant Tru. I have recently discovered (and become totally addicted to) the marvelous Marcona almond, the favorite of Spanish chefs and tapas-lovers.
Paula's Easy Watermelon Dessert Recipe : Review : Paula Deen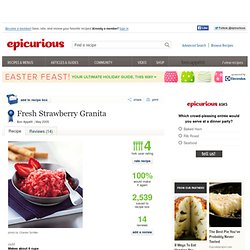 Fresh Strawberry Granita Recipe at Epicurious
photo by Charles Schiller Preparation Stir first 3 ingredients in small bowl until sugar dissolves. Blend 3 cups strawberries in processor until smooth. Add sugar syrup and blend until combined.
Pine Bark Recipe : Paula Deen
Ingredients 35 saltine crackers 1 cup butter 1 cup packed light brown sugar 1/2 teaspoon almond extract 5 (4-ounce) milk chocolate bars, broken into pieces Directions Preheat oven to 400 degrees F. Line a 15 by 10 by 1-inch jelly roll pan with tin foil. Lightly spray foil with a non-stick cooking spray.