June
New marker, new target in Ewing's sarcoma. Ewing's sarcoma is a bone cancer commonly diagnosed in about 250 U.S. teenagers per year.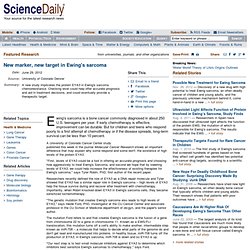 If early chemotherapy is effective, improvement can be durable. But for children and teens who respond poorly to a first attempt at chemotherapy or if the disease spreads, long-term survival can be less than 10 percent. Glucose deprivation activates feedback loop that kills cancer cells, UCLA study shows. By Jennifer MarcusJune 26, 2012Category: Health Sciences, Research Feedback loop that kills cancer Compared to normal cells, cancer cells have a prodigious appetite for glucose, the result of a shift in cell metabolism known as aerobic glycolysis or the "Warburg effect.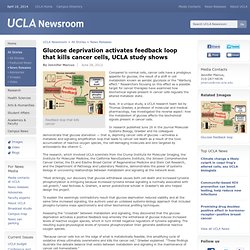 " Researchers focusing on this effect as a possible target for cancer therapies have examined how biochemical signals present in cancer cells regulate the altered metabolic state. Now, in a unique study, a UCLA research team led by Thomas Graeber, a professor of molecular and medical pharmacology, has investigated the reverse aspect: how the metabolism of glucose affects the biochemical signals present in cancer cells. Neiker-Tecnalia identifies antitumour proteins in the latex of the plant Euphorbia trigona. Contact: Iranzu Telletxea Neiker-Tecnalia.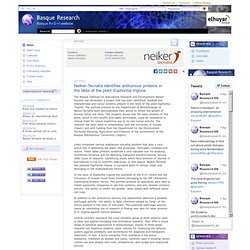 Enzyme offers new therapeutic target for cancer drugs. Public release date: 21-Jun-2012 [ Print | E-mail Share ] [ Close Window ] Contact: Scott LaFeeslafee@ucsd.edu 619-543-6163University of California - San Diego Researchers at the University of California, San Diego School of Medicine have uncovered a new signal transduction pathway specifically devoted to the regulation of alternative RNA splicing, a process that allows a single gene to produce or code multiple types of protein variants.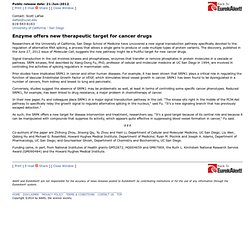 The discovery, published in the June 27, 2012 issue of Molecular Cell, suggests the new pathway might be a fruitful target for new cancer drugs. Signal transduction in the cell involves kinases and phosphatases, enzymes that transfer or remove phosphates in protein molecules in a cascade or pathway. Misidentified and contaminated cell lines lead to faulty cancer science. Modern cancer therapies start in cells – researchers compare cancer samples to healthy cells to discover how cancer is genetically different, and use cell lines to test promising new drugs.
However, a University of Colorado Cancer Center study published this week in the journal Gynecologic Oncology shows that due to a high rate of contamination, misidentification and redundancy in widely available cell lines, researchers may be drawing faulty conclusions. "I've seen faculty and graduate students leave my lab in tears when we discovered the cells on the label weren't the cells they were actually experimenting on," says Christopher Korch, PhD, investigator at the CU Cancer Center and director of the center's DNA Sequencing and Analysis Service, the paper's co-first author.
Cancer's next magic bullet may be magic shotgun. A new approach to drug design, pioneered by a group of researchers at the University of California, San Francisco (UCSF) and Mt.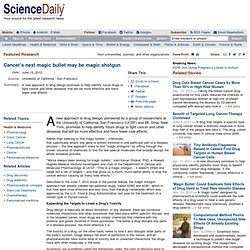 Sinai, New York, promises to help identify future drugs to fight cancer and other diseases that will be more effective and have fewer side effects. Rather than seeking to find magic bullets -- chemicals that specifically attack one gene or protein involved in one particular part of a disease process -- the new approach looks to find "magic shotguns" by sifting through the known universe of chemicals to find the few special molecules that broadly disrupt the whole diseases process.
---