Canada
Forgot your password? IPIC's Job Bank Our Job Bank is now online! Click here to view or create job postings instantly. Upcoming Events
Intellectual Property Institute of Canada - Institut de la propriété intellectuelle du Canada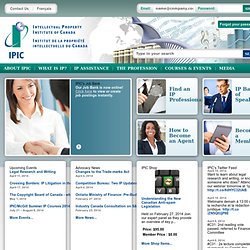 Company Directories by Industrial Sector - Home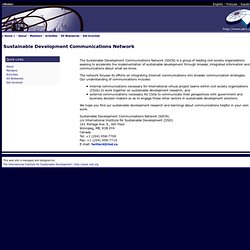 Sustainable Development Communications Network (SDCN)
The Sustainable Development Communications Network (SDCN) is a group of leading civil society organizations seeking to accelerate the implementation of sustainable development through broader, integrated information and communications about what we know. The network focuses its efforts on integrating Internet communications into broader communication strategies. Our understanding of communications includes: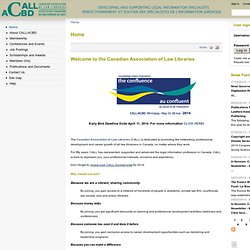 Welcome to the Canadian Association of Law Libraries The Canadian Association of Law Libraries is dedicated to promoting the networking, professional development and career growth of all law librarians in Canada, no matter where they work. Why should you join? Because we are a vibrant, sharing community By joining, you gain access to a network of hundreds of people in academic, private law firm, courthouse, law society, solo and prison libraries
CALLACBD :: Books/Journals
Accueil - Lexum
Commerce international
Human Rights Internet | Human Rights Internet
The National Judicial Institute / Institut national de la magistrature
NRC facilitates access to international R&D network for Canadian firms New innovation advantage for Canadian companies through access to technology, expertise, and markets in Europe and beyond. Digital technology adoption resources Improve your understanding of the link between digital technologies and productivity from actual technology adoption experiences that are featured in learning documents, videos and success stories. NRC Success stories Take a look out how NRC's market-driven research, technology development and commercialisation support services help companies bring their product to the marketplace.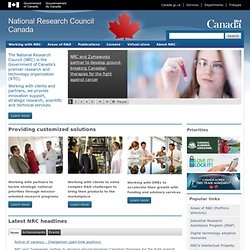 National Research Council Canada
Rights & Democracy
Association québécoise des avocats et avocates de la défense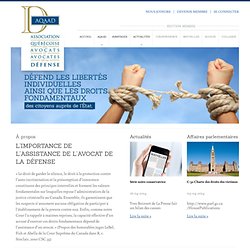 « Le droit de garder le silence, le droit à la protection contre l'auto incrimination et la présomption d'innocence constituent des principes interreliés et forment les valeurs fondamentales sur lesquelles repose l'administration de la justice criminelle au Canada. Ensemble, ils garantissent que les suspects n'assument aucune obligation de participer à l'établissement de la preuve contre eux. Enfin, comme notre Cour l'a rappelé à maintes reprises, la capacité effective d'un accusé d'exercer ces droits fondamentaux dépend de l'assistance d'un avocat. » (Propos des honorables juges LeBel, Fish et Abella de la Cour Suprême du Canada dans R. c. Sinclair, 2010 CSC 35) Les avantagesd'être membre>>>>>>> en savoir plus
Center for International Studies and Cooperation-CECI
Technology Serving the Law
La gestion du savoir dans un contexte juridique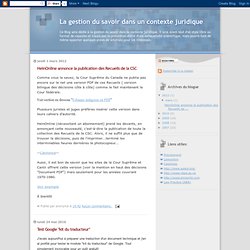 J'avais aujourd'hui à préparer une traduction d'un document technique et j'en ai profité pour tester le module "kit du traducteur" de Google. Tout simplement incroyable pour un outil gratuit! Le module en question vous permet de télécharger un document, ensuite vous propose automatiquement une traduction dans la langue désirée, puis phrase par phrase, vous offre de confirmer ou retoucher la traduction qu'il vous propose. Les deux documents (l'original et votre document de travail) sont affichés un à côté de l'autre, ce qui vous permet de construire votre traduction étape par étape.
Institute of Health Services and Policy Research (IHSPR) - CIHR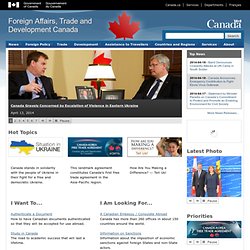 Skip to main content Department of Foreign Affairs, Trade and Development Baird Attends North American Foreign Ministers Meeting January 17, 2014 Canada's International Education Strategy
Foreign Affairs and International Trade Canada-DFAIT
Canada Southeast Asia Regional HIV/AIDS Program - CSEARHAP project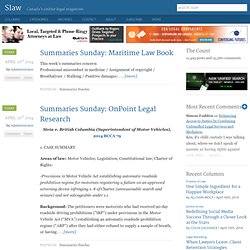 Slaw
There's a fine line between the sublime and the ridiculous. Often it's simply a matter of stepping outside an idea and looking back: to take an example, hockey — or sex, if you'd prefer that — is both an exciting target for one's passion and a profoundly silly way for grownups to disport themselves. I feel that way to some extent about flying. I've been doing it for what seems to be to be a long long time, from the days of partly pressurized DC-3s, though Super G Constellations, Vickers Viscounts and Boeing 707s, on to the airliners of today. . . . [more]
Centre for International Sustainable Development Law-CISDL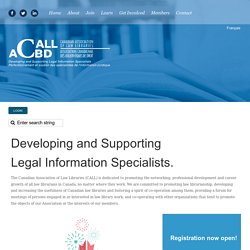 CALLACBD :: CALL/ACBD Canadian Association of Law Libraries
Early Bird Deadline Ends April 11, 2014. For more information CLICK HERE! The Canadian Association of Law Libraries (CALL) is dedicated to promoting the networking, professional development and career growth of all law librarians in Canada, no matter where they work. For fifty years, CALL has represented, supported and advanced the legal information profession in Canada. CALL is here to represent you, your professional interests, concerns and aspirations. Don't forget to renew your CALL membership for 2014.
Canadian International Development Agency - CIDA
Tout le site Bottin Le 18 janvier 2014 English Español Imprimer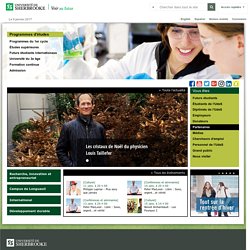 Pearson Peacekeeping Centre
Parliamentary Centre | lawmaking, legislative drafting and review | Parliamentary Centre
The legislative function is one of the key areas of responsibility for parliaments. Legislation can either be initiated by the executive or drafted by individual MPs. As part of the democratic process, parliaments are to deliberate all legislation and also have the power to amend, approve or reject government bills. Legislative Drafting and Review
RECOL