CAMPAÑAS
How The Powerful Gun Lobby Works To Discredit The Doctors Trying To Keep Children Safe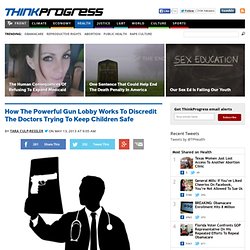 By Tara Culp-Ressler on May 13, 2013 at 9:05 am "How The Powerful Gun Lobby Works To Discredit The Doctors Trying To Keep Children Safe" As the nation continues to grapple with the best policy solutions to help prevent gun violence, powerful lobbying groups like the NRA continue to wield outsized influence over the ongoing conversation. That's why pediatricians, who are currently lobbying Congress for stronger gun laws in order to safeguard children's health, are treading cautiously as they quietly push for legislative action.
On asylum and refugees, it's time to open a new conversation... By Russell Hargrave Think small to light up rural Africa By Henrietta Miers Last week, Malawi's president declared: "Let there be light in every home."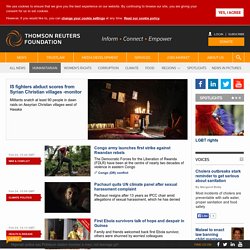 Ruta por la Defensa del Bosque Otomí-Mexica desde España. | Frente de Pueblos Indígenas en Defensa de la Madre Tierra
SI al Camino, NO a la Carretera. Salvemos el Bosque Sagrado Otomi Mexica!! Haremos el camino sagrado de Santiago de Compostela para pedir protección a bosques ancestrales de la Comunidad Indígena San Francisco Xochicuautla, Mexico. La Carrera
Envoyez un message à l'ambassade de Russie pour libérer nos activistes ! | Greenpeace France
There are seven billion of us on our planet. Each and every one of us is affected by the health of the Arctic: by reflecting the sun's rays off its ice, the Arctic shapes our weather patterns and the food we grow and eat. But the Arctic is the frontline of our warming climate - heating up twice as fast as anywhere else. It's also the frontline of the oil industry - one of the dirty, dead fuels responsible for the melting in the first place.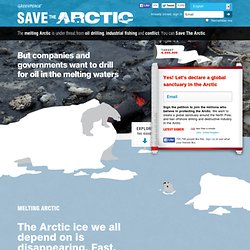 change
Freedom for Nestora Salgado, American activist, imprisoned in Mexico Nestora Saldago is the legal Coordinator of the Community Police from Olinala, Guerrero State, Mexico. She organized to Indigenous people against criminals groups that rape women and force the young to prostitution and to sell drugs en towns. She is an activist of gender issues like eradication of domestic violence and abuse of...
Pixable
Manning supporters outside Fort Meade, Tuesday (Photo via Twitter / Ed Pilkington) Pfc. Bradley Manning, the army whistleblower who exposed egregious U.S. war crimes after revealing military documents to the website WikiLeaks, has been found guilty of almost all of his charges in a military court in Fort Meade, Maryland and could face a maximum of more than 100 years in jail.
Manning 'Guilty' on Most Counts, Faces 100 Years in Prison
Miguel Ángel Osorio Chong Secretario de Gobernación de México Sr. Secretario: Le escribo para transmitirle mi profunda preocupación por la grave situación que viven las y los defensores de derechos humanos en México, quienes a menudo se enfrentan a ataques y amenazas como resultado de su legitima labor. Defensores como Fray Tomás, quien en Tabasco se enfrenta a ataques y amenazas por proteger a los migrantes que atraviesan México. La presión de la sociedad civil logró que se aprobara este año una ley que establece un mecanismo para proteger a defensores, defensoras y periodistas en riesgo.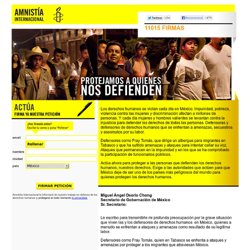 Actúa para proteger a quienes nos defienden
United Nations Foundation - United Nations Foundation - Connecting You with the United Nations
Home
Where we work Practical Action works directly in more than 40 developing countries across the world. We have offices in Kenya, Zimbabwe, Peru, Sudan, Nepal, Sri Lanka, and Bangladesh, and our consultancy work extends across Africa, Asia and Latin America. Our publications, knowledge and approach are used in almost every developing country in the world - extending the reach of our practical approach to tackling poverty. Why we do it Practical Action was founded by radical economist and philosopher E.F.
Who we are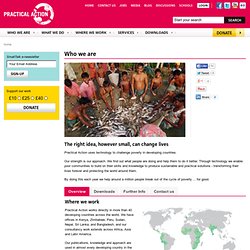 Demand Progress
Witness.org
Worldbank.org Youthink!
Talent is everywhere, but opportunities are not. That's the conventional belief. Today, after listening to some amazing young people speak about their lives at Thursday's End Poverty event at the World Bank, I'm convinced that opportunities are omnipresent.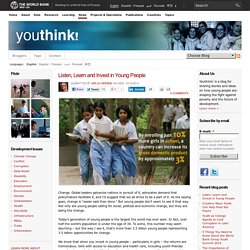 We Won! Tell Obama: Don't Appeal NDAA Court Ruling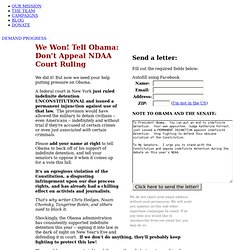 We Won! Tell Obama: Don't Appeal NDAA Court Ruling We did it! But now we need your help putting pressure on Obama. A federal court in New York just ruled indefinite detention UNCONSTITUTIONAL and issued a permanent injunction against use of that law. The provision would have allowed the military to detain civilians -- even Americans -- indefinitely and without trial if they're accused of certain crimes or even just associated with certain criminals.
Human Rights
Con esta iniciativa, queremos contribuir a la iniciativa puesta en marcha por la Sociedad Española de Medicina de Familia y Comunitaria (SEMFYC) el pasado 10 de julio y que suma ya más de 1.300 profesionales objetores contra la exclusión sanitaria. La iniciativa, dirigida en un primer momento a médicos y médicas de familia, se amplía a profesionales de todas las especialidades médicas, de enfermería, administrativos de salud... "en definitiva –explica Álvaro González, presidente de Médicos del Mundo– se trata de suscitar un movimiento del mundo sanitario contra una medida que choca contra la ética profesional. Queremos servir de vehículo de transmisión para que el personal sanitario reivindique, ejerza su derecho a la resistencia y su derecho a curar a toda persona que lo requiera, independientemente de su situación administrativa". Para ello, se han elaborado diferentes materiales como cartelería, vídeos virales, pegatinas e insignias para redes sociales.
Médicos del Mundo
What the media aren't telling you about the crisis in Ukraine & Crimea TOWARDS ACCOUNTABILITY AND JUSTICE FOR IRAQ: April 16-17, 2014 Download End-of-Year IAC Brochure Millions4Mumia: http://www.millions4mumia.org/ Fact Sheet on Mumia Abu-Jamal
Freerice
The GOOD Guide to Volunteering
The Southern Poverty Law Center counted 1,007 active hate groups in the United States in 2012. Only organizations and their chapters known to be active during 2012 are included. All hate groups have beliefs or practices that attack or malign an entire class of people, typically for their immutable characteristics.
Hate Map | Southern Poverty Law Center
NDLON National Day Laborer Organizing Network
Human Society
Movember Worldwide - Home
Deliver Darfur
エピ・ヴェルニやパピヨンのバケツやキーケースの査定 ルイヴィトンパピヨンやエピ、ヴェルニはいくらで買い取ってくれるのでしょうか。 チェックしてみましょう。どこに売るのがいいのか迷っちゃいますよね。 やはり専門店がベストなのか。それとも町の質屋さんがいいのでしょうか。
ToxiCola.org - ¿Cáncer a sorbos?
FEED Projects
Survival International - El movimiento por los pueblos indígenas
Colabora Únete a Survival Más noticias →
HAMBRUNA
FAO South Somalia mission Aug 11 2011.mov
Horn of Africa: on the brink of a humanitarian crisis
Matt Damon: Safe Water and a Toilet -- Is That Too Much to Ask... for 2.5 Billion People?
11 Myths About Global Hunger