CAMPAÑAS
IACenter.org. Thomson Reuters Foundation | News, Information and Connections for Action. Is wartime rape inevitable?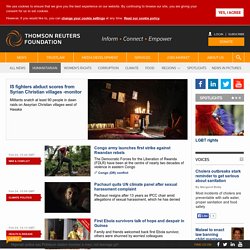 By Anastasia Moloney While in Sierra Leone and Colombia it is well-documented that all warring factions have carried out sexual violence, in some wars not all sides do Can a mother truly hate her own son? By Maria Caspani Film reflects on gender and social attitudes in today's Venezuela Fighting malaria to build stronger economies By Suzanne McCarron In addition to saving lives, investing in malaria control is helping accelerate progress for other health and development goals. Each dollar that keeps a young person malaria-free also helps keep him or her healthy enough to attend school – and be well enough to succeed.
Jobs, power and partnership in post-2015 development agenda By Tony O. United Nations Foundation - United Nations Foundation - Connecting You with the United Nations. National Day Laborer Organizing Network (NDLON) International Action Center.
LATINOAMÉRICA. Demand Progress. CrowdVoice. Petition Online. How The Powerful Gun Lobby Works To Discredit The Doctors Trying To Keep Children Safe. By Tara Culp-Ressler on May 13, 2013 at 9:05 am "How The Powerful Gun Lobby Works To Discredit The Doctors Trying To Keep Children Safe" As the nation continues to grapple with the best policy solutions to help prevent gun violence, powerful lobbying groups like the NRA continue to wield outsized influence over the ongoing conversation.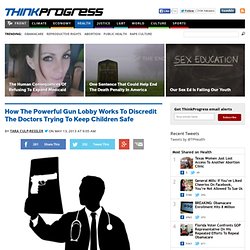 That's why pediatricians, who are currently lobbying Congress for stronger gun laws in order to safeguard children's health, are treading cautiously as they quietly push for legislative action.
CENSURA WEB. WIKILEAKS. Activism. Civil Disobedience. Human Rights Watch. Witness.org. Hate Map. The Southern Poverty Law Center counted 939 active hate groups in the United States in 2013.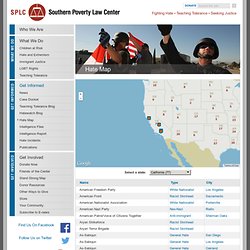 Only organizations and their chapters known to be active during 2013 are included. All hate groups have beliefs or practices that attack or malign an entire class of people, typically for their immutable characteristics. Human Rights. Médicos del Mundo. Con esta iniciativa, queremos contribuir a la iniciativa puesta en marcha por la Sociedad Española de Medicina de Familia y Comunitaria (SEMFYC) el pasado 10 de julio y que suma ya más de 1.300 profesionales objetores contra la exclusión sanitaria.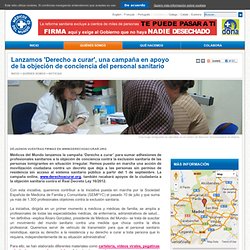 La iniciativa, dirigida en un primer momento a médicos y médicas de familia, se amplía a profesionales de todas las especialidades médicas, de enfermería, administrativos de salud... "en definitiva –explica Álvaro González, presidente de Médicos del Mundo– se trata de suscitar un movimiento del mundo sanitario contra una medida que choca contra la ética profesional. Queremos servir de vehículo de transmisión para que el personal sanitario reivindique, ejerza su derecho a la resistencia y su derecho a curar a toda persona que lo requiera, independientemente de su situación administrativa".
Para ello, se han elaborado diferentes materiales como cartelería, vídeos virales, pegatinas e insignias para redes sociales. Human Society. The GOOD Guide to Volunteering. Movember Worldwide - Home. ToxiCola.org - ¿Cáncer a sorbos?
OCCUPY/INDIGNADOS. HAMBRUNA. FEED Projects. Survival International - El movimiento por los pueblos indígenas. Darfur Visible. FAO South Somalia mission Aug 11 2011.mov. Charity: water. Horn of Africa: on the brink of a humanitarian crisis. One of the worst droughts in a century, compounded by high food prices and unremitting political strife, is spawning an immense humanitarian crisis on the Horn of Africa.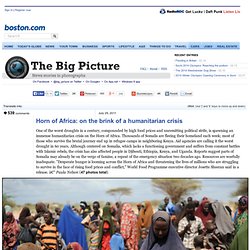 Thousands of Somalis are fleeing their homeland each week; most of those who survive the brutal journey end up in refugee camps in neighboring Kenya. Aid agencies are calling it the worst drought in 60 years. Although centered on Somalia, which lacks a functioning government and suffers from constant battles with Islamic rebels, the crisis has also affected people in Djibouti, Ethiopia, Kenya, and Uganda. Reports suggest parts of Somalia may already be on the verge of famine, a repeat of the emergency situation two decades ago. 11 Myths About Global Hunger. One of the most common myths about hunger is that there isn't enough food in the world.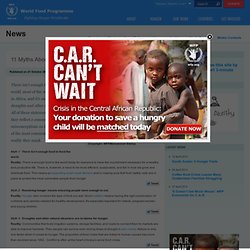 In fact, there is. Hunger is often a question of access. (Copyright: WFP/Mohammed Siddiq) There isn't enough food to feed the world, most of the world's hungry live in Africa, and it's mostly a question of droughts and other natural disasters. All of these statements are wrong. WFP | United Nations World Food Programme - Fighting Hunger Worldwide. Freerice. Practical Action. Where we work Practical Action works directly in more than 40 developing countries across the world.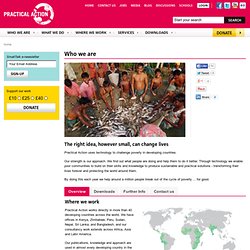 We have offices in Kenya, Zimbabwe, Peru, Sudan, Nepal, Sri Lanka, and Bangladesh, and our consultancy work extends across Africa, Asia and Latin America. Our publications, knowledge and approach are used in almost every developing country in the world - extending the reach of our practical approach to tackling poverty. Why we do it Practical Action was founded by radical economist and philosopher E.F.
---