CAMPAÑAS
Ruta por la Defensa del Bosque Otomí-Mexica desde España. | Frente de Pueblos Indígenas en Defensa de la Madre Tierra
SI al Camino, NO a la Carretera.
Envoyez un message à l'ambassade de Russie pour libérer nos activistes ! | Greenpeace France
There are seven billion of us on our planet.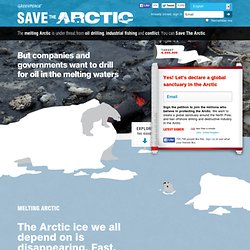 change
Freedom for Nestora Salgado, American activist, imprisoned in Mexico Nestora Saldago is the legal Coordinator of the Community Police from Olinala, Guerrero State, Mexico. She organized to Indigenous people against criminals groups that rape women and force the young to prostitution and to sell drugs en towns. She is an activist of gender issues like eradication of domestic violence and abuse of...
Pixable
Manning supporters outside Fort Meade, Tuesday (Photo via Twitter / Ed Pilkington) Pfc. Bradley Manning, the army whistleblower who exposed egregious U.S. war crimes after revealing military documents to the website WikiLeaks, has been found guilty of almost all of his charges in a military court in Fort Meade, Maryland and could face a maximum of more than 100 years in jail.
Manning 'Guilty' on Most Counts, Faces 100 Years in Prison
Miguel Ángel Osorio Chong Secretario de Gobernación de México Sr.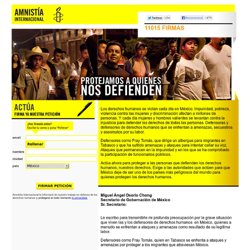 Actúa para proteger a quienes nos defienden
United Nations Foundation - United Nations Foundation - Connecting You with the United Nations
Home
Where we work Practical Action works directly in more than 40 developing countries across the world. We have offices in Kenya, Zimbabwe, Peru, Sudan, Nepal, Sri Lanka, and Bangladesh, and our consultancy work extends across Africa, Asia and Latin America. Our publications, knowledge and approach are used in almost every developing country in the world - extending the reach of our practical approach to tackling poverty. Why we do it Practical Action was founded by radical economist and philosopher E.F.
Who we are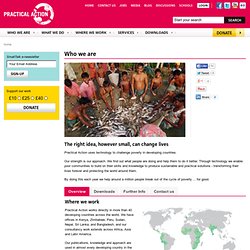 Demand Progress
Defending Human Rights Worldwide by macopa Mar 2
Witness.org
Worldbank.org Youthink!
It was in Paris, 65 years ago, on Dec. 10, 1948, that the president of the United Nations General Assembly, Herbert Vere Evatt, called for a vote on the Universal Declaration of Human Rights. Forty-eight nations voted in favor, eight abstained, but none dissented. Thus was adopted a simple, yet powerful declaration, which set out the basic principle of equality and non-discrimination: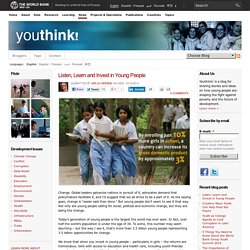 Youthink! is a blog for sharing stories and ideas on how young people are shaping the fight against poverty and the future of development. by macopa Feb 3
The Story Behind Youthink!
You think about the world...you care about the world...you are ready to act to make it a better place...but need to learn about the issues at stake...this is where Youthink! comes into play
We give you information about the global issues you said matter to you.
Share with us what you see. You know best what's going on around you. Tell us how things look from your angle, your street, your community, your world. Make yourself heard and tell us what you think!Act! by macopa Sep 13
We Won! Tell Obama: Don't Appeal NDAA Court Ruling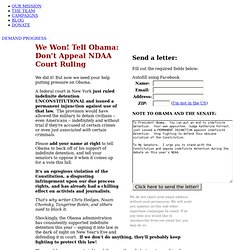 We Won! Tell Obama: Don't Appeal NDAA Court Ruling We did it! But now we need your help putting pressure on Obama. A federal court in New York just ruled indefinite detention UNCONSTITUTIONAL and issued a permanent injunction against use of that law. The provision would have allowed the military to detain civilians -- even Americans -- indefinitely and without trial if they're accused of certain crimes or even just associated with certain criminals.
Human Rights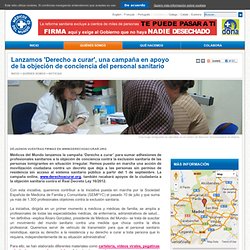 Con esta iniciativa, queremos contribuir a la iniciativa puesta en marcha por la Sociedad Española de Medicina de Familia y Comunitaria (SEMFYC) el pasado 10 de julio y que suma ya más de 1.300 profesionales objetores contra la exclusión sanitaria. La iniciativa, dirigida en un primer momento a médicos y médicas de familia, se amplía a profesionales de todas las especialidades médicas, de enfermería, administrativos de salud... "en definitiva –explica Álvaro González, presidente de Médicos del Mundo– se trata de suscitar un movimiento del mundo sanitario contra una medida que choca contra la ética profesional. Queremos servir de vehículo de transmisión para que el personal sanitario reivindique, ejerza su derecho a la resistencia y su derecho a curar a toda persona que lo requiera, independientemente de su situación administrativa". Para ello, se han elaborado diferentes materiales como cartelería, vídeos virales, pegatinas e insignias para redes sociales.
Médicos del Mundo
Lanzamos Derecho a Curar, una campaña en apoyo de la objeción de conciencia del personal sanitario by macopa Mar 2
"The International Action Center is committed to the building broad-based grassroots coalitions to oppose to U.S. wars abroad while fighting against racism and economic exploitation of workers here at home." by macopa Mar 2
Freerice
The GOOD Guide to Volunteering
The Southern Poverty Law Center counted 1,007 active hate groups in the United States in 2012. Only organizations and their chapters known to be active during 2012 are included. All hate groups have beliefs or practices that attack or malign an entire class of people, typically for their immutable characteristics.
Hate Map | Southern Poverty Law Center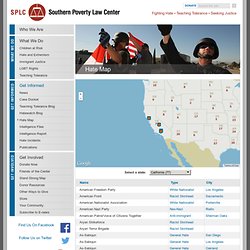 NDLON National Day Laborer Organizing Network
"NDLON improves the lives of day laborers in the United States. To this end, NDLON works to unify and strengthens is member organizations to be more strategic and effective in their efforts to develop leadership, mobilize, and organize day laborers in order to protect and expand their civil, labor and human rights. NDLON fosters safer more humane environments for day laborer, both men and women, to earn a living, contribute to society, and integrate into the community" by macopa Mar 2
Human Society
Movember Worldwide - Home
Deliver Darfur
ToxiCola.org - ¿Cáncer a sorbos?
(2015)QUILT
FEED Projects
Survival International - El movimiento por los pueblos indígenas
HAMBRUNA
FAO South Somalia mission Aug 11 2011.mov
Horn of Africa: on the brink of a humanitarian crisis
One of the worst droughts in a century, compounded by high food prices and unremitting political strife, is spawning an immense humanitarian crisis on the Horn of Africa. Thousands of Somalis are fleeing their homeland each week; most of those who survive the brutal journey end up in refugee camps in neighboring Kenya. Aid agencies are calling it the worst drought in 60 years. Although centered on Somalia, which lacks a functioning government and suffers from constant battles with Islamic rebels, the crisis has also affected people in Djibouti, Ethiopia, Kenya, and Uganda. Reports suggest parts of Somalia may already be on the verge of famine, a repeat of the emergency situation two decades ago.
By the time you finish reading this paragraph, one more child will have died from something that's been preventable for over a century. Nearly 40 percent of the world's population is still unable to secure a safe glass of water or access a basic toilet. While we continue to rally around the goal of ensuring safe water and sanitation for all, the real question we are left asking ourselves: how do we truly confront this in a way that results in realizing our vision within our lifetime? Even today, as solutions are known and available, lack of access to safe water and sanitation continues to claim more lives through disease than any war claims through guns.
Matt Damon: Safe Water and a Toilet -- Is That Too Much to Ask... for 2.5 Billion People?
11 Myths About Global Hunger
One of the most common myths about hunger is that there isn't enough food in the world. In fact, there is. Hunger is often a question of access. (Copyright: WFP/Mohammed Siddiq) There isn't enough food to feed the world, most of the world's hungry live in Africa, and it's mostly a question of droughts and other natural disasters. All of these statements are wrong.