CAMPAÑAS
Worldbank.org Youthink!
Students from the Afghanistan National Institute of Music (ANIM) play in the Wolfensohn Atrium. There are days when your faith in humanity is not only restored but strengthened. Today was one of those days.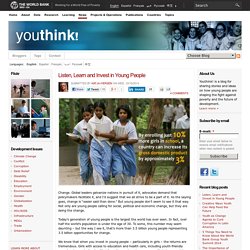 Youthink! is a blog for sharing stories and ideas on how young people are shaping the fight against poverty and the future of development. by macopa Feb 3
The Story Behind Youthink!
You think about the world...you care about the world...you are ready to act to make it a better place...but need to learn about the issues at stake...this is where Youthink! comes into play
We give you information about the global issues you said matter to you.
Share with us what you see. You know best what's going on around you. Tell us how things look from your angle, your street, your community, your world. Make yourself heard and tell us what you think!Act! by macopa Sep 13
Inmigrantes A La Venta
TCK TCK TCK - It's Time to Act on Climate Change
We Won! Tell Obama: Don't Appeal NDAA Court Ruling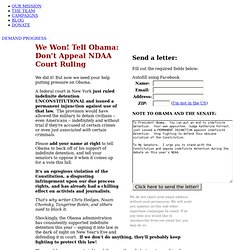 We Won! Tell Obama: Don't Appeal NDAA Court Ruling We did it! But now we need your help putting pressure on Obama. A federal court in New York just ruled indefinite detention UNCONSTITUTIONAL and issued a permanent injunction against use of that law. The provision would have allowed the military to detain civilians -- even Americans -- indefinitely and without trial if they're accused of certain crimes or even just associated with certain criminals.
Protesta Global | NO MAS VICTIMAS
Adhesion a Manuel Guillen « Manuel Guillen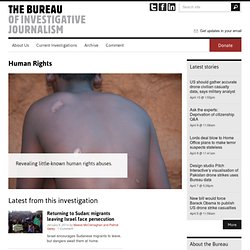 Human Rights
Yemen: reported US covert actions 2013 Dataset: US resumes targeting of alleged militants within days of the year's start. Emma Slater wins New Journalist of the Year Winner described as 'big issue journalist' for her Bureau investigations. A statement by the Bureau's Trustees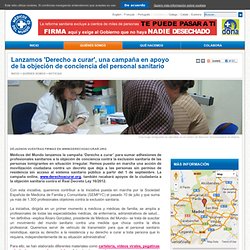 Con esta iniciativa, queremos contribuir a la iniciativa puesta en marcha por la Sociedad Española de Medicina de Familia y Comunitaria (SEMFYC) el pasado 10 de julio y que suma ya más de 1.300 profesionales objetores contra la exclusión sanitaria. La iniciativa, dirigida en un primer momento a médicos y médicas de familia, se amplía a profesionales de todas las especialidades médicas, de enfermería, administrativos de salud... "en definitiva –explica Álvaro González, presidente de Médicos del Mundo– se trata de suscitar un movimiento del mundo sanitario contra una medida que choca contra la ética profesional. Queremos servir de vehículo de transmisión para que el personal sanitario reivindique, ejerza su derecho a la resistencia y su derecho a curar a toda persona que lo requiera, independientemente de su situación administrativa". Para ello, se han elaborado diferentes materiales como cartelería, vídeos virales, pegatinas e insignias para redes sociales .
Lanzamos Derecho a Curar, una campaña en apoyo de la objeción de conciencia del personal sanitario - Médicos del Mundo
Photography, Johnny Barber
México . Las luchas indígenas de las últimas décadas en México –y en general en América Latina- se encuentran marcadas por los nuevos rumbos que el imperialismo capitalista ha tomado para entrar a una nueva fase económica que diversos analistas denominan "acumulación por desposesión". De acuerdo con esta tesis, una vertiente importante del capital se está enfocando a despojar a los pueblos de sus riquezas naturales.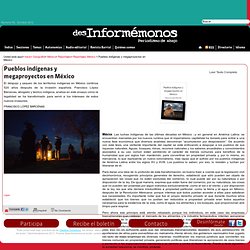 Pueblos indígenas y megaproyectos en México
Friends without Borders
Electoral Fraud in Mexico 2012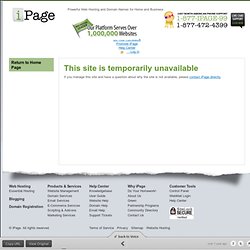 Show Voices on the map. Featured Voices more Current Voices Archived Voices Dec Nov Oct Sep Aug Jul Jun May Apr Mar Feb Jan 2012
Paloma - La Mejor Estudiante de Matemáticas
Malala Day on Vimeo
Homepage
The GOOD Guide to Volunteering
The Southern Poverty Law Center counted 1,007 active hate groups in the United States in 2012. Only organizations and their chapters known to be active during 2012 are included. All hate groups have beliefs or practices that attack or malign an entire class of people, typically for their immutable characteristics.
Hate Map | Southern Poverty Law Center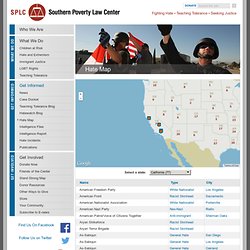 Refugee Children In Dolo Ado, Ethiopia
IRIS - Imaginons un Réseau Internet Solidaire
Dani Rodrik - Dani Rodrik: The Globalization Paradox
The page you are looking for might have been removed, had its name changed, or is temporarily unavailable. We apologize for the inconvenience. Please try the following: If you typed the page url address in the address bar, make sure that it is spelled correctly and case appropriate. Use the search field to search for the page by keyword. Use the navigation bar above to find the link you are looking for.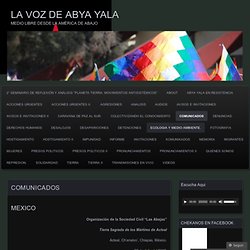 COMUNICADOS « LA VOZ DE ABYA YALA
Organización de la Sociedad Civil "Las Abejas" Tierra Sagrada de los Mártires de Acteal Acteal, Ch'enalvo', Chiapas, México. 22 de Julio del 2012. A la Opinión Pública A los medios de Comunicación Estatal, Nacional e Internacional
Nuestras Hijas de Regreso a Casa
Poaching
Movember Worldwide - Home
BBC Mundo - Noticias - La misteriosa enfermedad que azota a Centroamérica
Viral Racismo en México
International Rescue Committee iRESCUE DIY Fundraising | Rescue and Refugee Support
Deliver Darfur
Mijael Carbone denuncia nuevo allanamiento en Temucuicui
Foto: Temucuicui/José Luis Valdivia/(Archivo)El Ciudadano Mientras las miradas de todos están atentas a la final de la Copa Sudamericana, un nuevo allanamiento irrumpe con la tranquilidad de la comunidad de Temucuicui. Según lo denunciado por el werkén Mijael Carbone a través de las redes sociales, "en estos momentos, se realiza un fuerte allanamiento en nuestra comunidad (…) desconocemos el motivo pero tenemos claro que buscaran la forma de justificar". La tranquilidad de un día feriado en Chile no es la misma para todos. Mientras el ministro del Interior, Rodrigo Hinzpetter , apoya desde su cuenta en Twitter a los jugadores de Universidad de Chile , un nuevo episodio de violencia remece la comunidad mapuche de Ercilla. Esta tarde un fuerte contingente policial ataca a los mapuche de Temucuicui .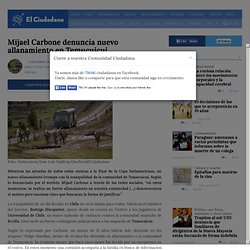 l pasado mayo el secretario de la Reforma Agraria, Abelardo Escobar, en la sesión mensual de la Canadian Chamber of Commerce in Mexico, aseguró a los canadienses que los ejidos mexicanos están listos para recibir inversión a través del Programa de Fomento a la Inversión Pública y Privada en la Propiedad Rural (FIPP), operado por la Procuraduría Agraria; informó que 90 por ciento de los 31 mil 628 núcleos agrarios del país están regularizados y que en ellos las instituciones agrarias han inducido inversiones por más de 86 mil millones de pesos. El FIPP, según el funcionario, está diseñado para impulsar alianzas entre ejidatarios e inversionistas que contribuyan a liberar el potencial creativo de las zonas rurales.
El caso de Lake Shore Gold en Wirikuta
ToxiCola.org - ¿Cáncer a sorbos?
(2015)QUILT
FEED Projects - Home Page
Survival International - El movimiento por los pueblos indígenas
HAMBRUNA
FAO South Somalia mission Aug 11 2011.mov
Horn of Africa: on the brink of a humanitarian crisis
One of the worst droughts in a century, compounded by high food prices and unremitting political strife, is spawning an immense humanitarian crisis on the Horn of Africa. Thousands of Somalis are fleeing their homeland each week; most of those who survive the brutal journey end up in refugee camps in neighboring Kenya. Aid agencies are calling it the worst drought in 60 years. Although centered on Somalia, which lacks a functioning government and suffers from constant battles with Islamic rebels, the crisis has also affected people in Djibouti, Ethiopia, Kenya, and Uganda. Reports suggest parts of Somalia may already be on the verge of famine, a repeat of the emergency situation two decades ago.
By the time you finish reading this paragraph, one more child will have died from something that's been preventable for over a century. Nearly 40 percent of the world's population is still unable to secure a safe glass of water or access a basic toilet. While we continue to rally around the goal of ensuring safe water and sanitation for all, the real question we are left asking ourselves: how do we truly confront this in a way that results in realizing our vision within our lifetime? Even today, as solutions are known and available, lack of access to safe water and sanitation continues to claim more lives through disease than any war claims through guns.
Matt Damon: Safe Water and a Toilet -- Is That Too Much to Ask... for 2.5 Billion People?
11 Myths About Global Hunger
One of the most common myths about hunger is that there isn't enough food in the world. In fact, there is. Hunger is often a question of access. (Copyright: WFP/Mohammed Siddiq) There isn't enough food to feed the world, most of the world's hungry live in Africa, and it's mostly a question of droughts and other natural disasters. All of these statements are wrong.
‪Imagine! USA sings for Mexico‬‏ - YouTube