Calvin @ Hobb's
Fight Club. Malthusian Daydream. Calvin & Hobbes Search Engine - by Bing. I have always been a big fan of Calvin & Hobbes comics, and their author, Bill Watterson.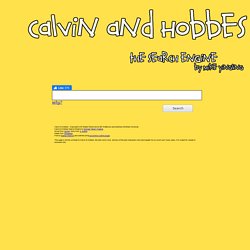 Since discovering the complete script online, as well as a collection of every daily strip on another website, I knew I could make the two reference each other and therefore create a "Calvin & Hobbes Search Engine" for lack of a better name. So I set out to do it. Currently the search only looks for EXACT phrases (not case sensitive), so if you're looking for a comic with the words "balloon" and "airplane" you cannot enter them both, or it will search for "balloon airplane" together. Calvin's Snowmen. Take Time To Enjoy Where We Are [quote] Calvin & Hobbes Snow Art. 20080306.jpg (JPEG Image, 800x555 pixels) 38 Snowmen Nightmares: Calvin and Hobbes In Real Life : WebUrbanist. 38 Snowmen Nightmares: Calvin and Hobbes In Real Life Article by Angie, filed under Sculpture & Craft in the Art category.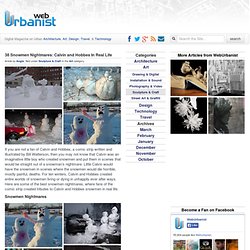 If you are not a fan of Calvin and Hobbes, a comic strip written and illustrated by Bill Watterson, then you may not know that Calvin was an imaginative little boy who created snowmen and put them in scenes that would be straight out of a snowman's nightmare. Little Calvin would have the snowmen in scenes where the snowmen would die horrible, mostly painful, deaths. For ten winters, Calvin and Hobbes created entire worlds of snowmen living or dying in unhappily ever after ways. Here are some of the best snowmen nightmares, where fans of the comic strip created tributes to Calvin and Hobbes snowmen in real life.
---