CADIA
Брагин сайт. Программы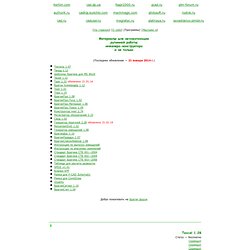 Материалы для автоматизации рутинной работыинженера-конструктораи не только (Последнее обновление — 21 января 2014 г.) Добро пожаловать на Брагин форум Texcel 1.28
Старт | liNear – программы САПР для инженерных систем зданий
Более десяти лет работы над автоматизацией проектирования принесли плоды. Скопилось необъятное количество презентаций различных проектов, программ, алгоритмов, библиотек и просто заметок. Все это найдет пристанище на этом сайте. Основная часть сайта, посвящена языкам AutoLISP, VisualLISP и другим языкам программирования, позволяющим автоматизировать проектирование.
Evgeniy | elpanov.com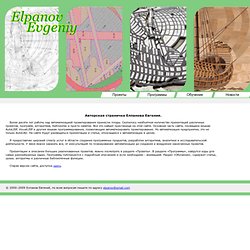 Envisioneer Professional is our complete toolset focused on the needs of Design Professionals who primarily produce presentation and working drawings and want the benefits of collaborating from a comprehensive 3D Building Information Model (BIM). Envisioneer Professional offers all our core Building Information Modeling and presentation capabilities combined with the advanced production drafting tools necessary to produce working drawings fast and easy. Envisioneer Professional also integrates with industry leading best in class 3rd party solutions through our Productivity Add-Ons.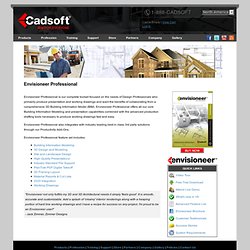 Envisioneer Professional
Applied Software-Autodesk Solutions, Training and Services.
Разработка и внедрение программно-технических комплексов для работы с использованием САПР и PLM-систем Кому предназначена данная услуга? Данная услуга предназначена организациям, нуждающимся во внедрении программно-технических комплексов на основе САПР и PLM-систем. Какие задачи решаются? Инсталляция платформ, операционных систем, баз данных и ПО промежуточного уровняИнсталляция клиентского программного обеспеченияУправление проектамиУправление жизненным циклом изделия (PPM - PLM Project Management)Управление качествомУправление принятием решенийПроизводственная автоматизацияОрганизация взаимодействия с клиентами, партнёрами и поставщиками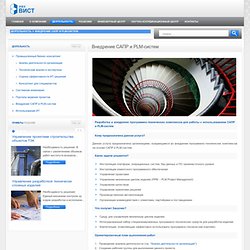 Внедрение САПР и PLM-систем
Data Design System - Building Information Modelling (BIM) Solutions
Tech Soft 3D | HOOPS 3D Toolkits | 3D Software Development Platforms | | Tech Soft 3D
Aldec, Inc - The Design Verification Company
Atrenta.com: Home Page
Россия Home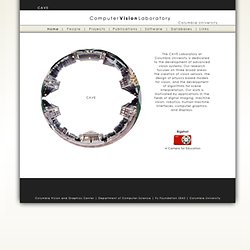 The CAVE Laboratory at Columbia University is dedicated to the development of advanced vision systems. Our research focuses on three broad areas: the creation of vision sensors, the design of physics-based models for vision, and the development of algorithms for scene interpretation. Our work is motivated by applications in the fields of digital imaging, machine vision, robotics, human-machine interfaces, computer graphics, and displays. Bigshot: Camera for Education
CAVE | Computer Vision Laboratory
3D Graphics Development Tools
Coin3D is a high-level, retained-mode toolkit for effective 3D graphics development. It is API compatible with Open Inventor 2.1. Coin3D is Free Software, published under the BSD 3-clause license.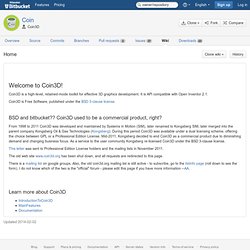 Open Inventor 3D Graphics Toolkit for Industrial-Strength Application Developments Open Inventor® is an object-oriented, cross-platform 3D graphics toolkit for the development of industrial-strength, interactive applications using C++, .NET or Java. Its easy-to-use API, its extensible architecture, and its large set of advanced components provide developers with a high-level platform for rapid prototyping and development of 3D graphics applications. Object-oriented SDK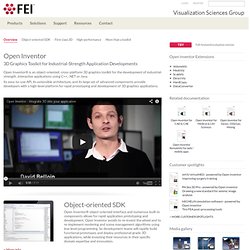 Open Inventor - Overview | VSG
FreeCAD is a general purpose feature-based, parametric 3D modeler for CAD , MCAD, CAx , CAE and PLM , aimed directly at mechanical engineering and product design but also fits a wider range of uses in engineering, such as architecture or other engineering specialties. It is 100% Open Source and extremely modular, allowing for very advanced extension and customization. FreeCAD is based on OpenCasCade , a powerful geometry kernel, features an Open Inventor -compliant 3D scene representation model provided by the Coin 3D library, and a broad Python API. The interface is built with Qt .
TC Fonts - AutoCAD Fonts - SHX Fonts - Project Newplex - Fontasm - SHXConvert
so parametric…
Software | Design Reform
Tecnologias aplicadas en arquitectura_
110920 – Estructuras intensivas – videos de apoyo clases 5 y 6 Estimados alumnos, les dejo los videos de repaso de la creacion de un componente adaptable en grasshopper. -clase 05 componente origami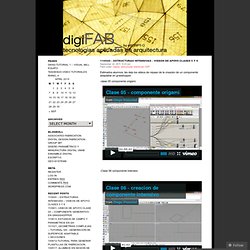 FreeCAD is a parametric 3D modeler. Parametric modeling allows you to easily modify your design by going back into your model history and changing its parameters. FreeCAD is open source (LGPL license) and completely modular, allowing for very advanced extension and customization. FreeCAD features tools similar to Catia, SolidWorks or Solid Edge, and therefore also falls into the category of MCAD, PLM, CAx and CAE. It is a feature based parametric modeler with a modular software architecture which makes it easy to provide additional functionality without modifying the core system.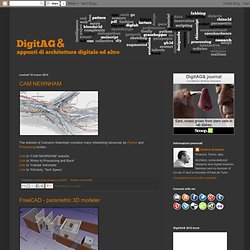 eSCRIPT-O
Imagination Technologies (IMG.L) announces its PowerVR Series6 Rogue GPU technology is the first mobile GPU to pass OpenCL 1.2 conformance with the Khronos Group. Read More Khronos Group member Unity's CEO talks about what's new in Unity 5, WebGL, and his favorite games.
The Khronos Group Inc.
OpenCOLLADA is a COLLADA SDK that includes plug-ins for Autodesk Maya and 3ds Max. OpenCOLLADA Update "26 July 2012" OpenCOLLADA has been moved to the Khronos Group github repositories Additional information on this change can be found in the Open Letter Update June 2012 OpenCOLLADA 1.2.2
Home
Image file formats
Open Dynamics Engine
COLLADA - Digital Asset and FX Exchange Schema - COLLADA
COLLADA
GenerativeComponents
Скачать программы для архитекторов, инженеров-строителей, дизайнеров интерьеров, автомобилистов
Servicios CAD CAM CAE en Mexico - CAD
FormSys - Formation Design Systems
Welcome to CADLearning
CAD Schroer: Plant Design, Factory Layout, 2D/3D CAD
Innovation Intelligence
Systems, Incorporated: Providing software for the lifecycle of the world's infrastructure
PLM для средних и малых предприятий: ниша открыта
DEVELOP3D Live | Accelerating product development to manufacture
The Introduction of Google SketchUp
PLM Software – Product Lifecycle Management Software
Intermech О компании
ZWSOFT.COM
CIFE Bulletin May 2007
Architectural Computing.org
CAADRIA, the Association for Computer-Aided Architectural Design Research in Asia
Technische Universiteit Eindhoven: Design Systems
eCAADe
CAAD Futures Foundation
Cumincad : Works : Main Menu
КОМПАС-3D V13. Инструмент со3Dателя