CAD - Simulation
K-3D
Space Designer 3D
openNURBS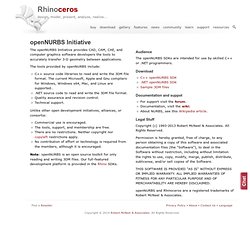 The openNURBS Initiative provides CAD, CAM, CAE, and computer graphics software developers the tools to accurately transfer 3-D geometry between applications. The tools provided by openNURBS include: C++ source code libraries to read and write the 3DM file format. The current Microsoft, Apple and Gnu compilers for Windows, Windows x64, Mac, and Linux are supported.. .NET source code to read and write the 3DM file format.
Slingshot! Preview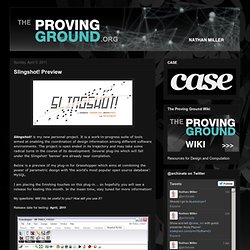 Slingshot! is my new personal project. It is a work-in-progress suite of tools aimed at enabling the coordination of design information among different software environments.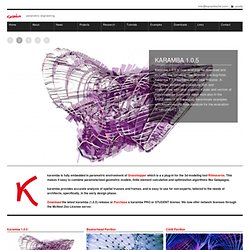 karamba
Master of Architecture students of the University of Melbourne have completed a 12-week studio that involves using Rhino, Grasshopper and Karamba to produce grid-shell structures for a pavillion at the Northcote Aquatic Center.
Autodesk 123D - Free 3D Modeling Software, 3D Models, DIY Projects, Personal Fabrication Tools
The Fast and Light 3D CAD Editor | AutoQ3D.com
List of CAx companies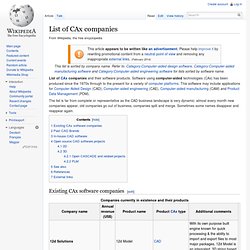 List of CAx companies and their software products.
Category:Free computer-aided design software
free-cad
Open Inventor - Overview | VSG
Open Inventor 3D Graphics Toolkit for Industrial-Strength Application Developments Open Inventor® is an object-oriented, cross-platform 3D graphics toolkit for the development of industrial-strength, interactive applications using C++, .NET or Java.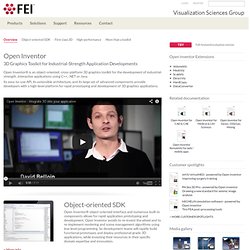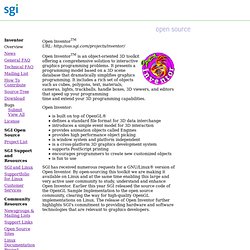 URL: http://oss.sgi.com/projects/inventor/
Developer Central Open Source | Open Inventor
3D Graphics Development Tools
About FreeCAD - free-cad
3D-Coat - Voxel sculpting, Retopology, UV-mapping, Texture painting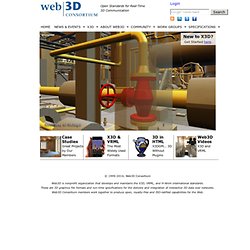 New authoring tool allows 3D developers for easy and fast creation of 3D scenes and applications / New graphical interface export to X3Dom with WebGL working without the need for using plug-in's and is supported by BS content studio / 3D plug-in's still to be applied in MS Internet Explorer on Windows 8 desktop and for native Apps on iOS and Android / Bitmanagement in search of testers for BS Content Studio / Bitmanagement is exhibiting at booth #233 at Siggraph 2013, Anaheim, California, USA The 3D world actually is facing obvious changes. A new format for web based scenes and application is on the horizon.
Consortium | Open Standards for Real-Time 3D Communication
Free CAD software * for your DWG files: DraftSight
3D modeling Tutorials tools
| by Levent Ozler93 Autodeskbrings AutoCAD WS mobile application to Android. AutoCAD WS uses cloud computing technology to enable Autodesk software users to view, edit and share their designs through web browsers and mobile devices.
AutoCAD WS for Android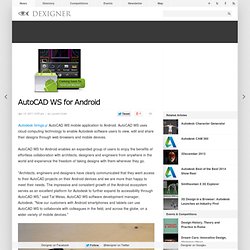 CadFaster - Collaboration Tools for 3D CAD and PLM Community - Home
SketchChair is a free, open-source software tool that allows anyone to easily design and build their own digitally fabricated furniture.
SketchChair: Furniture Designed by You by Diatom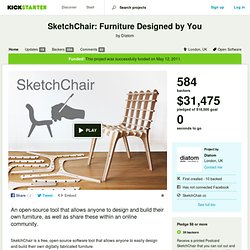 SPAWeb3D Product Documentation / Mini Application
SPAWeb3D
trueSpace7, Introduction
The already powerful range of modeling tools in trueSpace is expanded with this release, making it easy for you to create your 3D objects and scenes. by Griff Wason.
Seok-Hyung Bae, Ravin Balakrishnan, and Karan Singh are about to present "ILoveSketch: As-natural-as-possible sketching system for creating 3D curve models," ACM Symposium on User Interface Software and Technology 2008 (Monterey, CA, USA, October 19-22, 2008) ILOVESKETCH is a 3D curve sketching system that captures some of the affordances of pen and paper for professional designers, allowing them to iterate directly on concept 3D curve models. The system coherently integrates existing techniques of sketch-based interaction with a number of novel and enhanced features.
i love sketch
3DVIA TV
GrabCAD - free CAD library from engineers to engineers
Post3D
At the beginning of the year I predicted a move of 3D apps toward the cloud.
Spatial and Dassault Put 3D CAD on the Cloud. What it All Means. - SolidSmack
Spatial Development Labs
MODO 701 Individual License MODO is the unique, artist-friendly 3D software that combines modeling, painting, animation and rendering in a fused workflow for designers and artists working in the areas of industrial design, architectural visualization, package design, game development, film and broadcast, education and scientific studies. When you buy a MODO 701 Individual License, you can use it on Windows, OSX and Linux as we license the software to you, not your computer. Buy MODO 701 Individual License Upgrade to MODO 701 Want the latest version of MODO?
Store > modo
3D Ubiquity
dezineforce
Magazine » Tutorial
Il portale italiano sulla grafica 3D
UNFOLD3D the best and fastest UV mapping generator / on-the-fly unwrapper
MoI, 3D modeling for designers and artists
Sculptris
Projectfinder
:: Pixologic ::
Sculptris
DraftSight free CAD software: Features
PLM solutions, 3D CAD and simulation software
insight3d - opensource image based 3d modeling software
Revolution in 3D Modeling | Home
Design - Alibre Design Business Products
Web Based
AutoDesSys | Home
3D CAD Design Software SolidWorks
Modeling tools for designers
www.inivis.com - AC3D - 3D Design Software
Alibre Design - Affordable 3D CAD Design, CAM, Rendering Software
heekscad - Project Hosting on Google Code
OpenSCAD - The Programmers Solid 3D CAD Modeller
Wings 3D
TopMod3D: Topological Mesh Modeler
Home - Art of Illusion
Home
Created with Camtasia Studio 5
Free CAD software * for your DWG files: DraftSight
Download T-FLEX CAD – Thiết kế CAD 2D, 3D
Free eDrawings Viewer for SolidWorks, DWG and DXF files
Spatial | 3D Software Components for 3D Modeling, CAD Translation, and 3D Visualization
10 Free and useful computer-aided design software
AutoDesSys | bonzai3d Features
3DTin
COLLADA - Digital Asset and FX Exchange Schema - COLLADA
Solutions 3D temps reel et 3D interactive - Presentation 3d - Maquette numerique - web3d
COLLADA - Digital Asset Exchange Schema for Interactive 3D
digitaltoolbox
Grasshopper
Welcome to Luxology
Web-Based CAD | netrequest.net
Autodesk Homestyler - Free Home Design Software and Interior Design Software
3D collaborative solutions
EnSuite - Multi-CAD Digital Mockup | Viewers | Translators | Measure | Markup
Power of WebCenter: View and annotate CAD and Graphics online
Kunst - Web-based CAD
Download
Login | Daystar iStructural.com
About
International PARTserver Community - Free CAD Models - 3D Parts
CADENAS Flash Viewer - International PARTserver Community - Free CAD Models - 3D Parts
3D Direct Modeling Software for Concept Modeling, CAE, and Manufacturing that enable Lean Product Development
Convert SketchUp, STEP, IGES, DWG, JT files to 3DS, OBJ & XAML | Babel3D
Labs Utilities Project Vasari
avocado-cad
avoCADo :: Open Source 3D CAD
25 (Free) 3D Modeling Applications You Should Not Miss
Modelica and the Modelica Association — Modelica Association
Welcome to OpenModelica
JModelica.org
Free Mechanical Engineering: CAD Software