CAD - Simulation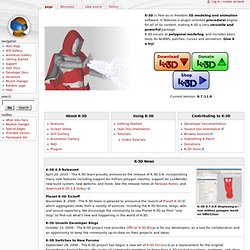 K-3D
K-3D 0.7.0.0 displaying a one million polygon mesh on GNU/Linux K-3D 0.8 ReleasedApril 20, 2010 - The K-3D team proudly announces the release of K-3D 0.8, incorporating many new features including support for million-polygon meshes, support for LuxRender, new build system, new website, and more. See the release notes at Release Notes, and download K-3D 0.8 today! Planet K-3D KickoffNovember 8, 2009 - The K-3D team is pleased to announce the launch of Planet K-3D, which aggregates news from a variety of sources, including the K-3D forums, blogs, wiki, and source repository.
Space Designer Release 2 coming soon. Try it Now Visualize and Experiment
Space Designer 3D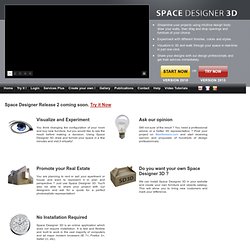 openNURBS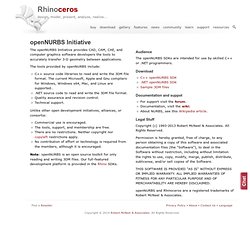 The openNURBS Initiative provides CAD, CAM, CAE, and computer graphics software developers the tools to accurately transfer 3-D geometry between applications. The tools provided by openNURBS include: C++ source code libraries to read and write the 3DM file format. The current Microsoft, Apple and Gnu compilers for Windows, Windows x64, Mac, and Linux are supported.. .NET source code to read and write the 3DM file format.
Slingshot! Preview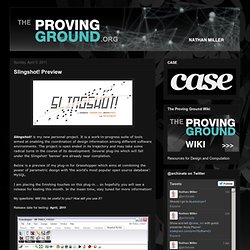 Slingshot! is my new personal project. It is a work-in-progress suite of tools aimed at enabling the coordination of design information among different software environments.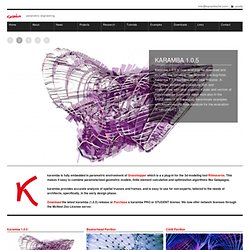 karamba
Karamba 1.0.5 is now available for download and includes the following new features and bug-fixes. Karamba 1.0.5 contains these new features: A simplified installation procedure. Iso- and stream-lines with user supplied values and vectors at mesh-vertices (unlimited mesh-size also in the FREE-version of Karamba). Benchmark examples with known results from literature for the evaluation of calculation […] This intensive 4 day design/fabricate/build workshop explored digital form-finding techniques to produce a series of scaled architectural prototypes for freestanding pavilion structures.
Autodesk 123D - Free 3D Modeling Software, 3D Models, DIY Projects, Personal Fabrication Tools
Preset Views. See your drawings from different points of view. When you work in 2D, you're essentially limited to panning and zooming. As you start working in 3D, you need to change the way you look at your 3D drawing. AutoQ3D CAD allows you to view your 3D models using orthogonal and isometric preset viewpoints, along with giving you the ability to adjust the view of a 3D drawing by panning, zooming and rotating a view.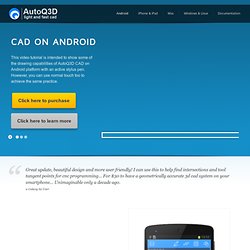 The Fast and Light 3D CAD Editor | AutoQ3D.com
List of CAx companies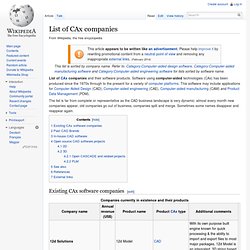 List of CAx companies and their software products. Software using computer-aided technologies (CAx) has been produced since the 1970s through to the present for a variety of computer platforms. This software may include applications for Computer-Aided Design (CAD), Computer-aided engineering (CAE), Computer-aided manufacturing (CAM) and Product Data Management (PDM). The list is far from complete or representative as the CAD business landscape is very dynamic: almost every month new companies appear, old companies go out of business, companies split and merge.
Category:Free computer-aided design software
FreeCAD is a general purpose feature-based, parametric 3D modeler for CAD , MCAD, CAx , CAE and PLM , aimed directly at mechanical engineering and product design but also fits a wider range of uses in engineering, such as architecture or other engineering specialties. It is 100% Open Source and extremely modular, allowing for very advanced extension and customization. FreeCAD is based on OpenCasCade , a powerful geometry kernel, features an Open Inventor -compliant 3D scene representation model provided by the Coin 3D library, and a broad Python API. The interface is built with Qt . FreeCAD runs exactly the same way on Windows, Mac OSX and Linux platforms. Learn more here...
free-cad
Open Inventor - Overview | VSG
Open Inventor 3D Graphics Toolkit for Industrial-Strength Application Developments Open Inventor® is an object-oriented, cross-platform 3D graphics toolkit for the development of industrial-strength, interactive applications using C++, .NET or Java.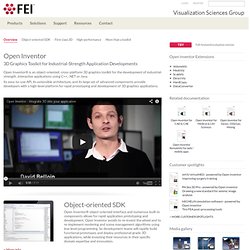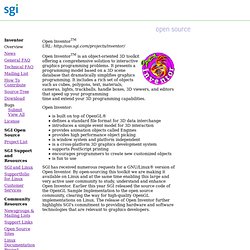 URL: http://oss.sgi.com/projects/inventor/ Open InventorTM is an object-oriented 3D toolkit offering a comprehensive solution to interactive graphics programming problems. It presents a programming model based on a 3D scene database that dramatically simplifies graphics programming. It includes a rich set of objects such as cubes, polygons, text, materials, cameras, lights, trackballs, handle boxes, 3D viewers, and editors that speed up your programming time and extend your 3D programming capabilities. Open Inventor:
Developer Central Open Source | Open Inventor
Coin3D is a high-level, retained-mode toolkit for effective 3D graphics development. It is API compatible with Open Inventor 2.1. Coin3D is Free Software, published under the BSD 3-clause license. BSD and bitbucket?? Coin3D used to be a commercial product, right?
3D Graphics Development Tools
About FreeCAD - free-cad
From free-cad the FreeCAD interface FreeCAD is a general purpose 3D CAD modeler.
3D-Coat - Voxel sculpting, Retopology, UV-mapping, Texture painting
Tinkercad - Solid modeling for artists and makers
Web based Tinkercad runs in any web browser that supports HTML5/WebGL be it on Windows, Mac or Linux. Suggested browsers are Google Chrome and Mozille FireFox.
The German 3D software developer Bitmanagement Software GmbH who are in the board of directors of the Web3D Consortium in Mountain View, California, USA has released the new authoring tool "BS Content Studio", which enables a wide audience to create interactive and Internet ready 3D content. This tool will sustainable accelerate and simplify the work-flow and time necessary to compose, animate and optimize 3D models and interactive content for the web and standalone applications. Even "non 3D specialists" can be now in the position to generate 3D real-time applications easily.
Consortium | Open Standards for Real-Time 3D Communication
Free CAD software * for your DWG files: DraftSight
3D modeling Tutorials tools
AutoCAD WS for Android
CadFaster - Collaboration Tools for 3D CAD and PLM Community - Home
SketchChair: Furniture Designed by You by Diatom
SPAWeb3D
trueSpace7, Introduction
i love sketch
3DVIA TV
GrabCAD - free CAD library from engineers to engineers
Post3D
Spatial and Dassault Put 3D CAD on the Cloud. What it All Means. - SolidSmack
Spatial Development Labs
Store > modo
3D Ubiquity
dezineforce
Magazine » Tutorial
Il portale italiano sulla grafica 3D
UNFOLD3D the best and fastest UV mapping generator / on-the-fly unwrapper
MoI, 3D modeling for designers and artists
Sculptris
Projectfinder
:: Pixologic ::
Sculptris
DraftSight free CAD software: Features
PLM solutions, 3D CAD and simulation software
insight3d - opensource image based 3d modeling software
Revolution in 3D Modeling | Home
Design - Alibre Design Business Products
Web Based
AutoDesSys | Home
3D CAD Design Software SolidWorks
Modeling tools for designers
www.inivis.com - AC3D - 3D Design Software
Alibre Design - Affordable 3D CAD Design, CAM, Rendering Software
heekscad - Project Hosting on Google Code
OpenSCAD - The Programmers Solid 3D CAD Modeller
Wings 3D
TopMod3D: Topological Mesh Modeler
Home - Art of Illusion
Home
Created with Camtasia Studio 5
Free CAD software * for your DWG files: DraftSight
Download T-FLEX CAD – Thiết kế CAD 2D, 3D
Free eDrawings Viewer for SolidWorks, DWG and DXF files
Spatial | 3D Software Components for 3D Modeling, CAD Translation, and 3D Visualization
10 Free and useful computer-aided design software
AutoDesSys | bonzai3d Features
3DTin
COLLADA - Digital Asset and FX Exchange Schema - COLLADA
Solutions 3D temps reel et 3D interactive - Presentation 3d - Maquette numerique - web3d
COLLADA - Digital Asset Exchange Schema for Interactive 3D
digitaltoolbox
Grasshopper
Welcome to Luxology
Web-Based CAD | netrequest.net
Autodesk Homestyler - Free Home Design Software and Interior Design Software
3D collaborative solutions
EnSuite - Multi-CAD Digital Mockup | Viewers | Translators | Measure | Markup
Power of WebCenter: View and annotate CAD and Graphics online
Kunst - Web-based CAD
Download
Login | Daystar iStructural.com
About
International PARTserver Community - Free CAD Models - 3D Parts
CADENAS Flash Viewer - International PARTserver Community - Free CAD Models - 3D Parts
3D Direct Modeling Software for Concept Modeling, CAE, and Manufacturing that enable Lean Product Development
Convert SketchUp, STEP, IGES, DWG, JT files to 3DS, OBJ & XAML | Babel3D
avocado-cad
avoCADo :: Open Source 3D CAD
25 (Free) 3D Modeling Applications You Should Not Miss
Modelica and the Modelica Association — Modelica Association
Welcome to OpenModelica
JModelica.org
Free Mechanical Engineering: CAD Software