C++11
Posts from
http://blog.think-async.com/ baranov Oct 22
Effective GoF Patterns with C++11 and Boost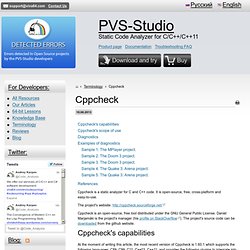 Cppcheck
Cppcheck is a static analyzer for C and C++ code. It is open-source, free, cross-platform and easy-to-use. The project's website: http://cppcheck.sourceforge.net/
Open Multi-Methods for C++11, Part 1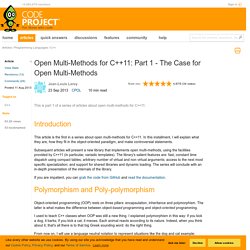 Introduction This article is the first in a series about open multi-methods for C++11. In this installment, I will explain what they are, how they fit in the object-oriented paradigm, and make controversial statements. Subsequent articles will present a new library that implements open multi-methods, using the facilities provided by C++11 (in particular, variadic templates).
C++ Reading List
C++11 multithreading tutorial – part 2 | Solarian Programmer
C++11 multithreading tutorial - part 2 Posted on February 27, 2012 by Sol The code for this tutorial is on GitHub: https://github.com/sol-prog/threads .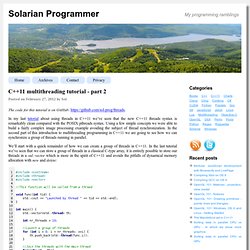 C++11 / C++0x Documentation « Punch Card
You want to improve your "old" C++ code base by allowing new features or bug fixes to be enhanced with C++11? The questions you will face on the way are manifold. First, what exactly allows me C++11 to do? Where is some documentation? What is the purpose of those features. Compared to languages like Ruby or Python the C++ standard library and language itself is not too well documented online.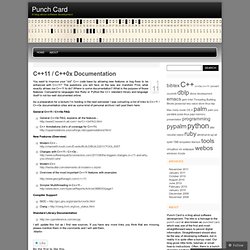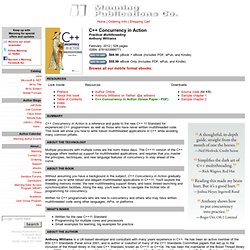 C++ Concurrency in Action
C++ Concurrency in Action is a reference and guide to the new C++ 11 Standard for experienced C++ programmers as well as those who have never written multithreaded code. This book will show you how to write robust multithreaded applications in C++ while avoiding many common pitfalls. About the Technology Multiple processors with multiple cores are the norm these days. The C++11 version of the C++ language offers beefed-up support for multithreaded applications, and requires that you master the principles, techniques, and new language features of concurrency to stay ahead of the curve. About the Book
Multithreading and Concurrency | Just Software Solutions - Custom Software Development and Website Development in West Cornwall, UK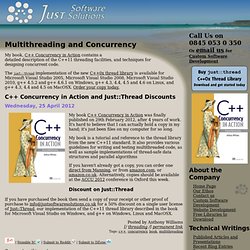 My book, C++ Concurrency in Action contains a detailed description of the C++11 threading facilities, and techniques for designing concurrent code. The just::thread implementation of the new C++0x thread library is available for Microsoft Visual Studio 2005, Microsoft Visual Studio 2008, Microsoft Visual Studio 2010, g++ 4.5.2 and g++ 4.6.1 on Windows, g++ 4.3, 4.4, 4.5 and 4.6 on Linux, and g++ 4.3, 4.4 and 4.5 on MacOSX. Order your copy today. C++ Concurrency in Action and Just::Thread Discounts
BLOG: Thinking Asynchronously
Concurrency Tutorial - Part Four