SEO
It's time to Play by the Rules! The Nature of Black Hat SEO|SEO PAL Blog. 24 Flares Twitter 0 Facebook 0 Google+ 24 Buffer 0 Pin It Share 0 LinkedIn 0 inShare0 Email -- Email to a friend 24 Flares × Even if you are new to SEO, you have already heard the term Black Hat.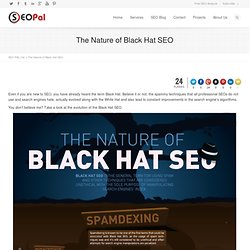 Believe it or not, the spammy techniques that all professional SEOs do not use and search engines hate, actually evolved along with the White Hat and also lead to constant improvements in the search engine's algorithms. You don't believe me? Take a look at the evolution of the Black Hat SEO. Landing Page Optimization For Dummies Cheat Sheet. Cheat Sheet Landing page optimization means that you strategically craft your landing page — with images, layout, language, and links.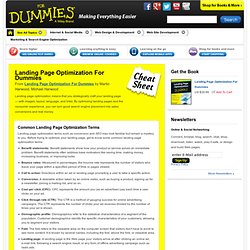 By optimizing landing pages and the consumer experience, you can turn good search engine placement into sales conversions and real money. Getting started checklist. SEO In Pictures – Our SEO Infographic. Matt April 13th, 2010.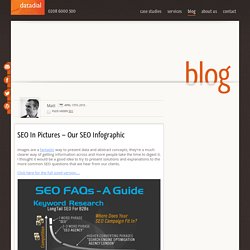 Filed under SEO Images are a fantastic way to present data and abstract concepts, they're a much clearer way of getting information across and more people take the time to digest it. I thought it would be a good idea to try to present solutions and explanations to the more common SEO questions that we hear from our clients. 30+ Search Engine Optimization Techniques You Cannot Miss.
You completed a web site for your business about three months ago, but you are still not seeing very many people visiting your web site.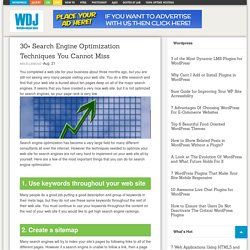 You do a little research and find that your web site is buried about ten pages deep on all of the major search engines. It seems that you have created a very nice web site, but it is not optimized for search engines, so your page rank is very low. What Is Google AdWords? How the AdWords Auction Works. Getting started checklist.
---