Subscription
A collection of posts about the subscription business model Oct 24
Over the last few years I've helped quite a lot of SaaS startups to create or fine-tune their KPI dashboards. While every situation is a bit different there's also a lot of overlap, which made me think that it would make sense to publish my template (not without polishing it a bit). I hope other SaaS startups will find it useful, and it will also make it easier for us to communicate what KPIs we're looking for when we talk to SaaS entrepreneurs.
A KPI dashboard for early-stage SaaS startups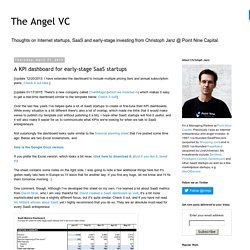 In the many thousands of articles advising entrepreneurs on what they have to focus on to build successful startups, much has been written about three key factors: team, product and market, with particular focus on the importance of product/market fit. Failure to get product/market fit right is very likely the number 1 cause of startup failure. However in all these articles, I have not seen any discussion about what I believe is the second biggest cause of startup failure: the cost of acquiring customers turns out to be higher than expected, and exceeds the ability to monetize those customers. In case you are not familiar with the importance of Product/Market fit, Marc Andreessen has a great blog post on this topic: The Pmarca Guide to Startups, part 4: The only thing that matters . In this blog, Marc argues that out of the three core elements of a startup, team, product, and market, the only thing that matters is product/market fit.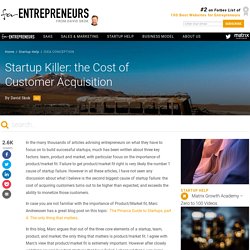 I'm on a redeye to NYC, supposed to be working on a presentation i'm giving in a few hours... but fuck it, i can't get this outta my head, so here we go. (note: extremely raw, uneven, long, 1st draft publish & shoot; will revise l8r) ASSERTION #1: The default startup business model from 2000-2009 was based on growth (aka acquisition) and CPM- or CPC-advertising Over the past 10 years, we have seen a massive shift in advertising from CPM to CPC-based advertising. This basically started happening when the 2000-2001 dotcom implosion blew the market cap of Yahoo to smithereens, and display advertising went into the shitter. Altho CPM subsequently recovered, Google's IPO and the gradual emergence of CPC as a higher-quality advertising medium has been the dominant story of the first half of the last decade.
Subscriptions are the New BLACK. (+ why Facebook, Google, & Apple will own your wallet by 2015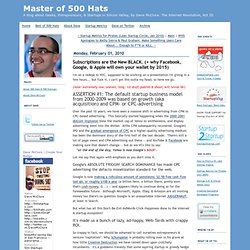 Setting Your Price for Customer Acquisition Costs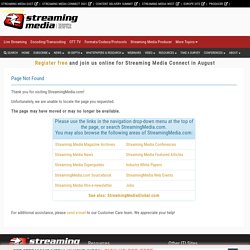 Netflix Raises Rates Again: Business Model Has Serious Challenges Ahead | The Business Of Online Video
Today, Netflix announced that they are raising rates on monthly plans that allow customers to get unlimited streaming and one DVD out at a time. The plan which originally cost $9.99 a month will now cost $15.98 a month. In addition, the company is now splitting out streaming only plans from DVD plans and consumers can get an unlimited streaming plan for $7.99 a month, or one DVD out at a time for $7.99 a month.
Subscription business model
The subscription business model is a business model where a customer must pay a subscription price to have access to the product/service. The model was pioneered by magazines and newspapers , but is now used by many businesses and websites. Rather than selling products individually, a subscription sells periodic (monthly or yearly or seasonal) use or access to a product or service , or, in the case of such non-profit organizations as opera companies or symphony orchestras , it sells tickets to the entire run of five to fifteen scheduled performances for an entire season. Thus, a one-time sale of a product can become a recurring sale and can build brand loyalty . It is used for anything where a user is tracked in both a subscribed and unsubscribed status.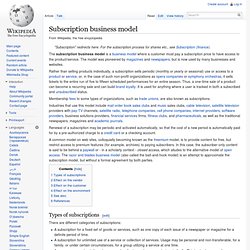 Welcome to the Subscription Economy
The ROI Of Software-As-A-Service
Firms almost always consider software-as-a-service (SaaS) as a cost-advantage over on-premise in the short run due to its quick implementation times and pay-as-you-go pricing. But many firms question the long-term value of SaaS, wondering if the rent-versus-own model necessarily has a cost crossover point and if so, when? As SaaS continues to move into a broader range of applications and into larger, more strategic deployments, Forrester examined client decisions across a range of SaaS solution areas and found that firms obtain long-term value with SaaS solutions.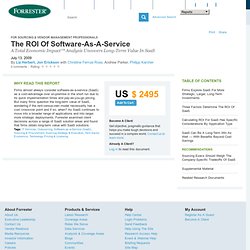 Trends: The Subscription Economy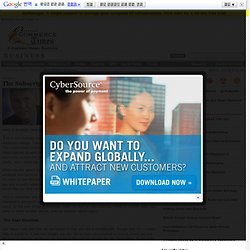 One of the main obstacles standing in the way of making the concept of subscriptions practical to more types of goods and services is that many products don't immediately lend themselves to cheap and easy billing systems. Subscriptions can play a greater role in our economy if only we can get the business model right. There are multiple ideas about the shape of the future competing for primacy in the electronic village. I am pushing on sustainability, but another idea that I really like is called "the subscription economy," championed most vociferously by Tien Tzuo, CEO of Zuora . Subscriptions fit well into Tzuo's company plan, since his company has a billing and payments system for subscription purchases. But there's more to it than a self-serving motto, and I think the subscription idea feeds nicely into the idea of sustainability.