Business models
Different perspectives on different business models
Understand the main business models of the tech industry
Find examples of companies using them
Learn ways to find or improve a business model cvahanian Jan 3
(1) What consumer Internet companies had a large number of users but failed to monetize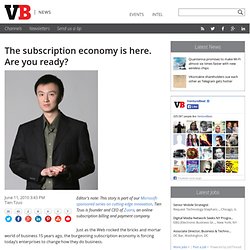 Editor's note: This story is part of our Microsoft-sponsored series on cutting-edge innovation. Tien Tzuo is founder and CEO of Zuora, an online subscription billing and payment company. Just as the Web rocked the bricks and mortar world of business 15 years ago, the burgeoning subscription economy is forcing today's enterprises to change how they do business.
The subscription economy is here. Are you ready?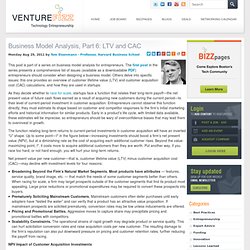 Business Model Analysis, Part 6: LTV and CAC
This post is part of a series on business model analysis for entrepreneurs. The first post in the series presents a comprehensive list of issues (available as a downloadable PDF) entrepreneurs should consider when designing a business model. Others delve into specific issues; this one provides an overview of customer lifetime value (LTV) and customer acquisition cost (CAC) calculations, and how they are used in startups.
le genre de cours qu'on aurait aimé avoir cette année. Toute la série d'articles est bien fichue d'ailleurs by PED Aug 30
[Case Study] How a Pay-What-You-Want Pricing Model Can Generate More Revenue
Scalable pricing is a powerful tool to grow revenue in a SaaS or software business.