Bullshit 2.0
I've attended a number of tech conferences in South Africa and at every one of them one of two topics seem to raise it's head, and frankly I think we need to ban the types of people pushing these topics on stage from speaking… Social Media Marketers Every time I attend a conference I find that I would have much rather have been listening to one of the developers in the crowd than the person on the stage, this feeling is amplified when a self proclaimed Social Media guru takes to the stage. In South Africa this is especially true because we have a huge amount of talented devs often sitting in the crowd, and a social media evangelist hogging the lime light. I have nothing particularly against Social Media agencies, but I do take issue with the fact that they insist that a room filled with a thousand tech savy geeks live tweeting from their latest Apple iSomething has never heard of Social Media. VC and Angel Investors
2 Types of Speakers to Ban from your Tech Conference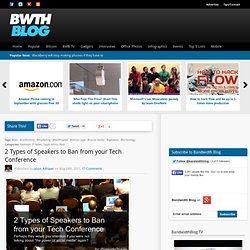 La NSA à la sauce française
i 1 Vote En temps de crise et pour savoir ce que le contribuable paie à l'Etat français, un voile se lève depuis l'affaire Snowden, ceci afin que de petits informaticiens malins de l'Hexagone ne révèlent point au grand jour ce que la DSGE (Direction générale de la sécurité extérieure) a construit depuis longtemps (?)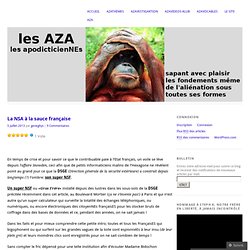 There Are 181,000 Social Media 'Gurus,' 'Ninjas,' 'Masters,' and 'Mavens' on Twitter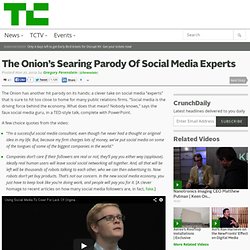 The Onion's Searing Parody Of Social Media Experts
The Onion has another hit parody on its hands: a clever take on social media "experts" that is sure to hit too close to home for many public relations firms. "Social media is the driving force behind the economy. What does that mean? Nobody knows," says the faux social media guru, in a TED-style talk, complete with PowerPoint. A few choice quotes from the video:
Influence. The bullshit, best practice and promise
Neo-experts, post-gourous et wannabe consultants digitaux
Ca y est, je suis énervé… Hier j'ai regardé mes nouveaux followers de la semaine sur twitter et je suis tombé sur 10 nouveaux consultants professionnels experts en digital marketing, en e-reputation de marque, en digital planning, en booster de business sur Twitter, en e-notoriété, en médias sociaux (sic) et même en web marketing... Ce qui ne peut signifier qu'une chose : le name dropping de buzz words a atteint son rythme de croisière (essayez de dire ça très vite pour voir). Allez, dissection de l'effet "expertise spontané" qui fleurit sur les réseaux professionnels et qui n'est pourtant pas nouveau…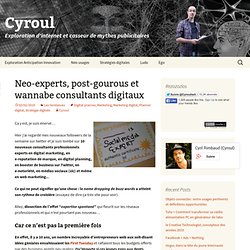 Strategies et ses certifications, nous prend vraiment pour des cons
En 1994, Internet n'existait pas en France et il y avait peu de formations diplômantes permettant d'apprendre à se servir d'un ordinateur pour créer des programmes interactifs (multimédia). 1994, c'était l'aube du CD-Rom. Support extraordinaire où l'on pouvait stocker jusqu'à 800 Mo d'informations. Une révolution ! A cette époque, j'avais eu la chance de réussir le concours d'une maitrise de communication multimédia justement. Quelle ne fut pas ma stupéfaction (horreur aussi), quand je me suis aperçu que "multimédia" dans le langage des gens du métier (de la communication) signifiait en fait "diaporama musicalement préprogrammé", le top à l'époque dans le métier de communicant. J'étais bien loin de la 3D à laquelle j'aspirais.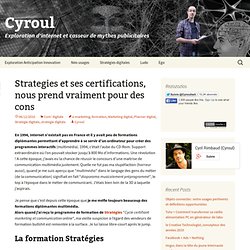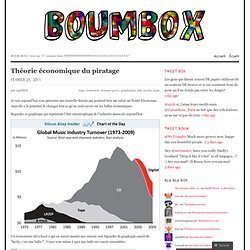 Je vais aujourd'hui vous présenter une nouvelle théorie qui pourrait bien me valoir un Nobel d'économie tant elle a le potentiel de changer tout ce qu'on croit savoir sur les bulles économiques. Regardez ce graphique qui représente l'état catastrophique de l'industrie musicale aujourd'hui : Un économiste old school a qui on aurait montré une version non légendée du graphique aurait dit "facile, c'est une bulle !". Voyez vous même à quoi une bulle est censée ressembler : Sauf qu'on sait tous que l'industrie du disque est dans cet état à cause du piratage.
Théorie économique du piratage
Web 2.0 Weenies and Bullshit Social Media Economics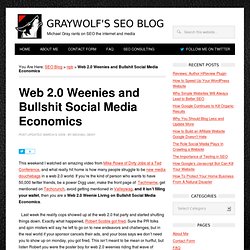 This weekend I watched an amazing video from Mike Rowe of Dirty Jobs at a Ted Conference, and what really hit home is how many people struggle to be new media douchebags in a web 2.0 world. If you're the kind of person who wants to have 50,000 twitter friends, be a power Digg user, make the front page of Techmeme, get mentioned on Techcrunch, avoid getting mentioned in Valleywag, and it isn't filling your wallet, then you are a Web 2.0 Weenie Living on Bullshit Social Media Economics. Last week the reality cops showed up at the web 2.0 frat party and started shutting things down.
Detecting Social Media Bullshit: A Sociologist's View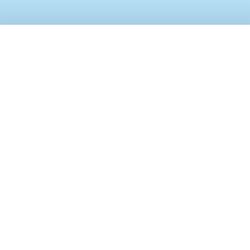 Social media "gurus" abound these days. Which ones are worth listening to and which ones are bullshitters? Philosopher Harry Frankfurt exposed bullshitters in his famous essay "On Bullshit." The liar knows what the truth is and cares very much about concealing it. The bullshitter, on the other hand, doesn't care what the truth is and has no compunction in stretching it. The same goes for social media "gurus."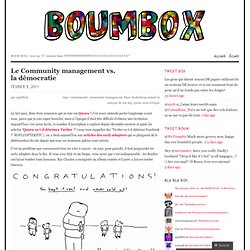 Le Community management vs. la démocratie
Ça fait quoi, deux-trois semaines que je suis sur Quora ? J'en avais entendu parler longtemps avant vous, parce que je suis super branché, mais à l'époque il était très difficile d'obtenir une invitation. Aujourd'hui c'est assez facile, le nombre d'inscription a explosé depuis décembre environ et après les articles "Quora va-t-il détrôner Twitter ?" (vous vous rappellez des "Twitter va-t-il détrôner Facebook ?" ROFLCOPTERDTC ), on a droit aujourd'hui aux articles des early adopters qui se plaignent de la détérioration du site depuis que tous ces nouveaux pékins sont arrivés.
J'ai lancé cette phrase à Ouessant lors d'une conférence. Comment vais-je la concilier avec le cours et la conférence publique que je donnerai la semaine prochaine à Lausanne dans le cadre d'une nouvelle formation lancée par le Centre suisse d'enseignement du marketing (SAWI). Leur objet sera justement la gestion des communautés.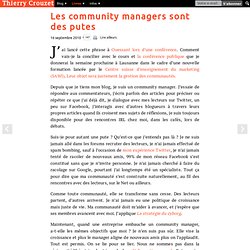 Les community managers sont des putes
Dans la catégorie "mieux vaut en rire de peur d'être obligé d'en pleurer", voici les aventures imaginaires d'un stagiaire community manager en agence de publicité. Toute ressemblance avec des faits et des personnes, etc. [Préambule de Cyroul au billet, qu'il a accueilli sur son blog] Voilà un article écrit par un CM qui a décidé de ne pas dévoiler son nom pour des raisons professionnelles. Il ne s'agit pas du même anonyme que pour l'article sur le digital, paillasson de la publicité ; ici nous explorons le monde formidable des Community Managers en agence de pub. Car ce n'est pas facile d'être blogueur et Community Manager dans un monde où la marge est reine, et où le respect de ses clients n'existe pas vraiment.
Tu seras Community Manager (en agence), mon fils » Article » OWNI, Digital Journalism
You are a douchebag.
Dear friend, Do you want to learn how to use Web 2.0 Social Media to become a millionaire overnight? How would you like to increase your Twitter followers by eleventy-billion in 3.68 seconds? Do you want to use Twitter to make a gazillion dollars through affiliate marketing and multi-level marketing schemes? Do you use the term "Twitter Coach" to describe yourself? You do?
By Doc Sheldon | July 21, 2013 Is Social Media the New SEO? In a word, NO! Make that "Fuck no!" It could be argued that social media today holds more importance than it did two or three years ago.
Social Media Bullshit
The Web 2.0 Bullshit Generator
Bullshit Generator
web > web economy bullshit generator
Social Marketing Bullshit Bingo » raena.net
What The Fuck Is My Social Media Strategy? by Mike Phillips
Tremblez, 'gourous' du web: les vrais experts arrivent! » Article » OWNI, Digital Journalism
Management 2.0 : le curator, bullshit marketing ?
Tout est buzz
Matt Langer
Blog en mode "curator"
Non à la "curation" » Article » OWNI, Digital Journalism
La douleur du curateur
Things Real People Don't Say About Advertising
Comment gagner à powerpoint
Eat Sleep Social – Mike Phillips