Bullshit 2.0
I've attended a number of tech conferences in South Africa and at every one of them one of two topics seem to raise it's head, and frankly I think we need to ban the types of people pushing these topics on stage from speaking… Social Media Marketers
2 Types of Speakers to Ban from your Tech Conference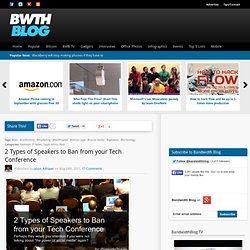 La NSA à la sauce française
i 1 Vote En temps de crise et pour savoir ce que le contribuable paie à l'Etat français, un voile se lève depuis l'affaire Snowden, ceci afin que de petits informaticiens malins de l'Hexagone ne révèlent point au grand jour ce que la DSGE (Direction générale de la sécurité extérieure) a construit depuis longtemps (?)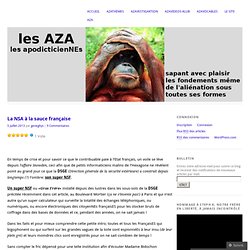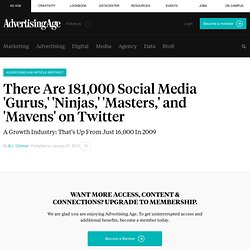 As a public service, I like to periodically check in on the number of self-proclaimed social media "gurus," "ninjas," "masters" and "mavens" on Twitter.
There Are 181,000 Social Media 'Gurus,' 'Ninjas,' 'Masters,' and 'Mavens' on Twitter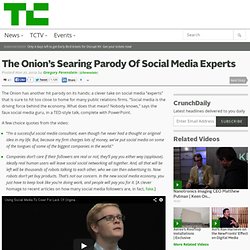 The Onion's Searing Parody Of Social Media Experts
The Onion has another hit parody on its hands: a clever take on social media "experts" that is sure to hit too close to home for many public relations firms.
Influence. The bullshit, best practice and promise
Neo-experts, post-gourous et wannabe consultants digitaux
Ca y est, je suis énervé…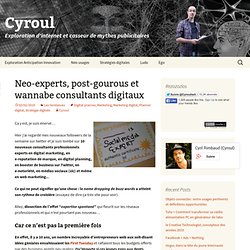 Strategies et ses certifications, nous prend vraiment pour des cons
En 1994, Internet n'existait pas en France et il y avait peu de formations diplômantes permettant d'apprendre à se servir d'un ordinateur pour créer des programmes interactifs (multimédia). 1994, c'était l'aube du CD-Rom. Support extraordinaire où l'on pouvait stocker jusqu'à 800 Mo d'informations.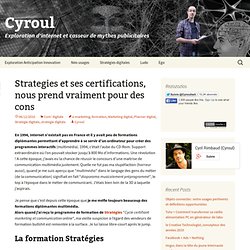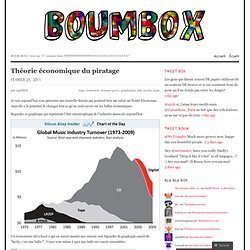 Je vais aujourd'hui vous présenter une nouvelle théorie qui pourrait bien me valoir un Nobel d'économie tant elle a le potentiel de changer tout ce qu'on croit savoir sur les bulles économiques.
Théorie économique du piratage
Web 2.0 Weenies and Bullshit Social Media Economics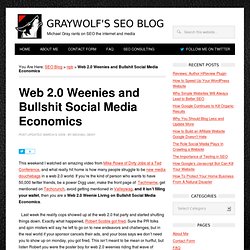 This weekend I watched an amazing video from Mike Rowe of Dirty Jobs at a Ted Conference, and what really hit home is how many people struggle to be new media douchebags in a web 2.0 world. If you're the kind of person who wants to have 50,000 twitter friends, be a power Digg user, make the front page of Techmeme, get mentioned on Techcrunch, avoid getting mentioned in Valleywag, and it isn't filling your wallet, then you are a Web 2.0 Weenie Living on Bullshit Social Media Economics. Last week the reality cops showed up at the web 2.0 frat party and started shutting things down.
Detecting Social Media Bullshit: A Sociologist's View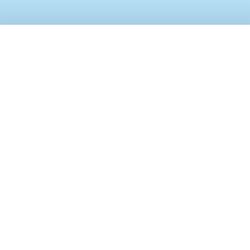 Social media "gurus" abound these days. Which ones are worth listening to and which ones are bullshitters?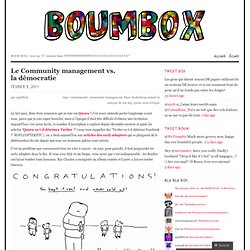 Le Community management vs. la démocratie
Ça fait quoi, deux-trois semaines que je suis sur Quora ?
J'ai lancé cette phrase à Ouessant lors d'une conférence. Comment vais-je la concilier avec le cours et la conférence publique que je donnerai la semaine prochaine à Lausanne dans le cadre d'une nouvelle formation lancée par le Centre suisse d'enseignement du marketing (SAWI). Leur objet sera justement la gestion des communautés.
Les community managers sont des putes
Dans la catégorie "mieux vaut en rire de peur d'être obligé d'en pleurer", voici les aventures imaginaires d'un stagiaire community manager en agence de publicité.
Tu seras Community Manager (en agence), mon fils » Article » OWNI, Digital Journalism
You are a douchebag.
Dear friend, Do you want to learn how to use Web 2.0 Social Media to become a millionaire overnight?
Social Media Bullshit
The Web 2.0 Bullshit Generator
Here's what the critics are saying:
Bullshit Generator
web > web economy bullshit generator
Social Marketing Bullshit Bingo » raena.net
What The Fuck Is My Social Media Strategy? by Mike Phillips
Tremblez, 'gourous' du web: les vrais experts arrivent! » Article » OWNI, Digital Journalism
Management 2.0 : le curator, bullshit marketing ?
Tout est buzz
Matt Langer
Blog en mode "curator"
Non à la "curation" » Article » OWNI, Digital Journalism
La douleur du curateur
Things Real People Don't Say About Advertising
Comment gagner à powerpoint
Eat Sleep Social – Mike Phillips