Sangha
The Mother Tree: A circle of healing: Exculsively for Women
"We are all longing to go home to some place we have never been - a place half-remembered and half-envisioned, we can only catch glimpses of from time to time. Somewhere, there are people to whom we can speak with passion, without having the words catch in our throats. Somewhere a circle of hands will open to receive us, eyes will light up as we enter, voices will celebrate with us whenever we come into our own power. Community means strength that joins our strength to do the work that needs to be done. Arms to hold us when we falter. A circle of healing.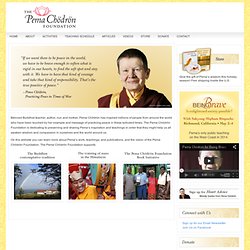 Pema Chodron Foundation Buddhist Monastic Life in the West - Gampo Abbey Beloved Buddhist teacher, author, nun and mother, Pema Chödrön has inspired millions of people from around the world who have been touched by her example and message of practicing peace in these turbulent times. The Pema Chödrön Foundation is dedicating to preserving and sharing Pema's inspiration and teachings in order that they might help us all awaken wisdom and compassion in ourselves and the world around us. On this website you can learn more about Pema's work, teachings, and publications, and the vision of the Pema Chödrön Foundation.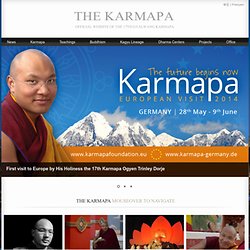 The Seven-Line Supplication to Guru Rinpoche Monlam Pavilion, Bodhgaya - January 6, 2014 HŪṂ In the northwest of Uddiyana Upon the anthers of a lotus You achieved the wondrous supreme siddhi And are renowned as the Lotus Born Encircled by many ḍākinis We practice following your example We ask you come and grant your blessings GURU PADMA SIDDHI HŪṂ After receiving the empowerment of Guru Rinpoche, the sangha began an extensive... Konchok Chidü Empowerment Monlam PavilionJanuary 5, 2014Long before the crowds arrived on day three for the empowerment of the Embodiment of the Three Jewels, or Konchok Chidü, at 6.15am the Gyalwang Karmapa was already in the Monlam Pavilion, seated on stage, quietly conducting the preparatory rituals.By 8am the Pavilion was once more filled to capacity, this time with the slow chant of Guru Rinpoche's mantra—Om... Bodhicitta: How the Light Gets In 'The absence of compassion is the worst danger that we face."
"Meditation in the Park is a place for families and friends to come together and learn something new. It's a lovely day to chill and just be."- Michelle Momsen, N1 "Brilliant day, lovely people. Couldn't believe everything was free!
Meditation in the Park 2010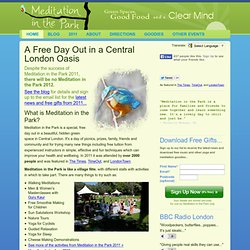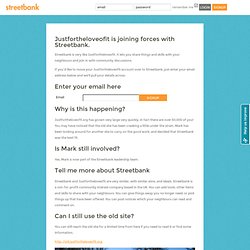 Streetbank is very like Justfortheloveofit. It lets you share things and skills with your neighbours and join in with community discussions. If you'd like to move your Justfortheloveofit account over to Streetbank, just enter your email address below and we'll pull your details across. Enter your email here Why is this happening?
Promoting Skillsharing | Learn Skills, share tools, save money and make great new friends
Meeting the Dharma Alone
People may look at you and feel that your way of life, your interest in dharma, makes no sense. Others may say that if you want to practice dharma, you ought to ordain. Ordaining or not ordaining isn't the crucial point. It's how you practice. Laypeople live in the realm of sensuality. They have families, money, and possessions, and are deeply involved in all sorts of activities.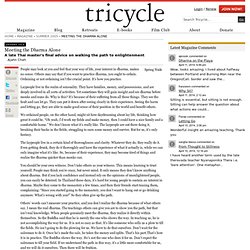 Zen Center | Meditation | Buddhism | Retreats | Buddhist Teachings: Santa Fe, New Mexico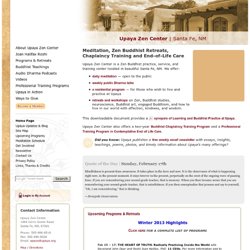 Maia Duerr, director of Upaya's Buddhist Chaplaincy Program, explores how to be grateful for all the events of your life, not merely the happy ones. Maia is the Director of Community Outreach and Development at Upaya, and also directs Upaya's Buddhist Chaplaincy Program. She sometimes serves on Upaya's Engaged Buddhism faculty. She is an anthropologist, writer, and editor. In 2012, Maia received lay ordination from Roshi Joan Halifax as a lay Buddhist chaplain. She is also a student in the Soto Zen lineage of Suzuki Roshi, and has lived and practiced at the San Francisco Zen Center where she received jukai from Victoria Shosan Austin in 2008.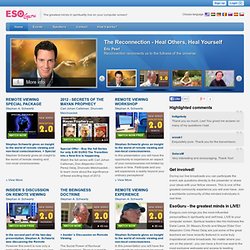 Get involved! During our live broadcasts you can participate the event: ask questions directly to the presenter or share your ideas with your fellow viewers. This is one of the greatest community experience you will ever have. Join a worldwide community of like-minded individuals in real time.
ESOGURU | The greatest minds in esoterics live!
Search videos for 'thich nhat hanh' on Vimeo
Dearest students and friends of Phuntsok Rinpoche, Rinpoche will be making offerings of food, tea, lights and money offering to the thousand over Sanghas during Monlam (Great Prayer Festival) in Kopan Monastery in Nepal on the 15th of the first month of Tibetan calendar which is the 19th March 2011. Rinpoche will dedicate this charitable offering for the good health, long life and fulfillment of all the wishes of all the Buddhas, Boddhisatvas, gurus and virtue beings, he will also dedicate to all the students and friends and all sentient beings for their good health long life and prosperity and realization on the paths and grounds of enlightenment. Rinpoche specially would like to share this extensive merits to all the victims of Japan earthquake and tsunami, as well as those victims suffering because of world conflicts and natural disaster.
phuntsokrinpoche.com Blog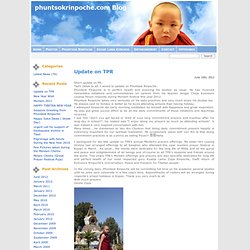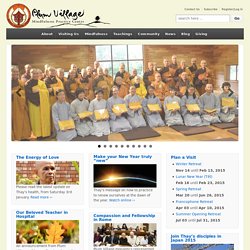 What is Mindfulness? Mindfulness is the energy of being aware and awake to the present moment. It is the continuous practice of touching life deeply in every moment of daily life. To be mindful is to be truly alive, present and at one with those around you and with what you are doing. Mindfulness Software
This site uses cookies to store information on your computer whilst you navigate around the site. We set one cookie that is essential. It's used to pass information between pages, especially when you use the Shopping Basket. We also use a non-essential cookie to anonymously track page visits with Google Analytics.
Buddhism and Meditation Retreats programme2010
FWBO
Buddhist Retreats in the UK
provides you with easy access to retreat information for various UK Buddhist Retreat Centres. Each retreat centre runs a wide variety of retreats throughout the year exploring buddhism, buddhist meditation and yoga. Some centres also run specialised events which promote well being such as tai chi, shiatsu, massage, and the arts. GoingOnRetreat.com is a collective venture set up by the UK Buddhist Retreat Centres featured on this site.
Taraloka
London Buddhist Centre, FWBO
At the London Buddhist Centre we teach meditation and Buddhism in a way that is relevant to contemporary life. Most of our meditation classes take place at the Centre in Bethnal Green but we also run meditation classes in Central London every Saturday and in South London on Tuesday evenings. Learn to Meditate You can learn to meditate at one of our drop-in meditation classes, by attending a meditation course or by going on retreat. We teach two Buddhist meditation practices, the Mindfulness of Breathing, which enhances our awareness and peace of mind and the Metta Bhavana - the cultivation of loving-kindness.
FWBO People
This site uses cookies to store information on your computer whilst you navigate around the site. We set one cookie that is essential. It's used to pass information between pages, especially when you use the Shopping Basket. We also use a non-essential cookie to anonymously track page visits with Google Analytics.
Buddhafield
The Tricycle Community
Buddha Buzz: Week of January 20th Buddha Soup and Alleged Louisiana School Discrimination My body's too Buddhalicious for ya, babe These pictures from the pages of London's notorious Daily Mail depict two naked statues, identified as the likenesses of the Buddha, atop a soup restaurant in the eastern Chinese city of Jinan, Shandong province. But is that really the usually svelte ancient Indian we know as the Buddha?
Rivendell Centre
Against The Stream Buddhist Meditation Society
Michael O'Keefe - Zen