Buddhism
Protest
BuddhaFest Online Film Festival. What to Expect When You're Reflecting. I CAN'T count how many would-be meditators have come to me in despair and admitted that they just don't get it.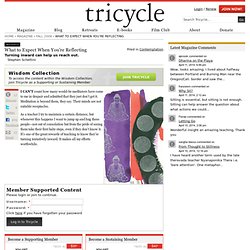 Meditation is beyond them, they say. Their minds are not suitable receptacles. As a teacher I try to maintain a certain distance, but whenever this happens I want to jump up and hug these people—not out of consolation but from the pride of seeing them take their first baby steps, even if they don't know it. It's one of the great rewards of teaching to know they're turning tentatively inward. It makes all my efforts worthwhile. Old Wine, New Bottles. Lama Surya Das, the American founder of the Dzogchen Foundation, a lay practice center in Cambridge, Massachusetts, was born Jeffrey Miller in Brooklyn, New York, in 1950.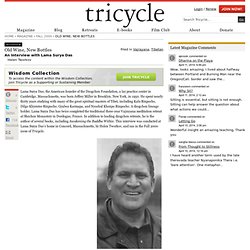 He spent nearly thirty years studying with many of the great spiritual masters of Tibet, including Kalu Rinpoche, Dilgo Khyentse Rinpoche, Gyalwa Karmapa, and Nyoshul Khenpo Rinpoche. A dzogchen lineage holder, Lama Surya Das has twice completed the traditional three-year Vajrayana meditation retreat at Shechen Monastery in Dordogne, France. In addition to leading dzogchen retreats, he is the author of several books, including Awakening the Buddha Within.
This interview was conducted at Lama Surya Das's home in Concord, Massachusetts, by Helen Tworkov, and ran in the Fall 2000 issue of Tricycle. The Tricycle Magazine.
Shambala Sun Magazine. Dharma Punx. Drukpa Nuns. Drukpa Publications. Gallery | Tricycle Magazine. Falun Dafa (Falun Gong) Falun Dafa (also called Falun Gong) is an advanced self-cultivation practice of the Buddha School.
Falun Dafa was founded by Mr. Li Hongzhi, the practice's master. It is a discipline in which "assimilation to the highest qualities of the universe—Zhen, Shan, Ren (Truthfulness, Compassion, Forbearance)—is the foundation of practice. Practice is guided by these supreme qualities, and based on the very laws which underlie the development of the cosmos." Your Mind is Your Religion | Tricycle Magazine. WHEN I TALK ABOUT MIND, I'm not just talking about my mind, my trip.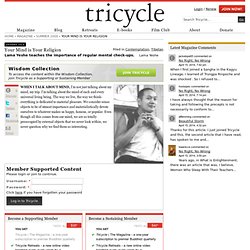 I'm talking about the mind of each and every universal living being. The way we live, the way we think-everything is dedicated to material pleasure.
---