Brazil IT/Tech Companies
Brazil Information Technology Report Q2 2010 - a new market rese. Brazil footwear market expanded by 66% over the period 2007 to 2012 Footwear in Brazil: ISIC 192 - a new market research report on companiesandmarkets.com During the review period the Brazilian market for footwear expanded by 66%, stimulated by growing income levels and Brazilians´ increasing fashion awareness.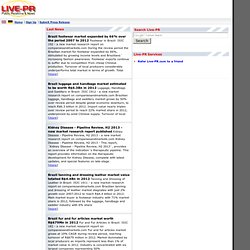 Footwear exports continue to suffer due to competition from cheap Chinese production. Turnover of local producers considerably underperforms total market in terms of growth. Total [more] Brazil luggage and handbags market estimated to be worth R$6.3Bn in 2012 Luggage, Handbags and Saddlery in Brazil: ISIC 1912 - a new market research report on companiesandmarkets.com Brazilian luggage, handbags and saddlery market grows by 50% over review period despite global economic downturn, to reach R$6.3 billion in 2012.
Brasscom Global IT Forum. Delegates at Gartner summit in Brazil. Information Technology in Brazil. Overall Analysis Brazil is one of the most beautiful and interesting countries on Earth.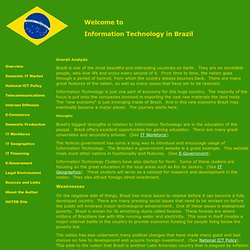 They are an incredible people, who love life and enjoy every second of it. From time to time, the nation goes through a period of turmoil, from which the country always bounces back. There are many great features of the nation, as well as many issues that have yet to be resolved. .: Brazil-IT :.