Braids
photos by: Kathleen Bly post designed by kristin ess Mad love for our first guest post winner, Taylor Nick!!! I am fully obsessed with this bohemian-inspired-braided-goodness! Even though Taylor had some SERIOUS competition, there's no doubt that this little lady took the cake in our hair tutorial contest. She created a beautiful, textured, easy hairstyle that will work with almost any hair type. Congratulations Taylor, and thanks to ALL of you who entered this post contest.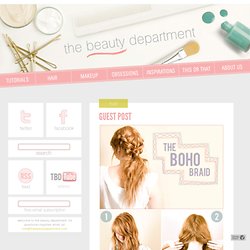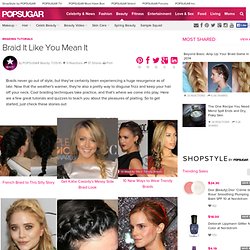 Braids never go out of style, but they've certainly been experiencing a huge resurgence as of late. Now that the weather's warmer, they're also a pretty way to disguise frizz and keep your hair off your neck. Cool braiding techniques take practice, and that's where we come into play.
Braiding Tutorials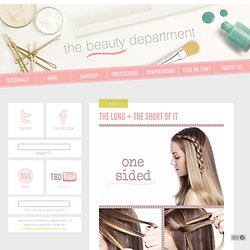 photos: justin coit + thebeautydepartment.com post designed by kristin ess Remember when Lauren's go-to hairstyle was the bang braid? Well, lately this little lady's had a new favorite.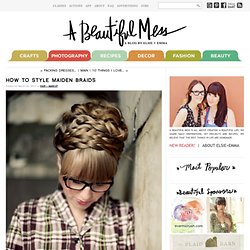 Last month I did a makeover story with Kelsie and had many requests for a maiden braid tutorial. Yesterday she came in and we photographed these simple step by steps. Kelsie has extremely long and thick hair, but anyone with shoulder length or longer can do these braids (see my photo below for an example).
These little rope braids are a fun way to add a little style with your own hair, creating a sort-of headband of sorts. Your hair doesn't need to be extremely long, but you do need some length to cover the top of your head with. If you have layers, you could instead create a tiny French Braid where the hair is shorter and closer to your head, if that makes sense. But it's a fun and cute braided hair style that's just a little different. I originally wore this style last Summer with two slightly larger braids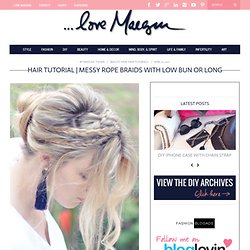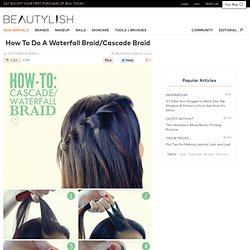 The waterfall braid also known as the cascade braid recently exploded as the new "trend braid" of the season. The waterfall effect looks cool and complex, but it's easier to style than you think. Give this beautiful braid a try when Beautylish takes you through the how-to! Section Off
Braids, pleats, or plaits—whatever you call them, we're absolutely loving all things twisted in hair this season. Beautylish brings you the three hottest braid trends this season and three easy braid DIY tutorials to replicate the look yourself. Who needs a headband when you can make one from your hair! We're loving this European, Heidi-inspired front braid that you can style into an updo or wear with your hair down. See how easy it is to give yourself a plait with Imogen's tutorial. It's easy to give your braids a little extra something with ribbons, flowers, bows, and any other accessories you can think of.