Books & Literature
Cela vs. Céline: reñida final en la copa de los miserables
Céline, en animada conversación con uno de sus loros.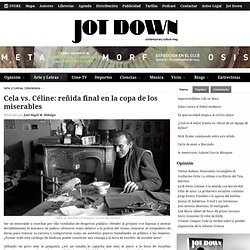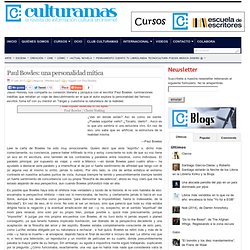 Jason Horsley nos comparte su conexión literaria y psíquica con el escritor Paul Bowles: ruminaciones inéditas que retratan un viaje de descubrimiento en el que el autor explora la personalidad del famoso escritor, fuma kif con su mentor en Tánger y cuestiona la naturaleza de la realidad. Paul Bowles / Cherie Nutting ¿Ves en dónde estás?
Paul Bowles: una personalidad mítica
Cuentosinfin – Biblioteca de cuentos y relatos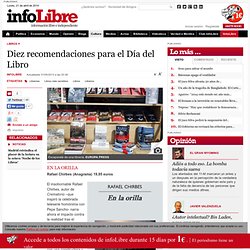 Escaparate de una librería.
... y diez libros
Guía práctica para convertir libros con Calibre
Los libros electrónicos ya están prácticamente en todos los hogares. Ocupan menos espacio, son muy manejables y con un lector adecuado puedes leerlo incluso de noche, a oscuras.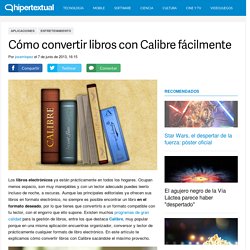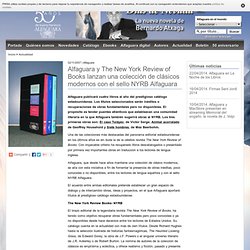 y The New York Review of Books lanzan una colección de clásicos modernos con el sello NYRB Alfaguara
Alfaguara publicará cuatro libros al año del prestigioso catálogo estadounidense.
La compañía Classroom & Library, editorial y distribuidor de libros, ha sacado Book Retriever, una aplicación que tiene mucho éxito entre padres y profesores. Creada por dos especialistas en comprensión lectora y lectura infantil, es muy útil para buscar libros de acuerdo al nivel de lectura requerido para cada niño. La aplicación escanea el código de barras del ISBN de los libros y enseguida se añade en su base de datos de más de 136.000 títulos – que se actualiza semanalmente- para dar una descripción del libro y el nivel de lectura para el que es apto.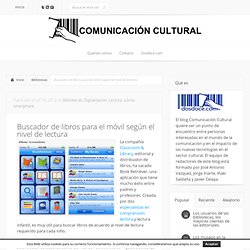 Buscador de libros para el móvil según el nivel de lectura | Comunicación Cultural
Los eBook de LcL se pueden adquirir en esta web y en las tiendas y plataformas que le indicamos a continuación. Desde aquí actualizamos nuestro catálogo de eBooks y las librerías digitales donde se pueden adquirir. Solo las descargas desde nuestra web y desde estas plataformas con las que tenemos convenio garantizan al lector que el eBook es el original, que la obra es completa y no ha sufrido ningún proceso de alteración. Es un producto con nuestro sello de calidad. Por ello garantizamos que es la autentica y legitima obra escrita por el autor.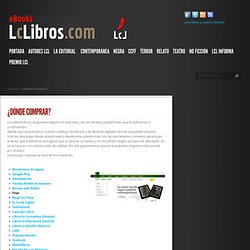 ¿Dónde comprar?
- By Haley Moore for Culture Hacker (March 16th, 2012) Welcome to Transmedia Talk, a podcast covering all things Story. Transmedia Talk is co-hosted by Nick Braccia, Dee Cook, and Haley Moore and looks to shed light on the topic of transmedia storytelling with commentary, interviews and tips on how storytelling is moving into the 21st century. [Audio clip: view full post to listen]
WorkBook Project :: an open creative network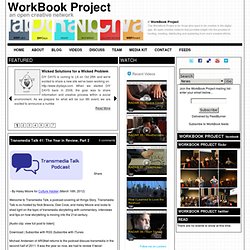 Actualidad Editorial
es la nueva red social de escritores y lectores. Te invitamos a entrar en nuestra comunidad, donde podrás hacer nuevas amistades literarias, compartir tus consejos de lectura, leer reseñas, artículos y libros recomendados por más de 260 escritores de fama
285 libros gratis sobre Internet, redes sociales, comunicación, tics, educación, seo, periodismo y cultura digital May 26, 2011 | Chula Vista Digital
Pina Zangaro : Product Types
Directory of Online Literary Journals | Review 31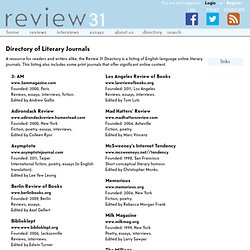 A resource for readers and writers alike, the Review 31 Directory is a listing of English-language online literary journals. This listing also includes some print journals that offer significant online content. www.3ammagazine.com Founded: 2000, Paris Reviews, essays, interviews, fiction. Edited by Andrew Gallix Adirondack Review
'Circulo de Lectores reunirá a editoriales y 'telecos' para impulsar la suscripción a contenidos digitales'  | Navegante
El director general de Círculo de Lectores ve el futuro con optimismo, y eso que la crisis muerde fuerte en el sector editorial. Para él, el futuro de esta veterana empresa de distribución de libros pasa por un mayor despliegue tecnológico y más inversión en plataformas 'online'. Además, anuncia que en las próximas semanas Círculo de Lectores lanzará su propio sello editorial 'arroba@books'. "Y todo sin DRM. Creemos que el DRM no impide la piratería: la provoca", añade.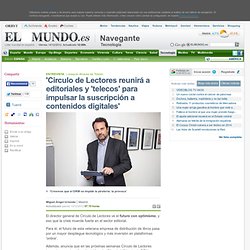 Microrrelatos: 'La esencia escarlata'/Por Monte de Ánimas. Fotografía de Martín Martínez
Una conmovedora historia narrada por Monte de Ánimas, que nos traslada a un mundo dónde todo es posible Recuerda que todas las palabras resaltadas en rojo son enlaces que te redireccionarán Ya pudiste conocer a nuestros últimos colaboradores de la sección de arte de YAMELOSÉ! en el anterior artículo (puedes leerlo accediendo directamente si pinchas aquí) Monte de Ánimas y Martín Martinez son dos artistas con mucho éxito ya que con sus fotografías nos adentran en un mundo misterioso a la par que mágico.
Enrique Vila-Matas: Índice del sitio web
Literaturas Com Libros | ( ebooks )
EATER - Escritores Apocalípticos y de Terror.
A book led to a song, and the song led to a photograph. The photograph led to a short story, and the story led to another song, which led to another photograph. Each work stands on its own artistic merit. With their powers combined, they created the coolest literary event I've seen in a really long time (maybe ever). Two weeks ago, in the basement of WORD Bookstore in Brooklyn, the singer (Ellia Bisker of Sweet Soubrette), photographer (Emily Raw), and writer (Manuel Gonzales) came together to celebrate the release of The Miniature Wife, Gonzales' collection of short stories that is just out from Riverhead (and is, by the way, completely fantastic).
The Way Book Events Should Be
Cómo elegir un eBook - Electrónica - Practicopedia.com
Debo admitir que me encantan las listas. Sé que son arbitrarias, que al fin no son significativas, que apenas sirven para levantar el ego de algunos y desinflar el de otros. Pero me gustan. Me siento como el personaje aquel de Alta fidelidad que, en plena crisis, se pone a hacer una lista.
Los 21 libros del 2012 >> Vano oficio
While working in the Anchor/Doubleday art department in the 1950s, the illustrator and writer Edward Gorey discovered a long-forgotten cache of material by an earlier artist, the Krazy Kat creator George Herriman. These were Herriman's original drawings for Don Marquis's book about a poetry-writing cockroach and his cat companion, Archy and Mehitabel. In a 1999 interview with Steven Heller, Gorey recalled: I could scream now, because nobody knew they were there, and I anguished but finally took three of them…. You can't believe how much stuff there was…you know, old bookjackets from the '20s, the 'teens. Nobody paid any attention to it.
A Treasure Trove of Edward Gorey by Eve Bowen
Lecturalia - Red social de literatura, comentarios de libros, libros y literatura, comunidad de lectores, rincón de lectura
Feira Parte
Agenda | Phaidon
Virgilio Piñera.
UDL Libros: Distribuidor de libros
lecturas errantes
Publishing Perspectives - International publishing news & opinion
DesEquiLIBROS. Lectura y cultura
El Boomeran(g) | Blog literario en español
Neil Gaiman's Next Children's Books Announced
21st Century Tools Through the Lens of Bloom's Taxonomy | tubarks
Past winners & finalists by category
Récupéré: Livres du genre Communication, médias
20 Best Science Fiction Books Of The Decade
50 best websites to download eBOOKs FREE
15 Books You Should Have Read in 2010 - Culture - GOOD
- StumbleUpon
Book Party For One: A Loner's Summer Survival Guide
Professional Online Publishing: New Media Trends, Communication Skills, Online Marketing - Robin Good's MasterNewMedia
The Top 10 Best Science Fiction Books
List of Online Archives for Free Unabridged Books Online
The 15 Best Speculative Fiction Books of 2010
Welcome to BookCrossing
Libraries, Bookstores & Institutions
BIBLIOCALI2
BIBLIOCALI1
Books.Blog - Skip Graduate School, Save $32,000, Do This Instead -...
Underground New York Public Library
lacasqueria.com · libros al peso
Online Book Clubs
Libraries - Basic Record
Bibliothèque gérée par Calibre
Livrarias - Lokaliza
WIKILIBROS
Top 30 plus belles bibliothèques du monde en photo
Grolier Poetry Book Shop, Cambridge, MA
Wikisource
Littérature de l'Antiquité et du Moyen Âge
Libros en línea: Web 2.0... y La Red... de la UNIMET
Avec Unglue.it, la libération des livres numériques est en marche !
Quel droit de prêt pour les livres numériques en bibliothèque ?
Ebookdz
Discover a World of Unlimited Stories
The Project Gutenberg eBook of The Kama Sutra of Vatsyayana, by Richard Francis Burton, Bhagavanlal Indrajit, and Shivaram Parashuram Bhide.
Read free books online: The Salvage, by Robynn Gabel
The digital reading revolution | Victor Keegan | Comment is free
kobo
446 Places for Free Books Online
Project Gutenberg - free ebooks
Free Ebook Downloads | Free Ebooks | Free Ebooks Download
Descargar Libros y Películas Gratis
Girlebooks