Bookbinding
linenlaid&felt
www.mcewan.co.uk
Mark Cockram Books - Profile
"Morris Cox: A Note of Introduction"
That's why All my work starts on an idea, an intention about saying something special. At the same time I like my images to be open to perception, which means that the viewer can fill in his or her own experiences. I seek both order and chaos. Chaos understood as the ocean of all possibilities, from which life derives.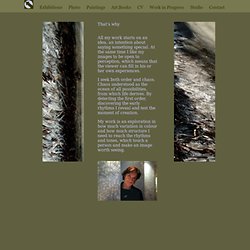 Birgit Dalum - forside
Studio 5 Book Arts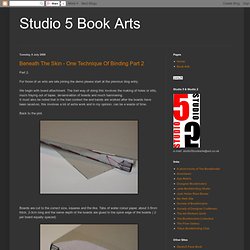 I have just realised that I have offered lots of images of how I cover books, decorative techniques and the like. However that is only half the story. What happens beneath the skin is as important, one could argue more so as the structure of the book must be sound. By that I mean that if the structure is defective, it does not matter what the finished look of the book is like as it will either not function correctly and in some cases fall apart.
Make Cool Little Booklets With Your Computer | DIY Bookbinding
The Lifehacker blog highlighted a website today that showed you how to create an 8 page personal finance booklet . Print out the PDF document, fold and cut as directed, and voila – instant booklet! This is cool! While I don't really need the FILO booklet itself, the idea of being able to make cool little booklets with a printer and some origami trick folding really got my brain racing. Imagine making little customized reference booklets or a small story booklet as a gift. You could keep your kids busy for a while making little booklet projects to share with family and friends.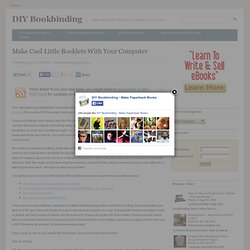 I recently recorded this DIY Bookbinding video tutorial showing how to create a simple origami mini-booklet from a single sheet of paper. This is a fun craft project to do with kids and makes a great book-themed school activity. Primary skills required are paper folding and simple cutting. Applying glue is optional, but something I personally prefer.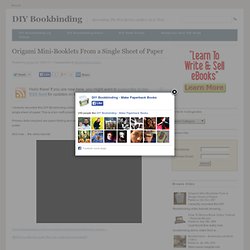 Origami Mini-Booklets From a Single Sheet of Paper | DIY Bookbinding
Hand bookbinding resources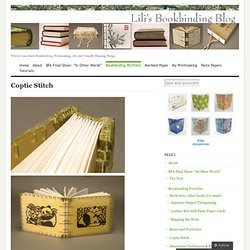 (The book above is currently available in my Etsy Shop ) This book is a coptic book made to look like a Japanese Stab binding. Because it was made as a wedding gift, I wanted it to open flat the way a coptic opens, but because the bride and groom had both spent time in Japan, I wanted to style it as a Japanese binding. The solution was to have Japanese-style stitching through the board as ornament, but not through the actual text block. (The book is available for sale at my Etsy Shop ) Like this:
Coptic Stitch « Lili's Bookbinding Blog
paperama – Blog on paper, patterns and bookbinding