Bondage Furniture
(After spending hours writing this page, I just lost it into file heaven, and so I will have to recreate that delightful and informative prose. Meanwhile, here are the bare bones.) This is the story of Our Friendly Little Dungeon. It all started when I discovered the joys of a little extra stimulation... That pursuit led me to found CBT University for the benefit of sadomasochistic lovers. I have made 17 wildly different pieces of fun and useful custom furniture.
Welcome to the Friendly Little Dungeon (sm)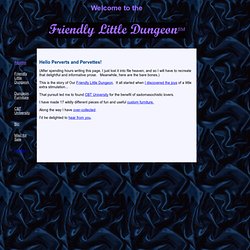 bedS & More Fantasy Beds - Stylish Double Beds and Bed Accessories made in the UK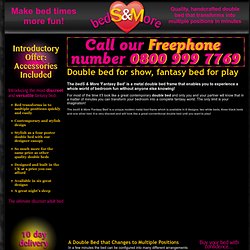 The bedS & More 'Fantasy Bed' is a metal double bed frame that enables you to experience a whole world of bedroom fun without anyone else knowing! For most of the time it'll look like a great contemporary double bed and only you and your partner will know that in a matter of minutes you can transform your bedroom into a complete fantasy world. The only limit is your imagination!
Suspension Point Tripod BDSM Topper Only Bonds of by bondsofsteel
Our new swaged pole and gas pipe Tripod Topper makes for a portable suspension point anywhere you need a hard point.We designed our toppers to set up in less than a minute.We supply the topper, thumb screws, three rubber feet for the bottom of the legs. You can purchase this pipe at any lumber store or plumbing supply house separately to make any size legs you want. The pipe at the big lumber yards runs around 19.00 per pipe and comes in 10 foot sections you will need 1" I.D. pipe. They will cut it to size for free. This option great reduces the shipping of he topper. With our new model as of Feb. 1 2014 all models are now able to take both gas pipe and our swaged poles.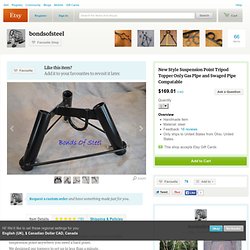 Welcome to MauiKink.com
BDSM Furniture
Saxon Dungeon Furniture - Fine Quality Custom BDSM Furniture Spanking Horse, Bondage Tables, Crosses, SM Equipment
Paddle Daddy - Handcrafted Wooden Paddles, Leather Slappers, CBT Toys, Leather Slings, and Dungeon Furniture
Paul Mauser Studios
Built Tough to Play Hard - DungeonBeds.com
Robospanker.com
Bonnie & Clyde bondage furniture
Our Products
Based in a sleepy village set in rural Devon, England, JacqueFrancis has been constructing "different" furniture for the last ten years, including bondage furniture, sex furniture and equipment. No glossy catalogue is available as each new client is addressed personally and most items are built to order so pricing varies to your individual needs. Many bespoke pieces of fetish furniture made by JacqueFrancis are not shown here, as they are individual to our customers, so please understand that this web site represents only a small idea of what we can design and build for you. Please e-mail your questions and interests, so that we can discuss delivery and turnaround times to your individual requirements.
Welcome to Fetish Furniture Designs by JacqueFrancis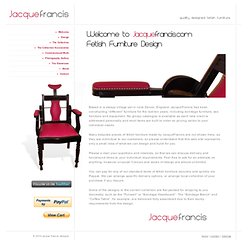 Dungeon Delights Steel Bondage Equipment - Dungeon Delights
BDG Sales - Bondage and Dungeon Gear, Bondage Furniture, Medical Supplies, Electrostim
BDGSales was founded because people liked the items we built for our own playroom. The Rope Lace Bondage table is an example where a friend who saw one became a customer. Things grew from there... We're always on the lookout for new ideas - Let us design and build our unique items to suit your needs. We work closely with each customer to ensure every item meets expectations and sometimes their ideas are so good we offer them as part of our regular lineup.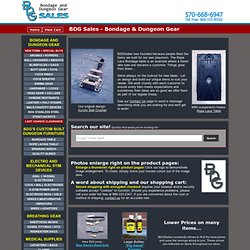 <div id="javascript-nag" class="notice"><p> Take full advantage of our site features by enabling JavaScript. <a href="http://www.etsy.com/ca/help/article/372">Learn more</a>. </p></div> Help
spanking bench on Etsy, a global handmade and vintage marketplace.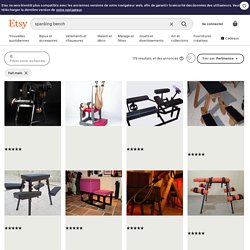 Home page MetalBound
Americas Premiere Bondage Furniture Designer/Manufacture
bdsm fetish funiture
Fetters | Dungeon Furniture | BDSM Furniture | Bondage Furniture
MIV Fetish Furniture | Fetish furniture for bondage, dungeons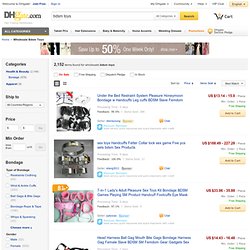 On Sale Free Shipping Dispatch Pledge In Stock Best Match Best Match Unit Price: lowest first Unit Price: highest first Items Sold Recently listed Feedback Sort by: Price Items Sold
Wholesale Bdsm Toys - Buy Cheap Bdsm Toys from Chinese Wholesalers | DHgate