BOINC-PROJETS GPU
Projets utilisants le GPU de la carte graphique.

NVIDIA (cuda)

ATI (catalyst) fzs600 Jul 18
Donate@Home
World Community Grid - Accueil
DistrRTgen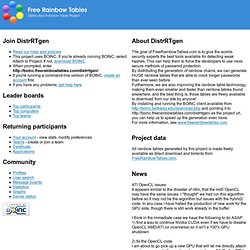 gpu work queue and recent issues The GPU side queue ran dry on Friday and in our haste to fill them, encountered some additional speed-bumps. Please see my post for more details. 19 Nov 2012 | 1:11:22 UTC · Comment server outage We had a server outage from about 2012-11-06 19:00 GMT to 2012-11-06 23:00 GMT. The primary cause was a PDU, owned and operated by the data center, going bad.
Moo! Wrapper
PrimeGrid
Server Back Online While doing what I thought were minor updates in preparation to update the BOINC server code, I accidently updated a few major components (e.g. the web server and database) which required the project to be shut down during the installation. Everything should be back to normal, but if you run into issues, please response to this thread on the message board. Thanks. 19 Feb 2013 23:26:33 UTC · Comment Collatz v3.17 CUDA Testers for Windows Needed Version 3.17 of the Collatz CUDA application for Windows is now available in both 32 and 64 bit versions.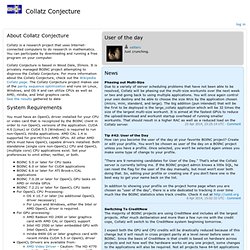 Collatz Conjecture
New clients out As already written on Twitter, the new clients are out. If you encounter any problems, please let us know here immediately. The CPU clients should now work again with the newest BOINC client release and should also be a little bit faster. ---- Wie bereits auf Twitter geschrieben sind die neuen Clients raus. Sofern ihr auf irgendwelche Probleme stoßen solltet, meldet euch bitte hier. Die CPU Clients sollten nun wieder mit dem neuesten Client funktionieren und auch etwas schneller sein. 11 Jan 2013, 21:57:26 UTC · Comment
POEM@HOME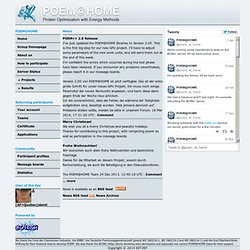 GPUGRID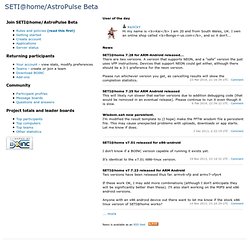 News SETI@home v7 7.00 released for x86_64 linux ATI/AMD OpenCL I fully expect this not to work, because it's my first attempt at releasing an GPU app for linux. 18 Mar 2013, 22:03:10 UTC · Comment SETI@home_v7 ver 7.00 released for Windows and Linux Report problems by commenting to this post. 14 Mar 2013, 22:06:55 UTC · Comment SETI@home_v7 ver 7.00 released for CUDA2.2-5.0 and ATI/AMD OpenCL SETI@home 7.00 for graphics cards has been released. Most of the changes are small apart from there now being a version for CUDA 5.0.
SETI@home/AstroPulse Beta
SETI@home
Albert@Home