Body Building
Maximum Muscle Building Routine. If you're someone who is hoping to pack on more lean muscle mass, it's important that you're training correctly using the right program approach.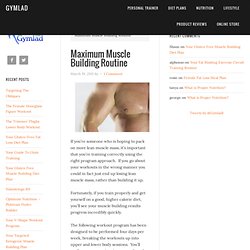 If you go about your workouts in the wrong manner you could in fact just end up losing lean muscle mass, rather than building it up. Fortunately, if you train properly and get yourself on a good, higher calorie diet, you'll see your muscle building results progress incredibly quickly. The following workout program has been designed to be performed four days per week, breaking the workouts up into upper and lower body sessions. You'll perform two exercises in a row, take a day off to rest, and then perform another two day cycle before breaking for the weekend. ABC Bodybuilding. Best Bodyweight Exercises for Weight Loss | MotleyHealth® Bodyweight exercises are a great way to help you lose weight.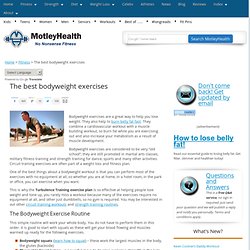 They also help to burn belly fat fast. They combine a cardiovascular workout with a muscle building workout, so burn fat while you are exercising out and also increase your metabolism as a result of muscle development. Bodyweight exercises are considered to be very "old school", they are still promoted in martial arts classes, military fitness training and strength training for dance, sports and many other activities. Circuit training exercises are often part of a weight loss and fitness plan.
Scoobys Home Bodybuilding Workouts. Bodybuilding Routines & Training articles. | Muscle-Munch. The Best Of The Best: Here Are 20 Gems Of Wisdom You Need To Know. Think of this list as the Academy Awards of getting bigger, stronger and leaner: It's a collection of tips that represent total domination in the gym.
Each "best" selection was chosen based on either bona fide scientific data, overwhelming anecdotal evidence by hardcore gym rats around the world or both. Looking for the best way to add thickness to your arms, carve out a six-pack or throw around more weight than you ever have?
---