Blood Bowl
Un article de Wikipédia, l'encyclopédie libre. Blood Bowl[1] est un jeu de football américain fantastique, à la fois jeu de figurines et jeu de société, créé par Jervis Johnson en 1987. L'action se situe dans l'univers de Warhammer Fantasy Battle, un monde médiéval fantastique imaginé par la compagnie Games Workshop. Le jeu a connu trois éditions commerciales qui se distinguent par des règles de jeu révisées.
Blood Bowl
Bienvenue sur le site de la Ligue du BN "BN" ce sont d'une part les célèbres biscuits ("Biscuits Nantais") fabriqués dans notre belle ville, mais c'est surtout le BloodBowl Nantais ! La ligue du Bloodbowl à Nante a pour vocation de rassembler les amateurs de ce jeu pour jouer des parties d'initiation, des compétitions endiablées et même un championnat disputé toute l'année.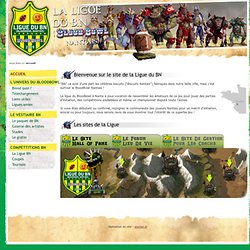 Ligue BN (Bloodbowl Nantais) - Accueil
gaspez-arts
Tric Trac :: Voir le sujet - BloodBowl
Par Akrenom d'Achien, samedi 7 juin 2008 à 20:09. En direct des quartiers crasseux de Gotham City, voilà le match opposant les Gobs de "l'Asile d'Arkham" et les Nordiques des "Fils de Fenrir". Tout de suite nous rejoignons deux commentateurs exceptionnels, deux coachs de talents, sauf pour ce qui est de gagner des matchs. Monsieur TOTO TEALER, ex coach des Bunnies et POUT'ZOUILLE, ex coach gobelin. - Toto Tealer : Qu'est ce que c'est que ce bordel !!!
Sporting Berrichon Fan Club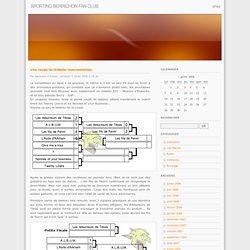 Les liens du monde Blood Bowl
neomics - online
Metal Miniatures|D&D Miniatures|Star Wars Miniatures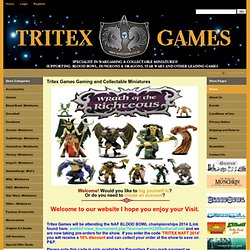 Or do you need to create an account? Welcome to our website I hope you enjoy your Visit. Tritex Games will be attending the NAF BLOOD BOWL championships 2014 (Link found here: wwNAF/view_tournament.php?tournament=2209w.thenaf.net/ and we are now taking pre-orders for the show. If you enter the code 'TRITEX NAFT 2014' you will receive a 10% discount and can collect your order at the show to save on P&P.
ShadowForge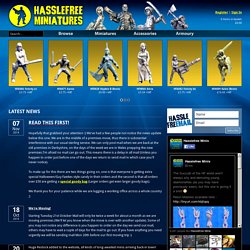 3 Newsletters have appeared in the last fortnight! (If you aren't getting them, the sign up is over there on your right :) ) And we draw ever closer to Salute. Our Salute collection code is now active, it's 'SALUTE2014', and it will change your order to 'collection only' status and allow you to pick a free gift.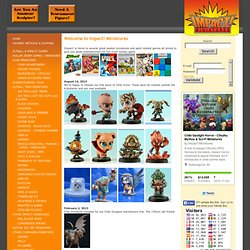 Welcome to Impact! Miniatures Impact! is home to several great pewter miniatures and sport related games all priced to give you great entertainment for not much money spent. August 14, 2013 We're happy to release our first wave of Chibi minis. These were all created outside the Kickstarter and are now available
Impact! Miniatures