Blogs Web marketing
Création site Internet et référencement : Blog SEO agence web AXENET.
Outils
Blog | Google Analytics, SEO and PPC blog. Understanding Bot and Spider Filtering from Google Analytics On July 30th, 2014, Google Analytics announced a new feature to automatically exclude bots and spiders from your data.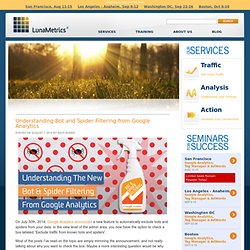 In the view level of the admin area, you now have the option to check a box labeled "Exclude traffic from known bots and spiders". Blog seo techniques & conseils référencement google | Florian Karmen. Linking. Redaction de contenu. The Analytics Factor. Marketing en ligne: Adsense, Adwords, SEO, Web 2.0, blog, buzz… » Deeper Web-Analytics - Blog Analytics. E-humeurs : Blog Référencement, Réseaux sociaux et Web.
---