Blogs Sites
Minecraft Xbox
A moins d'avoir passé les trois dernières années sur une autre planète, vous n'avez pas pu échapper au phénomène Minecraft. Plébiscité dès sa version alpha par une communauté très active, ce titre indépendant a fini par provoquer un engouement sans limite, favorisé par un excellent bouche-à-oreille mais aussi par le buzz médiatique autour de la success-story de son créateur, Markus "Notch" Persson. On comprend donc que Microsoft ait fait des pieds et des mains pour en obtenir l'exclusivité sur sa Xbox 360. Mais ce jeu qui pousse le concept de bac à sable dans ses derniers retranchements n'a-t-il rien perdu en cours de route ?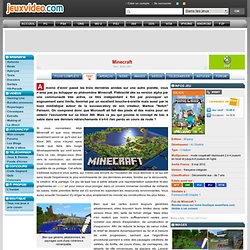 Test de Minecraft sur Xbox 360 - 11/05/2012
Minecraft XL
Hey folks, SMP Chat has been getting a little spammy lately with everyone all being on,For that reason we're providing the option to separate your chat into 4 chat channels. Please be aware that all the standard chat rules apply and you will still see the main chat, just not talk in it.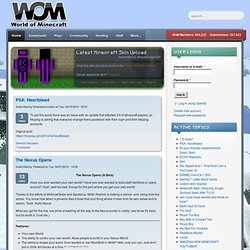 download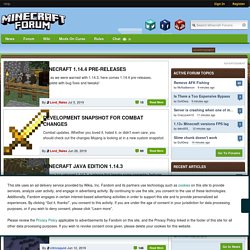 In light of his deep love for cats, Jeb has confirmed that this baby ocelot - named "Missus Puddums", cherished mascot at EA - will now be the Lead Developer for Minecraft, going forward, following the takeover of the game by gaming industry giant, Electronic Arts. This gives Puddums final say in all design decisions, though Jeb jokingly added that he made her "promise to not sell hats." Jeb cites personal time and additional projects as reasons for his stepping down, but makes it a point to say that he will still be involved in Minecraft development.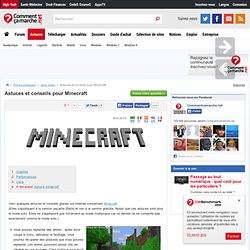 Voici quelques astuces et conseils glanés sur internet concernant Minecraft. (Elles s'appliquent à la version payante (Beta) et non à la version gratuite. Notez que ces astuces sont pour le mode solo. Elles ne s'appliquent pas forcément au mode multijoueur car ce dernier ne se comporte pas exactement comme le mode solo.)
Minecraft Hardcore
You are here: Home Fireworks make slow? Disable! Popular Skin : fem! Sweden from Hetalia by MayuriYandere Projects Skins Textures Servers Mods Blogs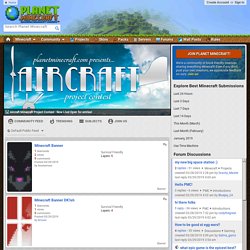 Minecraft-Univers
Nous référençons actuellement 1834 serveurs Minecraft. Ce site dresse la liste des meilleurs serveurs Minecraft multijoueurs gratuits pour jouer en ligne à Minecraft et les classe en 4 catégories, les serveurs Minecraft RolePlay, les serveurs Minecraft FreeBuild et entre le FreeBuild et le RP nous avons le Semi-RP. Nous avons également des serveurs Minecraft en mode créatifs. Les sites sont classés par nombre de votes, ainsi vous pouvez voter pour votre serveur préféré pour qu'il soit bien classé.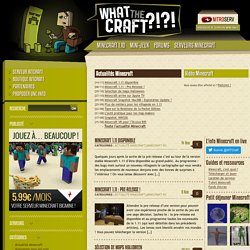 Bonjour à tous, voici le deuxième épisode de Mine-Imator. Dans cet épisode je vais vous apprendre à faire une animation basique. Hello tout le monde ! Après avoir terminé la chronique sur les serveurs Minecraft, voici ma nouvelle chronique sur l'animation. Grâce à Mine-Imator vous allez apprendre à faire de l'animation très simplement.
Bonjour, à toute la communauté aujourd'hui j'ai découvert un site formidable, son nom est CraftMyServers, Ils propose les prix les moins chers sur le marcher enfin sa c'est mon avis, leurs serveurs Minecraft à partir, de 6,50€. Ils proposent aussi des autres jeux du genre, CSS, TF2. Et bientôt, ils vont mettre en place des VPS (Virtual Private Server). Et aussi des serveurs dédiée.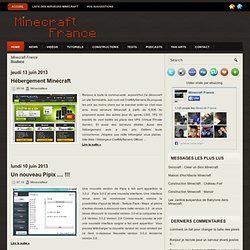 From its creation, Minecraft was developed almost exclusively by Notch until Jens "Jeb" Bergensten started working with him, and has since become head of its development. It features music by Daniel "C418" Rosenfeld and paintings by Kristoffer Zetterstrand. Initially released as what is now known as Minecraft Classic on May 17, 2009, the game was released as Minecraft 1.0 on November 18, 2011. Since its release, Minecraft has expanded to mobile devices and consoles. Minecraft focuses on allowing the player to explore, interact with, and modify a dynamically-generated map made of one-cubic-meter-sized blocks.