Blogs Sites
Minecraft Xbox. Test de Minecraft sur Xbox 360 - 11/05/2012. A moins d'avoir passé les trois dernières années sur une autre planète, vous n'avez pas pu échapper au phénomène Minecraft.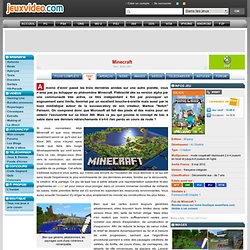 Plébiscité dès sa version alpha par une communauté très active, ce titre indépendant a fini par provoquer un engouement sans limite, favorisé par un excellent bouche-à-oreille mais aussi par le buzz médiatique autour de la success-story de son créateur, Markus "Notch" Persson. On comprend donc que Microsoft ait fait des pieds et des mains pour en obtenir l'exclusivité sur sa Xbox 360. Mais ce jeu qui pousse le concept de bac à sable dans ses derniers retranchements n'a-t-il rien perdu en cours de route ? Minecraft XL. CraftHub. World of Minecraft. Download. Minecraft Forum. Astuces et conseils pour Minecraft. Voici quelques astuces et conseils glanés sur internet concernant Minecraft.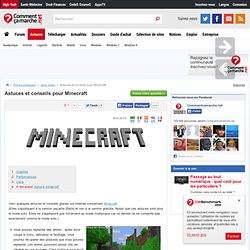 (Elles s'appliquent à la version payante (Beta) et non à la version gratuite. Notez que ces astuces sont pour le mode solo. Elles ne s'appliquent pas forcément au mode multijoueur car ce dernier ne se comporte pas exactement comme le mode solo.) Minecraft Hardcore. Planet Minecraft. Minecraft-Univers. Serveur Minecraft. Minecraft France : du Minecraft bien frais ! Minecraft - JeuxOnLine.
Minecraft.fr. Minecraft France. Minecraft Wiki.en. From its creation, Minecraft was developed almost exclusively by Notch until Jens "Jeb" Bergensten started working with him, and has since become head of its development.
It features music by Daniel "C418" Rosenfeld and paintings by Kristoffer Zetterstrand. Initially released as what is now known as Minecraft Classic on May 17, 2009, the game was released as Minecraft 1.0 on November 18, 2011. Since its release, Minecraft has expanded to mobile devices and consoles. Minecraft focuses on allowing the player to explore, interact with, and modify a dynamically-generated map made of one-cubic-meter-sized blocks.
---