Blogs paiens (en)
Mabon Incense
Diary of a Familiar-in-Training
Somehow I find myself always having an affinity with the goddesses of the arts and beauty. Yeye Oshun has been for me a symbol of gaiety and elegance. Brighid of the Gaels provides me with artistic inspiration and the energy to turn it into craft. Now I pray to Maha Lakshmi, the lotus goddess of wealth, for material providence and sustenance - because the reality nowadays is that art and beauty often costs money. I was also feeling a need to get acquainted with the vedic gods being that the Philippines is a part of Greater India.
The Lights of Diwali ~ Pagan Murmur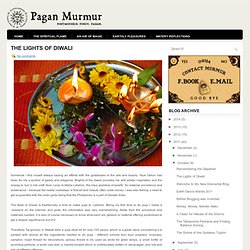 Beyond the Circle
The House Of Eleggua Blog
Conjured Cardea
Dancing with Hecate
Hidden Witch
Spirits Craft
Wandering Soul | Seeker ~ Searcher
Love Not Fear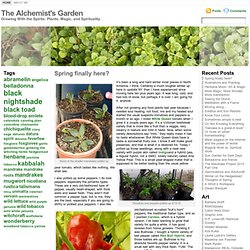 A characteristic of my life is that I am constantly entering new periods and shucking something that doesn't work and taking up something new that I hope will–or that will at least remedy the boredom that is my worst enemy. Some might say this constant renewing means I am a dilettante, but I try to dig down into a new interest rather than merely skating on the surface. I also tend to circle back to particular subjects, digging deeper each time. Hyoscyamus albus
The Alchemist's Garden
Practically Magic
WitchDoctorJoe's RattleBone
Eye of the Sorcerer
Deep Pagan Thoughts
A Mage's Blog
Trainee Golem Builder
Dancing on the Deluge
Kenaz Filan
Sex, Magick, & the City
Doing Magick
Dionysian Atavism
American Folkloric Witchcraft
Adventures In Witchery
Urban Witch
PNC Florida - The Pagan Newswire Collective
Into the Mound
Witches Of The Craft
Sep 05 I am temporarily taking down both 2Witches and Blade & Cauldron. The goal is to come back (sometime between Samhain and New Year's) with a new and improved blog that will be a vehicle toward creating the life we dream of, the story of the journey, and a place for me to just be me. The hope is to re-open with a new look, a new feel, and both new and re-worked content.
A Blog of Two Witches
Keeping up with the spirit of things, I decided to google the phrase "Victorian American Witches." To my delight and astonishment, pages upon pages of articles were laid before me.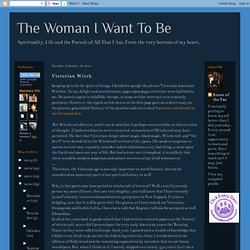 Victorian Witch
Witchcraft in the Victorian Age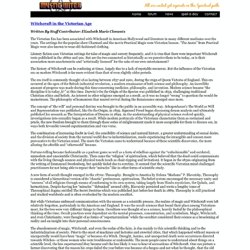 Witchcraft in the Victorian Age
Hawk's Cry: The Blog of a Witch on Paganism, Witchcraft, Wicca, Magick, Occult, Pagan Hymns, Prayers and Rituals
Love is Stronger than Death
A bad witch's blog
Cat's Journal
Adventures on the Dusken Path