Blogs paiens (en)
Mabon Incense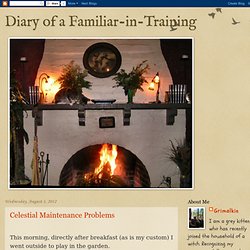 My witch has informed me that my requisite Year-and-a-Day of training will soon be completed. Then I will become a full-fledged Familiar! I must remind myself to remain Humble in light of this Important Promotion, and yet, her announcement has caused me to reflect back upon a few of the many lessons I've absorbed over the past year: Meditation is a boring activity reserved for older and slower cats. However, if you happen to be caught napping during your witch's ritual and claim that you were actually doing this thing called "meditating", you will manage to avoid a scolding.
Diary of a Familiar-in-Training
Somehow I find myself always having an affinity with the goddesses of the arts and beauty. Yeye Oshun has been for me a symbol of gaiety and elegance. Brighid of the Gaels provides me with artistic inspiration and the energy to turn it into craft. Now I pray to Maha Lakshmi, the lotus goddess of wealth, for material providence and sustenance - because the reality nowadays is that art and beauty often costs money. I was also feeling a need to get acquainted with the vedic gods being that the Philippines is a part of Greater India.
The Lights of Diwali ~ Pagan Murmur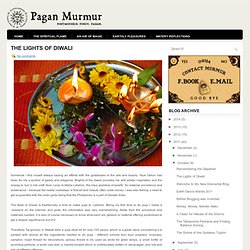 Beyond the Circle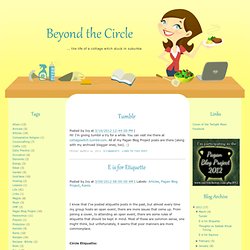 I know that I've posted etiquette posts in the past, but almost every time my group hosts an open event, there are more issues that come up. From joining a coven, to attending an open event, there are some rules of etiquette that should be kept in mind. Most of these are common sense, one might think, but unfortunately, it seems that poor manners are more commonplace.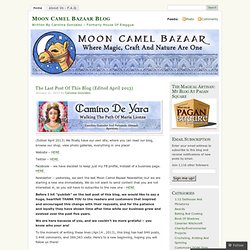 Flowers At The Altar, Today Those of you who have been reading the blog for a few months know that when we closed the House Of Eleggua website and changed our business name to Moon Camel Bazaar, we intended to offer many new products and artwork. So far, we have listed just a tenth of what we wanted to make and list – why, you ask?
The House Of Eleggua Blog
Conjured Cardea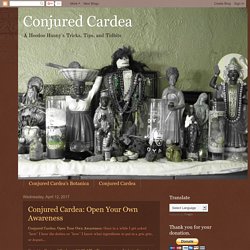 Today was spent cleaning my home and preparing it for a 5 day lamp setting for a client. The client had requested to find new, good friends, confidence and to experience the joys of life. What better Orisha to call upon than Oshun! Oshun governs all of life's joys; celebrations, family, friends, beauty, confidence and reciprocating love. This also makes the holidays a wonderful time to evoke her presence and energy as family, friends and celebration surround us. This service took a few days longer to get to than usual as the holidays added a couple of extra days off in order to spend time with family.
I have recently become a part of a very inspirational group of amazing women. The group is virtual, but I feel like these sisters are walking with me everyday. It's been quite the experience so far. There are calls every week that I am not able to attend but when I listen in later I feel like I am present as it is happening. Anyway, I was inspired to write down my story.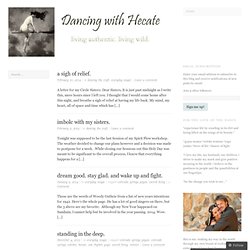 Dancing with Hecate
Today, I felt called to visit Grandmother Oak. She is a powerful & majestic tree that I have been communing with for a while now. I didn't really have the time to visit, she is 15 miles from home & my schedule has been tight lately.
Hidden Witch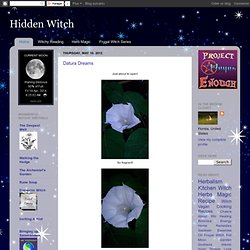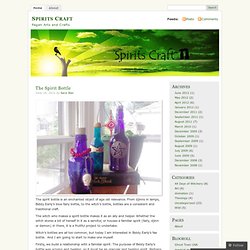 Spirits Craft
The spirit bottle is an enchanted object of age old relevance. From djinns in lamps, Biddy Early's blue fairy bottle, to the witch's bottle, bottles are a consistent and traditional craft. The witch who makes a spirit bottle makes it as an ally and helper.
A few weeks ago I stumbled across an angel card deck for £3,99 (£2,99 if you are lucky but I missed the boat on that one) in one of those cheap book shops and asked my son to buy it for me for Yule. I could not look into the pack until I received it and took the wrapping off, but I do not regret it one bit. A few pictures were on the back of the box which usually show the nicest ones, but I am impressed. It is sooooo far away from the usual suspect who brings out one deck after the next which just don't do anything for me.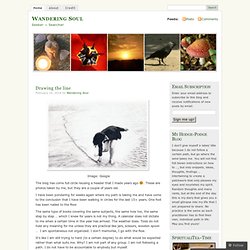 Wandering Soul | Seeker ~ Searcher
I received a Yuletide note from a deer friend today. I was so glad to hear how her life has changed in small but fabulous ways. Her exuberance and joy and love were shining. She keeps up with me in this here blog most of the time so hey girl! Love you!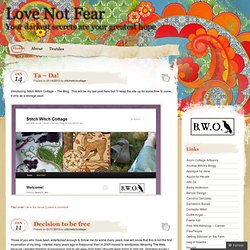 Love Not Fear
Today I got to work on the illustrations for my herbal witchcraft book. Does it ever feel great! The first chapter is on poppy, so I started there. I did sketches of a bud, a pod, a seedling, and a flower.
The Alchemist's Garden
I know this blog is practically moribund, blogging just doesn't seem to be part of my life path at the moment. I did want to mention though, that I will be "doing" the ritual at The Witches Moonlight Masquerade Ball this Saturday (October 27th). If anyone reading this in the general area of New Jersey and is on Facebook and is interested in attending, information can be found here: https://www.facebook.com/events/226430980818301/ (please note, I am not running or administering this event). Having attended this Ball several times, I can say it is a lot of fun, and the money raised goes toward two worthy charities (one for humans, one for animals). As for this years ritual; all I can say is, if performing it is anywhere near as interesting as writing it was, it should be a very interesting evening, indeed!
Practically Magic
WitchDoctorJoe's RattleBone
It is about time someone finally educated you ladies and lads out there on what what love spells are and actually do and do NOT do. I have finally had my fill of people wanting a love spell done but then they want everything to be hunky dory and permanent. Um, sorry sister but it's time you woke up and smelled some coffee. We live in a modern society where there are literealy more people in one state than there were in all of Europe during the Middle Ages. Today the opportunity to find a lasting love is as close as the Internet connection and this causes a lot of trouble. Further today we have a vast arrary of media at our disposal that gives us plenty to look at.
Eye of the Sorcerer
Deep Pagan Thoughts
If you missed Part One of the "Insert Con Here" Update, you can find it here. It's certainly not essential to read Part One before reading Part Two, or to even read Part One at all, but you might like the compare and contrast between festivals. In a lot of ways going from festival to festival is like "continuing the experience," and other times it's like entering an entirely different reality. Going from PantheaCon to ConVocation falls somewhere in between. After getting back to Sunnyvale from PantheaCon (a twelve minute drive I might add), Ari and I immediately went to work on packing for ConVocation.
A Mage's Blog
Trainee Golem Builder
Kenaz Filan
Sex, Magick, & the City
Doing Magick
Dionysian Atavism
American Folkloric Witchcraft
Adventures In Witchery
Urban Witch
PNC Florida - The Pagan Newswire Collective
Into the Mound
Witches Of The Craft
A Blog of Two Witches
Victorian Witch
Witchcraft in the Victorian Age
Hawk's Cry: The Blog of a Witch on Paganism, Witchcraft, Wicca, Magick, Occult, Pagan Hymns, Prayers and Rituals
Love is Stronger than Death
A bad witch's blog
Cat's Journal
Adventures on the Dusken Path