Blogs Internet, Innovacion, Tech, Comms
SmartPlanet - Innovative Ideas That Impact Your World
Mary Meeker's Latest Incredibly Insightful Presentation About The State Of The Web
Uberbin.net | Un simple weblog
Redes sociales y comunidades web2.0 | Doovive
E-conomía
Noticias de Tecnología y Emprendedores
Por Javier Martín el 17 abril 2014 G+ SoLoMo = Social + Local + Movil Muchas startups lo han intentado, ninguna ha logrado aún el éxito buscado. De unas cuantas hemos hablado por aquí, Tooio, Lookad, Zeerca, Lowffer, Klikin, Boletus, … la mayoría de ellas han tenido que abandonar ante la pasividad del usuario por sacar el móvil para buscar ofertas a pie de calle o decidir dónde ir a cenar o tomar una copa. Incluso a Foursquare se le resisten mercados como el nuestro y a nivel global aún no acaba de despegar como negocio, contando con 121 millones de dólares de financiación. La última startup que he conocido que se adentra en este negocio es GPMESS, liderada por Javier López y basada en una idea bastante original, que sea el usuario el que tenga el poder total sobre el contenido, por medio de los mensajes que va dejando de manera geolocalizada por los lugares por los que pasa.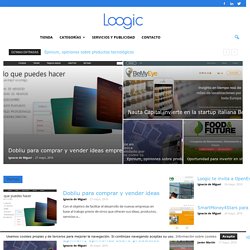 Loogic.com - Negocios en Internet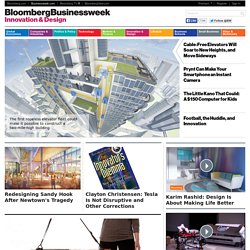 Sign in with Facebook Or use your Businessweek account Forgot password? Already a Bloomberg.com user?
Innovation
Start-up
Ideas4all. La red social de las ideas.
FastCompany.com - Where ideas and people meet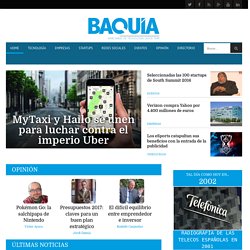 Baquía, Nuevas tecnologías y negocios
Las PYMES están de moda. Todo el mundo sabe que el empleo solo puede provenir de ellas. Las grandes empresas,… Leer entrada #Business #Cloud #Mobile #Mk Online El Gobierno de Navarra ha puesto en marcha la segunda edición del proyecto "Acción impulso emprendedor" con el objetivo de apoyar la creación… Leer entrada #Startups #Business Inventando Por Diego Betancor / 2014-04-15 13:41:29 EE.UU. es un país impresionante, particularmente en tecnología.
Web 2.0 Summit: Las 10 Tendencias de Internet para el 2012
Por Alan Colmenares Pulso Social Con todos los cambios que suceden en el mundo digital, es difícil entender como dichos cambios están afectando nuestras vidas y nuestros negocios. Una de las personas que yo y muchos escuchan para tener una visión del futuro es a Mary Meeker, quien actualmente trabaja para la firma de capital de riesgo Kleiner Perkins Caufield & Byers. Después de que lea estas diez tendencias, no cabe duda que hay grandes cambios estructurales que están sucediendo no solo dentro de la industria de tecnología sino dentro del mundo de negocios. Cada año es mayor el impacto de la industria de tecnología en otros aspectos de nuestras vidas y los invito a leer la lista de abajo y reflexionar sobre una o dos acciones que puedan tomar para aprovechar estas.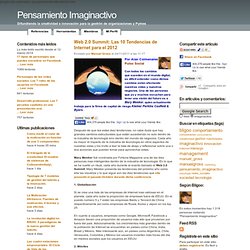 the drawingboard [dot] me | JUST MY THOUGHTS ON STARTUPS, VENTURE FINANCE, AND TECH
Originally posted on TNW I'm continuously excited when I hear about how many new ecosystems are evolving and growing across Europe and around the world. It truly is an exciting time in history for us to live in with many new innovations being generated by smaller companies rather than a concentrated few. Aside from helping economies move forward through the creation of jobs and wealth, a thriving ecosystem allows startup founders to connect with other founders and share stories about how to overcome technical and commercial problems they may be facing. Building anything new is hard, never mind alone and in a vacuum, thus sharing experiences with others should not be under-appreciated. Additionally, a growing ecosystem unlocked pools of capital be they private or public that are already existing in the local community and put them to work on improving and developing the community further.