Blogs Internet, Innovacion, Tech, Comms
SmartPlanet - Innovative Ideas That Impact Your World. Mary Meeker's Latest Incredibly Insightful Presentation About The State Of The Web. Uberbin.net | Un simple weblog. Redes sociales y comunidades web2.0 | Doovive. E-conomía. Noticias de Tecnología y Emprendedores. Loogic.com - Negocios en Internet. Innovation. Sign in with Facebook Or use your Businessweek account Forgot password?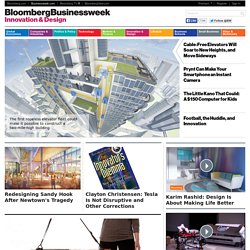 Already a Bloomberg.com user? Start-up. Ideas4all. La red social de las ideas. FastCompany.com - Where ideas and people meet. Baquía, Nuevas tecnologías y negocios. Web 2.0 Summit: Las 10 Tendencias de Internet para el 2012. Por Alan Colmenares Pulso Social Con todos los cambios que suceden en el mundo digital, es difícil entender como dichos cambios están afectando nuestras vidas y nuestros negocios.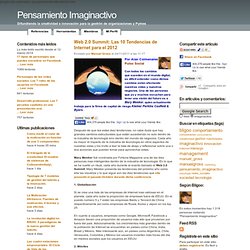 Una de las personas que yo y muchos escuchan para tener una visión del futuro es a Mary Meeker, quien actualmente trabaja para la firma de capital de riesgo Kleiner Perkins Caufield & Byers. Después de que lea estas diez tendencias, no cabe duda que hay grandes cambios estructurales que están sucediendo no solo dentro de la industria de tecnología sino dentro del mundo de negocios. Cada año es mayor el impacto de la industria de tecnología en otros aspectos de nuestras vidas y los invito a leer la lista de abajo y reflexionar sobre una o dos acciones que puedan tomar para aprovechar estas. The drawingboard [dot] me | JUST MY THOUGHTS ON STARTUPS, VENTURE FINANCE, AND TECH.
---