Blogs&entertainment
i can read
emergency compliment : A steady supply of Emergency Compliments to be used at times of great insecurity.
that's bitchville's blog
FIVE THOT at the intersection of creativity and commerce
theCHIVE - Funny Photos and Funny Videos – Keep Calm and Chive On
Comedy News, Viral Videos, Late Night TV, Political Humor, Funny Slideshows - HuffPost Comedy
De mooiste en beste sites, bijzondere en populaire websites
L'Enfant Extérieur: The Outer Child
Rich Kids Of Instagram
Christian Videos, Gospel Videos - GodVine
Celebrity Gossip | Entertainment News | Celebrity News | TMZ.com
Hey everyone, I need someone to type up all of the Laws of Modern Man and Laws of Modern Woman into a word document. If you're interested in having you, your blog, or your brand promoted on the site you're who I'm looking for.
http://lawsofmodernwoman.tumblr.com/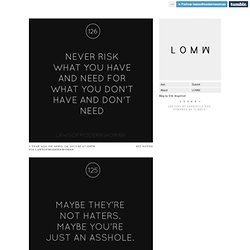 WRDBNR.COM
ThatOneRule.com - Rules of Life, Life Quotes, Tumblr Quotes, Relatable Quotes, Inspirational Quotes
OH SO PRETTY the DIARIES
The People's Fashion Destination
TED: Ideas worth spreading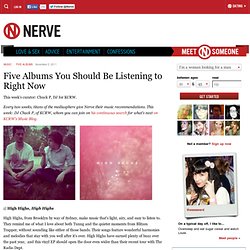 Five Albums You Should Be Listening to Right Now | Nerve.com - StumbleUpon
This week's curator: Chuck P, DJ for KCRW.
Unique Gifts | Unusual Gifts | Unique Gift Ideas | Interesting Gift Ideas - Opulentitems.com
Fashion, Beauty, News, Celebrity Style, Parties & More - FashionEtc.com
The Daily What
Wisconsin Cheese Cupid
[CAPTIONS] Weekly dose of captions!
Dlisted | Be Very Afraid
Posted in Derren Brown News Posted by Derren Brown News December 6, 2013 at 10:00 am More than a few of you were surprised to learn, on closer inspection, that this image for the new show 'The Great Art Robbery' was not a painting on a canvas – but in fact a painting on Derren's face. So we thought you may be interested to take a peek into the process that brought this particular work of art to life with some behind the scenes snaps and a little video. Enjoy…
Derren Brown Blog
com: Need. Know. Accomplish.
Urban Dictionary, December 12: boner barrier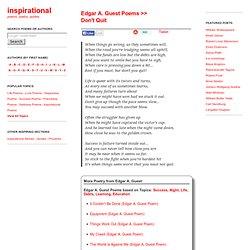 Don't Quit (Edgar A. Guest Poem) | Poems about Life, Love, Success, etc.
When things go wrong, as they sometimes will, When the road you're trudging seems all uphill, When the funds are low but the debts are high, And you want to smile but you have to sigh, When care is pressing you down a bit... Rest if you must, but don't you quit!Life is queer with its twists and turns, As every one of us sometimes learns, And many failures turn about When we might have won had we stuck it out.
Mole Empire - daily news from the underground to get you inspired and entertained!
Digital Buzz Blog | Digital Campaigns, Online Marketing, Social & More.