Blogging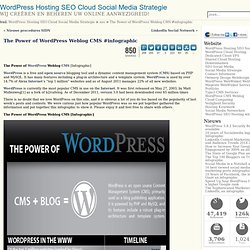 The Power of WordPress Weblog CMS #infographic
My name is Berrie Pelser, since 1999 co-owner of Ber|Art Visual Design V.O.F. Our company is been grown to a full service bureau for complete managed business internet sites that we are hosting in our own secure and fast Cloud. We are specialized in WordPress, search engine optimization, social media integration and social media strategy. I co-founded my company, Ber|Art Visual Design, in 1999 as a web design firm. It has since grown into a full-service agency for maintaining complete corporate websites hosted by Ber|Art in a secure and fastcloud environment.
Blogging, Social Media My goal is always to attract new visitors to my blog while also keeping my current readers happy. I gauge responses and readership of my blog and try to create new content that is topical, timely and useful to what my readers may like to read. From time to time, I chose to stick with having fun and being creative. Sometimes this works and sometimes it doesn't. I actually have the most fun putting together photo blogs of pictures I've taken.
What is the Recipe for a Great Blog Post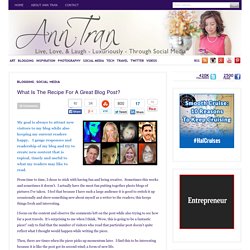 6 quick writing tips for #blogging
7 Powerful Ways to End Your Next Blog Post
10 Bloggers Share Their 2012 Blogging Formula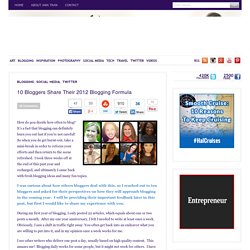 Blogging, Social Media, Twitter How do you decide how often to blog? It's a fact that blogging can definitely burn you out fast if you're not careful! So when you do get burnt-out, take a mini-break in order to refocus your efforts and then return to the scene refreshed. I took three weeks off at the end of this past year and recharged, and ultimately I came back with fresh blogging ideas and many fun topics.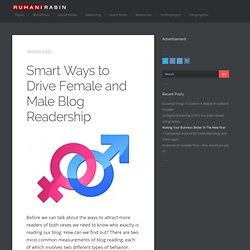 Smart Ways to Drive Female and Male Blog Readership
Before we can talk about the ways to attract more readers of both sexes we need to know who exactly is reading our blog. How can we find out? There are two most common measurements of blog reading, each of which involves two different types of behavior.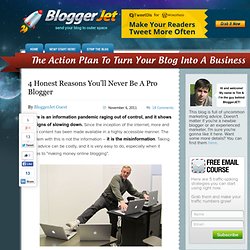 There is an information pandemic raging out of control, and it shows no signs of slowing down.
4 Honest Reasons You'll Never Be A Pro Blogger
6 Reasons Your Blog Isn't Working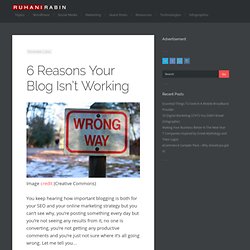 You keep hearing how important blogging is both for your SEO and your online marketing strategy but you can't see why, you're posting something every day but you're not seeing any results from it, no one is converting, you're not getting any productive comments and you're just not sure where it's all going wrong.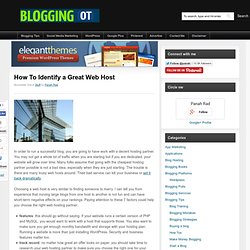 In order to run a successful blog, you are going to have work with a decent hosting partner.
How To Identify a Great Web Host
After blogging for your own domain for a while, a blogger will naturally start looking for a wider audience for more exposure. The best way to grow your audience is – guest posting.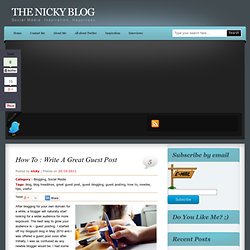 How To : Write A Great Guest Post
Sharebar Back in the day Bill Gates said: Content Is King.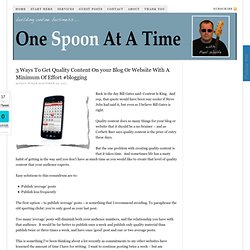 3 Ways To Get Quality Content On your Blog Or Website With A Minimum Of Effort #blogging
5 Steps to Captivating Readers with Your Secret Message
5 Hot Tips to Make Your Readers Fall in Love
Sharebar You've heard that content is king a million times.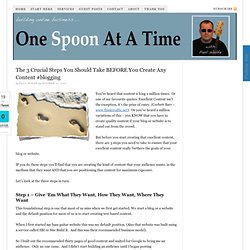 The 3 Crucial Steps You Should Take BEFORE You Create Any Content #blogging
Interesting Facts About Blogging World (Infographic)
Blogosphere also known as the Blogging World, which is growing very rapidly and helping us to explore more bloggers and their blogs. Blogging in one of way of expressing yourself, either by writing about your own life or by writing your views on your interest.
5 Steps to Captivating Readers with Your Secret Message
by Guest Author This is a guest post by Patrick Molone.
12 Ways To Encourage Your Visitors to Stay
The Faryna Podcast E1: Why I Blog #soundcloud #blogging
Note: This is a podcast of my blog post on why I blog. The blog post is here. Play the soundcloud player to hear the podcast.
tribr
How to Conquer the Blogging Mountain
"I've learned that everyone wants to live on top of the mountain, but all the happiness and growth occurs while you're climbing it." – Andy Rooney I confess, I wanted to be a ProBlogger / CopyBlogger or Seth Godin for that matter.
5 Steps to Captivating Readers with Your Secret Message
5 Hot Tips to Make Your Readers Fall in Love
Written by Brian Cray on April 14th, 2009 People come to your blog to read. It seems to make sense but a lot of blogs seem to put readability behind other things.
Blogging Essentials: 5 Tips For Better Readability
80% of business blog traffic comes from first-time visitors - Compendium study
The Magic Formula For Blog Retweets
5 Ways to Monetize Your Blog Without Selling Out