Blogging
The Power of WordPress Weblog CMS. My name is Berrie Pelser, since 1999 co-owner of Ber|Art Visual Design V.O.F.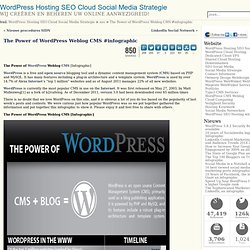 Our company is been grown to a full service bureau for complete managed business internet sites that we are hosting in our own secure and fast Cloud. We are specialized in WordPress, search engine optimization, social media integration and social media strategy. I co-founded my company, Ber|Art Visual Design, in 1999 as a web design firm. It has since grown into a full-service agency for maintaining complete corporate websites hosted by Ber|Art in a secure and fastcloud environment. What is the Recipe for a Great Blog Post. Blogging, Social Media My goal is always to attract new visitors to my blog while also keeping my current readers happy.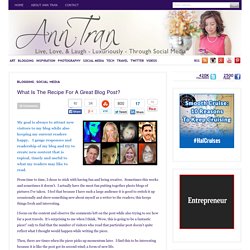 I gauge responses and readership of my blog and try to create new content that is topical, timely and useful to what my readers may like to read. From time to time, I chose to stick with having fun and being creative. Sometimes this works and sometimes it doesn't. I actually have the most fun putting together photo blogs of pictures I've taken. 6 quick writing tips for #blogging. 3.4K Flares Twitter 381 Facebook 56 Google+ 6 StumbleUpon 2.9K Pin It Share 3 3 LinkedIn 72 inShare72 Email -- Email to a friend Buffer 13 3.4K Flares × If you want to be a good blogger it is important to develop your writing skills so that you can not only write better, but write faster.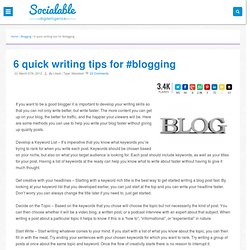 The more content you can get up on your blog, the better for traffic, and the happier your viewers will be. 7 Powerful Ways to End Your Next Blog Post. 10 Bloggers Share Their 2012 Blogging Formula. Blogging, Social Media, Twitter How do you decide how often to blog?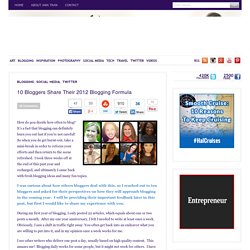 It's a fact that blogging can definitely burn you out fast if you're not careful! So when you do get burnt-out, take a mini-break in order to refocus your efforts and then return to the scene refreshed. I took three weeks off at the end of this past year and recharged, and ultimately I came back with fresh blogging ideas and many fun topics. Smart Ways to Drive Female and Male Blog Readership. Before we can talk about the ways to attract more readers of both sexes we need to know who exactly is reading our blog.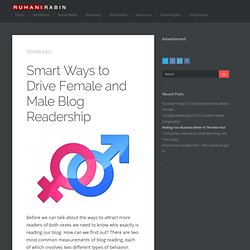 How can we find out? There are two most common measurements of blog reading, each of which involves two different types of behavior. 4 Honest Reasons You'll Never Be A Pro Blogger. There is an information pandemic raging out of control, and it shows no signs of slowing down.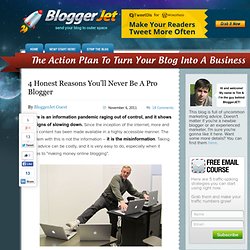 Since the inception of the internet, more and more content has been made available in a highly accessible manner. The problem with this is not the information – it is the misinformation. Taking poor advice can be costly, and it is very easy to do, especially when it comes to "making money online blogging". 6 Reasons Your Blog Isn't Working. Image credit (Creative Commons) You keep hearing how important blogging is both for your SEO and your online marketing strategy but you can't see why, you're posting something every day but you're not seeing any results from it, no one is converting, you're not getting any productive comments and you're just not sure where it's all going wrong.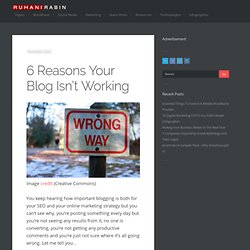 Let me tell you… Advertisement Too Self Centered. How To Identify a Great Web Host. In order to run a successful blog, you are going to have work with a decent hosting partner.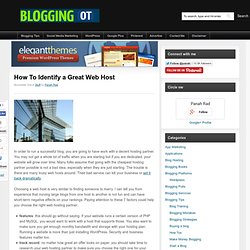 You may not get a whole lot of traffic when you are starting but if you are dedicated, your website will grow over time. Many folks assume that going with the cheapest hosting partner possible is not a bad idea, especially when they are just starting. The trouble is there are many lousy web hosts around. Their bad service can kill your business or set it back dramatically. How To : Write A Great Guest Post. After blogging for your own domain for a while, a blogger will naturally start looking for a wider audience for more exposure.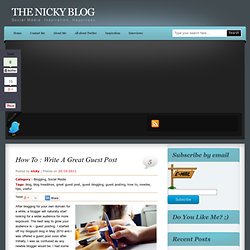 The best way to grow your audience is – guest posting. I started off my blogspot blog in May 2010 and I was offered a guest post soon after. Initially, I was as confused as any newbie blogger would be. I had some unanswered questions in my mind: > What do I write for the guest post? 3 Ways To Get Quality Content On your Blog Or Website With A Minimum Of Effort #blogging. Sharebar Back in the day Bill Gates said: Content Is King.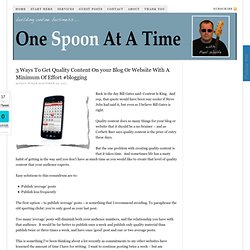 And yep, that quote would have been way cooler if Steve Jobs had said it, but even so I believe Bill Gates is right. Quality content does so many things for your blog or website that it should be a no-brainer – and as Corbett Barr says quality content is the price of entry these days. But the one problem with creating quality content is that it takes time. And sometimes life has a nasty habit of getting in the way and you don't have as much time as you would like to create that level of quality content that your audience expects. 5 Steps to Captivating Readers with Your Secret Message. 5 Hot Tips to Make Your Readers Fall in Love. The 3 Crucial Steps You Should Take BEFORE You Create Any Content #blogging. Sharebar You've heard that content is king a million times. Or one of my favourite quotes: Excellent Content isn't the exception, it's the price of entry. (Corbett Barr – www.thinktraffic.net). Or you've heard a million variations of this – you KNOW that you have to create quality content if your blog or website is to stand out from the crowd.
But before you start creating that excellent content, there are 3 steps you need to take to ensure that your excellent content really furthers the goals of your blog or website. Interesting Facts About Blogging World (Infographic) Blogosphere also known as the Blogging World, which is growing very rapidly and helping us to explore more bloggers and their blogs. Blogging in one of way of expressing yourself, either by writing about your own life or by writing your views on your interest. Blogging is being adapted as both part-time and full-time job by many bloggers and are successfully maintinaing different types of blogs. According to BlogPulse and Technorati, there are 164 million blogs as per July 2011 and these numbers are increasing due to the urge to beat the static websites.
Suggested : Top 10+ Reasons To Never Quit Blogging Here are some quick facts about Blogging from the below Infographic : 5 Steps to Captivating Readers with Your Secret Message. 12 Ways To Encourage Your Visitors to Stay. By Guest Author This is a guest post by Patrick Molone. If you want to guest post on this blog, check out the guidelines here. We all want more traffic, more loyal readers, and more sales. I know I do. For most of us our blog is the precious stone we chisel our artwork into. The Faryna Podcast E1: Why I Blog #soundcloud #blogging. Note: This is a podcast of my blog post on why I blog. The blog post is here. Play the soundcloud player to hear the podcast. Tribr. The Top 100 Google+ users - SocialStatistics.com (3442)
How to Conquer the Blogging Mountain. "I've learned that everyone wants to live on top of the mountain, but all the happiness and growth occurs while you're climbing it." – Andy Rooney I confess, I wanted to be a ProBlogger / CopyBlogger or Seth Godin for that matter. But, what I've become is the very me! Founder/author A.R.Karthick of arkarthick.com along with the (pro-job) title 'director' of two firms. Here I am blogging at my will with no limits and… OK, enough about the self-rant – Let me get straight to the point! Do you ever imagine your 'blogging' habit (I'm not stressing it like 'profession') as a obstacle, say for example, an enormous mountain in front of you? 5 Steps to Captivating Readers with Your Secret Message. 5 Hot Tips to Make Your Readers Fall in Love.
Blogging Essentials: 5 Tips For Better Readability. 80% of business blog traffic comes from first-time visitors - Compendium study. The Magic Formula For Blog Retweets. 5 Ways to Monetize Your Blog Without Selling Out.
---