Blog Directories
Free Blog Directory
Bloghub.com - blog directory & blog search engine
I used to use blogger for that then they shut it down for spam. I had just started it, used original content with a few affilaite links and BAM, gone. I asked for it back several times, but got absolutely no response from them. by 501 Apr 16
This is true I use Blogger for that. by drewc Apr 16
The only drawback with WP.com is that you can't use affiliate links like you can with WP.org. by 501 Apr 16
Wordpress.org is an excellent blog platform but you do have to pay for hosting. Blog.com is pretty awesome for totally free and so is webs.com. by 501 Apr 16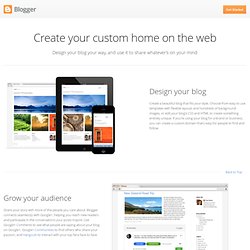 Blogger 功能
We created Blogger to give you an easy way to share your thoughts — about current events, what's going on in your life, or anything else you'd care to discuss — with the world. We've developed a host of features to make blogging as simple and effective as possible.
FuelMyBlog: Submit your blog free, add a widget, let your community vote you to the top and gain more readers
Blog Promotion | BlogUpp!
» Blog Traffic Exchange
Blogging Fusion - Blog Directory - Web Blog Directory - RSS Directory
Blog Catalog
blog directory - Computers and Internet
Globe of Blogs