Blog Directories
Free Blog Directory
We receive email from submiter, thank you Here we give the answer what we do, why we not approve your blog yet. For your information, we only approve 5 - 10 blog everday. Please be patient. Also we have stop article submission. What we do now?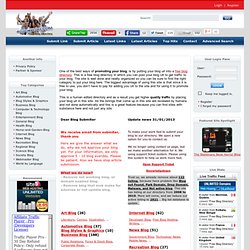 Bloghub.com - blog directory & blog search engine
Blogger 功能
FuelMyBlog: Submit your blog free, add a widget, let your community vote you to the top and gain more readers
Blog Promotion | BlogUpp!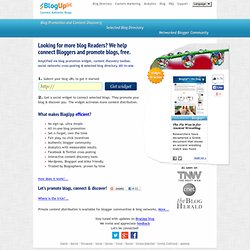 Amplified via blog promotion widget, content discovery toolbar, social networks cross-posting & selected blog directory. All-in-one. 1. Submit your blog URL to get it started: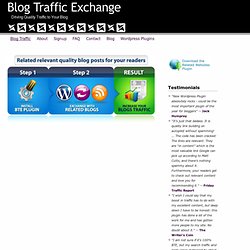 The Blog Traffic Exchange is a cutting edge cloud based service that is founded on the solid SEO principles that are already behind the architecture of many existing blog related posts plugins. By using proprietary chaos and relevancy algorithms in conjunction with the Sphinx Open Source Full Text Index Engine, the Blog Traffic Exchange is able to effectively multiply the traffic of your blog by establishing a reader exchange with other members. What renders the Blog Traffic Exchange remarkable is that rather than posting a host of unrelated links, it publishes a series of highly relevant content, generated to increase the quality of your blog while enhancing the experience of your readers.
» Blog Traffic Exchange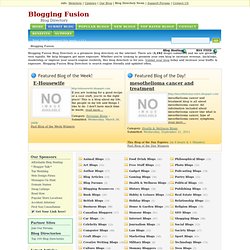 Blogging Fusion - Blog Directory - Web Blog Directory - RSS Directory
Blogging Fusion Blog Directory is a premiere blog directory on the internet. There are (3,097 blogs) submitted and we are growing very rapidly. We help bloggers get more exposure. Whether you're looking to promote your own blog to increase revenue, backlinks, readership or improve your search engine visibility, this blog directory is for you. Submit your blog today and increase your traffic & exposure. Blogging Fusion Blog Directory is search engine friendly and updated often.
Blog Catalog
http://www.automotiveblogger.net/ Automotive Blogger is a car blog for gear heads – those of us who know that the automobile is more than just a transport device from Point A to Point B; "You know it's not the destination that counts - it's the journey." There are some off-topic posts in the archive, but the author mostly focuses on auto-related topics. Generally updated every few days to a little over a week, the writer gives us interesting articles providing (for example) driving tips, lists of car-related movies, car insurance tips, as well as themed articles such as "Tips on Tuesday," "Tech Thursday," Women on Wheels," and "Business Monday." Part of the 451 Press network.
blog directory - Computers and Internet
Globe of Blogs