Blender
Convert JPG to PDF for free - JPG to PDF online converter
https://login.paper.li/redirect?loc=935f4ec23501efb5bd33a383955e60da9b193a34
News
BlenderArt Magazine - Release Page
Home
FR/Manual
zoo blender: index
Blender Underground Video Tutorials
Un livre de Wikilivres. En travaux Cette page est en travaux. Tant que cet avis n'aura pas disparu, veuillez en considérer le plan et le contenu encore incomplets, temporaires et sujets à caution. Si vous souhaitez participer, il vous est recommandé de consulter sa page de discussion au préalable, où des informations peuvent être données sur l'avancement des travaux. Blender : La modélisation 3D libre
Blender3D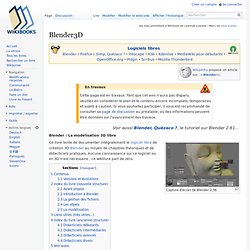 Un livre de Wikilivres. Attention ! Bonjour à tous, Merci de suivre ce livre, et nous espérons qu'il a pu vous aider dans votre apprentissage de ce merveilleux logiciel qu'est Blender.
Blender, Quézaco ?
DIDACTICIELS BLENDER, SETUPS SPECIAUX ET CONTENU : Les didacticiels, méthodes et setups proposés sur cette page sont publiés sous licence Creative Commons Attribution (BY) 2.0. France. Ce qui signifie que vous êtes libre de les utiliser tant pour un usage personnel que commercial, à la condition de faire figurer mon nom et si possible l'adresse de ce site dans les crédits de vos oeuvres dérivées. RIPPLES MAKER - SIMULER LA PLUIE DANS UNE FLAQUE : Rain in a puddle - 1024x576 - MOV with sound from Philippe ROUBAL on Vimeo. This text is also available in English in the English section of the site.Ce système est un générateur de texture animée destiné à produire des textures en échelle de gris utilisables comme textures de Bump ou de Déplacement, ou mieux encore, appliquées à un Displacement Modifier, pour créer des motifs d'ondelettes à la surface de l'eau.
3D-Synthesis.Com
Tinker Code
Un article de Wikipédia, l'encyclopédie libre. Origine et développement[modifier | modifier le code] Image créée avec Blender Le 18 juillet 2002, Ton Roosendaal parvint à négocier le rachat des droits d'auteur de Blender contre 100 000 euros, en vue de la création d'une fondation Blender et de la diffusion du logiciel sous la licence libre GPL.
Blender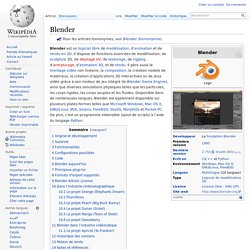 Chaîne de BlenderFoundation
blender-4d