Blade Runner
Blade Runner: A Sociological Analysis
Blade Runner - The Aquarelle Edition (by Anders
Moments Lost – Music And Art Inspired By Blade Runner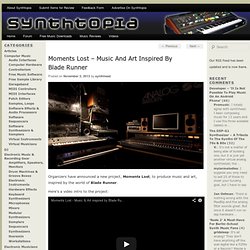 Organizers have announced a new project, Moments Lost, to produce music and art, inspired by the world of Blade Runner. Here's a video intro to the project:
Blade Runner Trailer - Classic Noir
SACRED FOOLS THEATER COMPANY
Un-advanced Technology In Blade Runner | Thoughts and Muses
My eldest son and I watched Blade Runner the other day (the 1982 International Theatrical release, which included the somewhat-controversial voiceover), and he commented about how unremarkable a lot of the technology in Blade Runner actually is. This got me thinking about the nature of the technology used in the fictional year 2019, and I tried to figure out, in my own mind, why it would be so ordinary.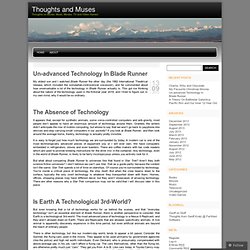 Blade Runner - 8 Bit Cinema!
Blade Runner Screen Used Prop Collection
Place bid Review and confirm your bid Bid confirmation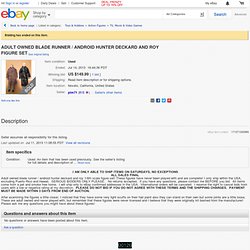 Adult Owned Blade Runner Android Hunter Deckard and Roy Figure Set
Blade Runner - End Credits Music 500% Slower
Blade Runner: This Movie Gets Worse Every Screening [Pic
memory-lane-nostalgia-20.jpg (500×723)
Blade Runner Screen Used Prop Collection
Blade Runner Replicants – Happier Times | Mike R. Baker
Blade Runner is one of those films that gets written about a lot, it's a very special movie.
Gavin Rothery - Directing - Concept - VFX - Gavin Rothery Blog - A Matter Of Electric Sheep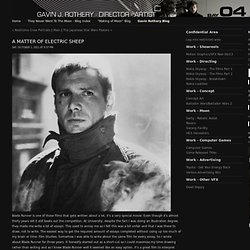 BLADE RUNNER Character Art
Perfect is performed as J.F. Sebastian is preparing breakfast for Pris and Roy.
Blade Runner: The Rock Opera: Perfect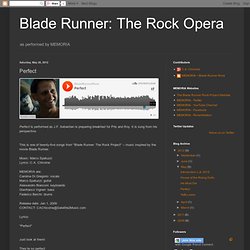 Future Noir: Turning down the block and ducking into a futuristic newsstand revealed the most humorous touches of layering, for it was here that this author immediately noticed that a number of faux twenty-first-century magazines had been stuffed into racks mounted on the newsstand's walls, and that many of them sported decidedly tongue-in-cheek covers. These publications had been designed by BR art department member Tom Southwell.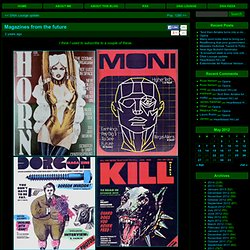 Magazines from the future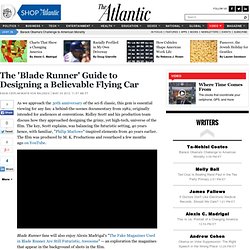 As we approach the 30th anniversary of the sci-fi classic, this gem is essential viewing for any fan: a behind-the-scenes documentary from 1982, originally intended for audiences at conventions.
Technology - Kasia Cieplak-Mayr von Baldegg - The 'Blade Runner' Guide to Designing a Believable Flying Car
22 June 2012 Last updated at 05:47 ET By Deirdre Finnerty BBC News It's been 30 years since the release of Blade Runner and 10 years since Minority Report. Both are rich sources of predictions about the future.
Blade Runner: Which predictions have come true?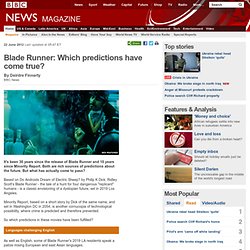 androidghost: 30 years of Replicant noir…
Beautiful and cool magazines purportedly from the movie Blade Runner are circling the Internet. But are they real? A science-fiction Tumblr recently unearthed some magazine covers that purportedly appear on a rack in the background of the classic film Blade Runner .
Technology - Alexis Madrigal - The Fake Magazines Used in Blade Runner Are Still Futuristic, Awesome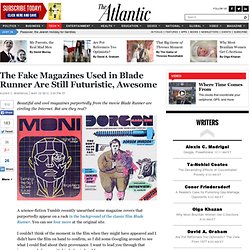 HIGH SCHOOL: Finally, a weed movie I can get behind. Read Article →
5 Reasons BLADE RUNNER Should Be Left The Hell Alone
Blade Runner: A LEGO® creation by 2x4 .
Behold, Blade Runner à la LEGO
Tyrell: The facts of life: To make an alteration in the structure of a LEGO life system is fatal. A block sequence cannot be revised once it's been established.
Blade Runner test on leon - lego
An Electric Sheep created by Phssthpok "Dr.
Electric Sheep: Stunning Visual Creatures Spawned By Thousands Of Computers While They Sleep
Blade Runner | Marvel Super Special Full Comic
Buzatron's Tumblr - Blade Runner Parody Beer Logo "Nexus 6 Repicant...
Today's Reading: The Penfield mood organ
Blade Runner Papercraft
Vangelis scoring Blade Runner | (Page 1 of 4)
Van Spamme — gorg: Blade Runner (via turksworks)
The Blade Runner Games
Does my face look as lifeless as the book's cover?...
15. Polaroids
Daily Philip K. Dick
Blade Runner Corrected « Cafè & Piti
HijiNKS ENSUE – A Geek Webcomic – 5 Days A Week - » Well? Do They?
ViejaCrobuzon
Blade Runner Homage A3 Screenprint | Last Exit to Nowhere
Your Nice New Outfit | Blade Runner
Blade Runner's Original Ending: Yes, Deckard's A Replicant - Bla
Urban Control: "Beyond Blade Runner"
Blade Runner: The City as Replicant — Science Fiction & the City
More Human than Human
Stop Blade Runner 2 Before It Starts!
Adobe Light-Field Lens Video - Blade Runner Cluster
Do Androids Dream...? - A Discussion of Theme
Q
Blade Runner (1982)
Blade Runner