Blackadder
Get flash to fully experience Pearltrees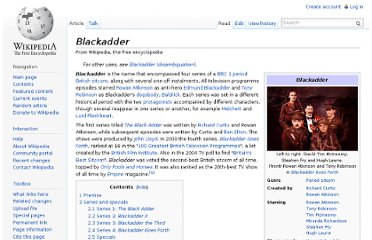 Blackadder is the name that encompassed four series of a BBC 1 period British sitcom , along with several one-off instalments. All television programme episodes starred Rowan Atkinson as anti-hero Edmund Blackadder and Tony Robinson as Blackadder's dogsbody , Baldrick . Each series was set in a different historical period with the two protagonists accompanied by different characters, though several reappear in one series or another, for example Melchett and Lord Flashheart .
Blackadder (1983, 1986-89, 1999) is a television show which originally aired on BBC One written by Richard Curtis , Ben Elton , and Rowan Atkinson . It traces members of the Blackadder dynasty and their associates through different periods of history. [ edit ] The Black Adder [ edit ] The Foretelling Opening narration : History has known many great liars. Copernicus .
A deliciously vicious collection of British comedies , all centering around various generations of the Blackadder family as embodied in its sole visible member, Edmund — a cynical, snide and outright caustic British nobleman (he'd be a Deadpan Snarker if he could just stop sneering) who never seems to succeed at most of his schemes, but never quite loses either (except usually at the end, where he dies horribly or wins spectacularly). Each Edmund in each generation is aided by a Bumbling Sidekick in the shape of his corresponding Baldrick, an ignorant and filthy manservant and dogsbody of unhealthy habits and preoccupations. His typical foil is a classic Upper-Class Twit of far higher social station than his own, whom he is forced to serve hand and foot. Season one, written by Rowan Atkinson and Richard Curtis, featured Blackadder as a hapless loser, Baldrick as his more cunning servant, and a series of Shakespearean in-jokes.
Edit Storyline Set in England at the end of the War of the Roses, we soon find out that the history we know is a Tudor fiction. In fact, Henry VII did not actually win the battle of Bosworth Field; he lost and though Richard III died in the battle, his nephew King Richard IV (who certainly was not smothered while still a boy in the Tower of London) reigned on for some years. The story focuses on Richard IV's younger son Prince Edmund, a sniveling coward who calls himself the 'Black Adder'. Assisted by his grungy servant Baldrick and the moronic Lord Percy, Edmund plots his rise to greatness.