Bitcoin
Jerry Brito George Mason University - Mercatus Center Houman B.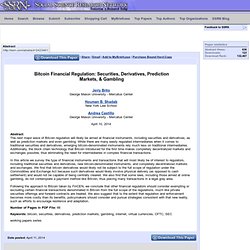 Bitcoin Financial Regulation: Securities, Derivatives, Prediction Markets, & Gambling by Jerry Brito, Houman B. Shadab, Andrea Castillo
Cognitive biases that make people skeptical towards Bitcoin. : Bitcoin
A number of cognitive biases are likely responsible for people's hesitance to invest a small amount of money in Bitcoin. Humans suffer from such biases as a result of our tendency to use mental shortcuts to interact with our world on a day to day basis. In a paper entitled Cognitive Biases Potentially Affecting Judgment of Global Risks, Elizier Yudkowsky addressed a number of biases that cause humans to underestimate the risk of globally disruptive events.
Square Market Accepts Bitcoin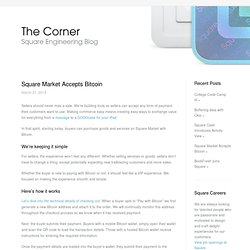 March 31, 2014 Sellers should never miss a sale. We're building tools so sellers can accept any form of payment their customers want to use. Making commerce easy means creating easy ways to exchange value for everything from a massage to a DODOcase for your iPad.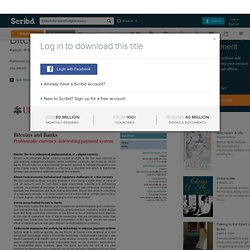 www.ubs.com/investmentresearch This report has been prepared by UBS Securities LLC. UBS does and seeks to do business with companies covered in its research reports. As a result, investors should be aware that the firm may have a conflict of interest that could affect the objectivity of this report. Investors should consider this report as only a single factor in making their investment decision. Global Research 28 March 2014
Bitcoins + Banks
Image: http://www.flickr.com/photos/zcopley/ As one of the top global financial services companies in the world, Switzerland's UBS manages over $1 trillion in assets. When a company of that size publishes a report on bitcoin, investors the world over pay attention. Today, UBS published a paper titled "Bitcoins and Banks: Problematic currency, interesting payment system" outlining their perspective on virtual currencies as an investment. At the moment, UBS doesn't see bitcoin as a threat to traditional banking. The two primary benefits of bitcoin, the paper notes, are disintermediation (removing the middleman) and lower fees.
UBS investment report declares bitcoin "Problematic currency, interesting payment system" | Bitcoinx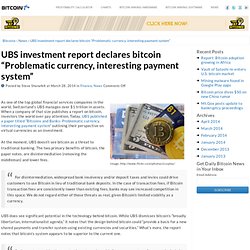 What the Fork was that? A forking post mortem. | Mineforeman
As many of you already know there was a 'hiccup' in the bitcoin network this week. It caused a flurry of articles, some good, some panicked and others that were outright alarmist. To be honest, while I was aware of the issue as it transpired it did not register with me as much of threat. To me it was just a temporary problem, one that we have seen before and undoubtedly will see again. While it was slightly unusual that there had to be any sort of human interaction, it was far from an unexpected event and had been planned for well in advance. What Happened?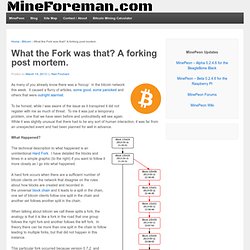 By Michael Casey High-speed telecommunications provider Perseus Telecom and digital currency trading platform Atlas ATS formally launched Wednesday a globally integrated bitcoin exchange system in New York, Hong Kong and Singapore to facilitate trading in the digital currency by high-frequency trading firms and other large financial institutions. The two firms' collaboration, first reported last month by The Wall Street Journal, marks a milestone in the evolution of bitcoin out of a retail-oriented, loosely regulated low-tech environment to one that is open to the high-volume and strictly regulated activities of Wall Street. It comes after the sudden collapse of Tokyo-based bitcoin exchange Mt. Gox, which said it had lost 850,000 bitcoin—now worth more than $500 million—and a string of scandals, including a world-wide hacking attack that temporarily paralyzed Mt.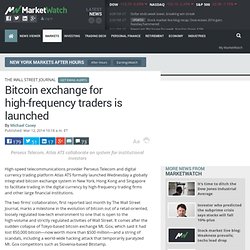 Bitcoin exchange for high-frequency traders is launched - The Wall Street Journal
Michael Jackson is a software engineer, entrepreneur and venture capital investor at Mangrove Capital Partners. The most significant issue affecting the adoption of cybercurrencies is the safety of bitcoin holdings. This is a fundamental deficiency of what is a software-defined asset, totally accessible instantaneously and online.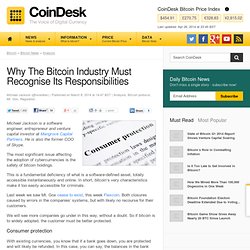 Why The Bitcoin Industry Must Recognise Its Responsibilities
Bitcoin's Development Visualized (up to v0.9)
In One Month, Everyone In Iceland Will Own Cryptocurrency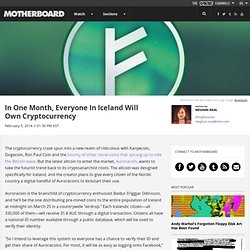 Auroracoin sure does have a nice logo. Image: Auroracoin The cryptocurrency craze spun into a new realm of ridiculous with Kanyecoin, Dogecoin, Ron Paul Coin and the bounty of other clone-coins that sprung up to ride the Bitcoin wave. But the latest altcoin to enter the market, Auroracoin, wants to take the futurist trend back to its cryptoanarchist roots. The altcoin was designed specifically for Iceland, and the creator plans to give every citizen of the Nordic country a digital handful of Auroracoins to kickstart their use.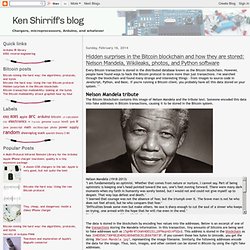 Every Bitcoin transaction is stored in the distributed database known as the Bitcoin blockchain. However, people have found ways to hack the Bitcoin protocol to store more than just transactions. I've searched through the blockchain and found many strange and interesting things - from images to source code in JavaScript, Python, and Basic. If you're running a Bitcoin client, you probably have all this data stored on your system.[1]
Hidden surprises in the Bitcoin blockchain and how they are stored: Nelson Mandela, Wikileaks, photos, and Python software
How it Works
The Future Of Money: Creating New Wealth, Work and a Wiser World: Amazon.co.uk: Bernard Lietaer
The Future Of Money is a bold and ambitious attempt to show how root-and-branch reform of the global monetary system can help to solve some of the most pressing problems facing the world. The author's particular focus is on complementary currencies: local, relatively informal exchange systems which operate within a given community, and which are not necessarily created by bank debt, but by everyday transactions between members of the community. For example, you might agree to mow a neighbour's lawn: simultaneously creating a credit for yourself and a debit for your neighbour. You might then choose to spend your credit on another neighbour's home-baked cake. Complementary currency systems are so called because they are intended to run in tandem with national (and multinational) currencies, not to replace them.
Deviant Economy & Bitcoins
Visualisations, Infographics & Graphs
other interesting crypto currencies
Bitcoin & Alt-Coin News (Month-Year)