Biometric scanning RFID chips DNA
Chamtech Enterprises » Government. Video: Spray-On Antenna Material Turns Just About Anything into a Signal Array. Presenting at Google's "Solve for X" gathering, a Utah startup has unveiled a spray-on antenna that improves signals by anything, just about anywhere, into a signal array.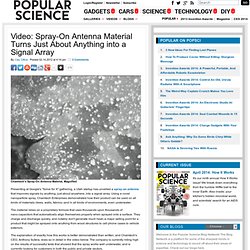 Using a novel nanoparticle spray, Chamtech Enterprises demonstrated how their product can be used on all kinds of materials--trees, walls, fabrics--and in all kinds of environments, even underwater. The material relies on a proprietary formula that uses thousands upon thousands of nano-capacitors that automatically align themselves properly when sprayed onto a surface. They charge and discharge quickly, and notably don't generate much heat--a major selling point for a product that might be sprayed onto anything from wood structures to cell phone cases to vehicle exteriors.
The explanation of exactly how this works is better demonstrated than written, and Chamtech's CEO, Anthony Sutera, does so in detail in the video below. Scientists Successfully Implant Chip That Controls The Brain; Allowing Thoughts, Memory And Behavior To Be Transferred From One Brain To Another | Mind-Computer. In a scene right out of a George Orwell novel, a team of scientists working in the fields of "neural engineering" and "Biomimetic MicroElectronic Systems" have successfully created a chip that controls the brain and can be used as a storage device for long-term memories.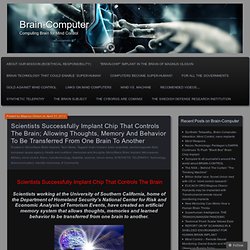 In studies the scientists have been able to record, download and transfer memories into other hosts with the same chip implanted. The advancement in technology brings the world one step closer to a global police state and the reality of absolute mind control. More terrifying is the potential for implementation of what was only a science fiction fantasy – the "Thought Police" – where the government reads people's memories and thoughts and can then rehabilitate them through torture before they ever even commit a crime based on a statistical computer analysis showing people with certain types of thoughts are likely to commit a certain type of crime in the future.
No national group is of a pure genetic Haplogroup with the exception of some Amerindian tribes of the Q group in South America. No national group is of a pure genetic Haplogroup with the exception of some Amerindian tribes of the Q group in South America (from the charts produced by Dr.
J. D. McDonald). The table above, depending on tested values, could be that of the typical R1b Celt of Europe or the Native Americans, both of whose DNA belongs to the last two Haplogroups on the scale. Scientists encode MP3s, PDF, photograph, and algorithm to DNA. Scientists have written MP3 files to DNA, according to a report published in the journal Nature.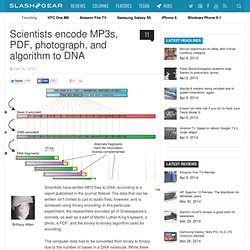 The data that can be written isn't limited to just to audio files, however, and is achieved using trinary encoding. In this particular experiment, the researchers encoded all of Shakespeare's sonnets, as well as a part of Martin Luther King's speech, a photo, a PDF, and the binary-to-trinary algorithm used for encoding. The computer data had to be converted from binary to trinary due to the number of bases in a DNA molecule. While there are four bases, the researchers utilized one of the bases to avoid straight sequences of a single base, resulting in a total of three bases for data. This was done in order to avoid the errors that would result from utilizing the single base sequences.
Data Storage in DNA Becomes a Reality. Genetic and binary code.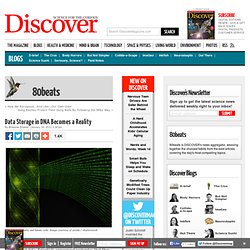 Image courtesy of artida / shutterstock DNA is the building block of life, but in the future it may also be the standard repository for encyclopedias, music and other digital data. Scientists announced yesterday that they successfully converted 739 kilobytes of hard drive data in genetic code and then retrieved the content with 100 percent accuracy. The researchers began with the computer files from some notable cultural highlights: an audio recording of MLK Jr.'s 1963 "I Have a Dream" speech, all 154 of Shakespeare's sonnets, and, appropriately, a copy of Watson and Crick's original research paper describing DNA's double helix structure. On a hard drive, these files are stored as a series of zeros and ones.
Rothschild DNA Project. Scientist implanted with RFID Chip gets computer virus. RFID Chip finally arrived in society. Www.nytimes.com/packages/pdf/national/13inmate_ProjectMKULTRA.pdf. Automated tail tattoos for mouse ID - SOMARK Labstamp. Guidance Documents (Medical Devices and Radiation-Emitting Products) > Guidance for Industry and FDA Staff - Class II Special Controls Guidance Document: Implantable Radiofrequency Transponder System for Patient Identification and Health Information. Document issued on: December 10, 2004 For questions regarding the use or interpretation of this guidance contact: Gail Gantt at 301-796-6288 or by email gail.gantt@fda.hhs.gov.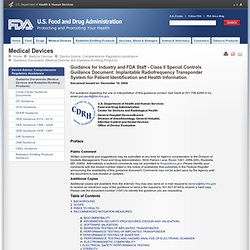 Preface Public Comment Written comments and suggestions may be submitted at any time for Agency consideration to the Division of Dockets Management, Food and Drug Administration, 5630 Fishers Lane, Room 1061, (HFA-305), Rockville, MD, 20852. r210_35.pdf (application/pdf Object) Internment / Resettlement Specialist (31E) | GoArmy.com.
Internment/Resettlement Specialist (31E) Enlisted Officer Overview Internment/resettlement specialists are primarily responsible for day-to-day operations in a military confinement/correctional facility or detention/internment facility.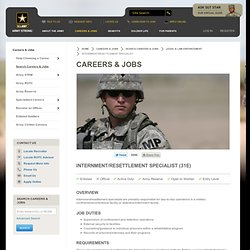 Job Duties Supervision of confinement and detention operationsExternal security to facilitiesCounseling/guidance to individual prisoners within a rehabilitative programRecords of prisoners/internees and their programs. Terminator Eyes: Hi-tech contact lenses show texts and maps. The Optical Society - Optics and Photonics News & Policy – The Optical Society of America (OSA) FOR IMMEDIATE RELEASE Contact: Angela Stark The Optical Society 202.416.1443astark@osa.org New device for delivering light to individual neurons could one day help treat Parkinson's disease, epilepsy; aid understanding of consciousness, how memories form A scanning electron microscope image of the 3-D array with closeup of a single light-emitting probe.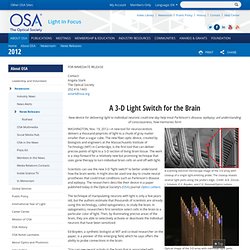 The closeup reveals several light ports along the probe's edge. Credit: A.N. Zorzos, J. Using light to control nerve cells in brain | Human Frontier Science Program. The first HFSP Nakasone Award was conferred upon Karl Deisseroth at the HFSP Awardees Meeting held in Kovalam, Kerala, India in November 2010.
Science writer N. Gopal Raj talked to him during the meeting. The following is reprinted from the national Indian newspaper The Hindu with kind permission of N. Gopal Raj and The Hindu. Five years back, a group of scientists led by Karl Deisseroth of Stanford University came up with a way to precisely control neurons simply by shining light on them. Scientists use light to control monkey brains. Timeline Photos. Washington County students carry devices to help Pitt monitor spread of flu. With the help of children who'll be off of school for Tuesday's election, researchers at the University of Pittsburgh hope to find out if school closings can slow the spread of flu and other disease.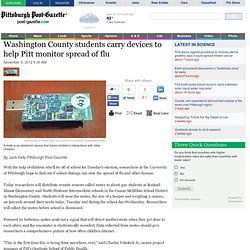 Today researchers will distribute remote sensors called motes to about 450 students at Borland Manor Elementary and North Strabane Intermediate schools in the Canon-McMillan School District in Washington County. Students will wear the motes, the size of a beeper and weighing 3 ounces, on lanyards around their necks today, Tuesday and during the school day Wednesday. Researchers will collect the motes before school is dismissed.
Powered by batteries, motes send out a signal that will detect another mote when they get close to each other, and the encounter is electronically recorded. Data collected from motes should give researchers a comprehensive picture of how often children interact. RFID Solutions - Radiant RFID. National ID and RFID Chip Implant - Coming Soon To A Nation Near You. Big Brother: RFID Chips Track Kids' Truancy, Eating Habits. Wall Photos. UIDAI. India's National ID Card Program. India's National ID Card Program Posted by Ken Lynch on Tue, Nov 09, 2010 @ 10:24 AM RFID and Biometrics to Deliver Access to Social Services In our Billions of Identities post, we highlighted India as a country that has begun issuing RFID and biometric enhanced ID cards to their citizens.
Kicked off in September 2010, the project in India seeks to record fingerprint and iris scans from all residents and store them in a central database. FBI begins installation of $1 billion face recognition system across America. Integral :: Solutions Exceeding Expectations. In the aftermath of 9/11 and in light of the dramatic rise in identity theft, we are increasingly being asked to verify who we are at airports, borders, financial and educational venues, DMVs, public and private buildings and many other locations.
Biometrics has become a vital tool that enables the highest level of confidence in accurate personal identification. Many international and national organizations have blessed the use of facial recognition, fingerprint recognition, iris and other forms of biometrics to identify people. Biometrics are unique physical characteristics of an individual that can help to identify a person with unequaled accuracy. Integral provides a full range of biometrics solutions using multimodal biometrics, such as face, finger, palm, and iris technologies to serve government, law enforcement, transportation, and border management agencies as they fight identity theft and terrorism. R--National Ground Intelligence Center (NGIC) Biometric Intelligence Program (BIP) Analysis Support Services.
---